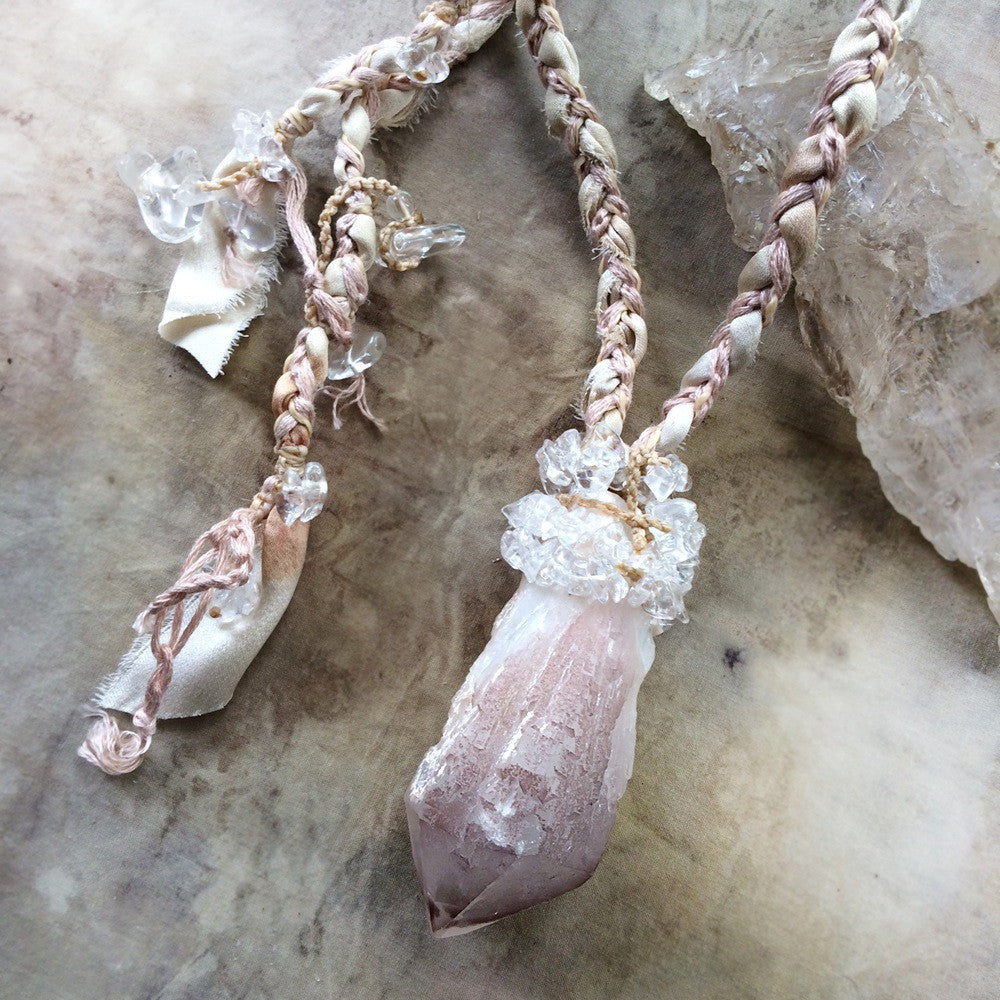 LITHIUM QUARTZ POINT AMULET IN SILK BRAID
DESCRIPTION
:: SOUL HARMONY ::
Crystal healing stone talisman with natural Lithium Quartz point, highlighted with clear Quartz crystals. The necklace is braided with eco-printed silk satin, 'old rose' tone embroidery thread and light peach tone micro-macrame cord. The braid is soft and quite chunky, to support the Lithium Quartz point.
The necklace braid ends are left open if you want to tie the stone to hang quite high up. But the braid ends also include knotted loop details and clear Quartz pebbles which you can use as a toggle clasp if you wish. If using this option, the stone would hang approx. 37-40 cm (14.5"-15.5") down from behind the neck. The Lithium Quartz is approx. 6.5 cm (2.6") tall and 2.5 cm (2") at its widest.
There are no metals in this necklace so would be particularly suitable for those with metal sensitivities, energy workers and those who simply prefer not to wear metal.
You'll receive this crystal healing necklace in one of my fabric draw-string pouches, great for the safe-keeping of the necklace. Gift-wrapped at no extra charge.
CRYSTAL PROPERTIES
LITHIUM QUARTZ
Powerful healing stone when feeling down or emotionally shaken. Eases stress and brings emotional peace. Calming and balancing, gentle support for releasing anger and grief. Uplifting, soothing and stabilising. Helps in eliminating feelings of anxiety, worry and fear. Opens up the pathway to one's higher heart centre and activates the third eye, raising spiritual awareness. A great 'first aid' crystal when the world throws your out of balance.
CLEAR QUARTZ
The universal master crystal that has a harmonising effect on all levels of being. Programmable by intention, so can be used for versatile purposes. Quartz can clear, enhance, amplify, transmute, balance, focus and transmit energy. Raises one's energetic vibration. Attunes its keeper to their higher self. Known as the "Stone of Power" and "Master Healer".
Recently Viewed