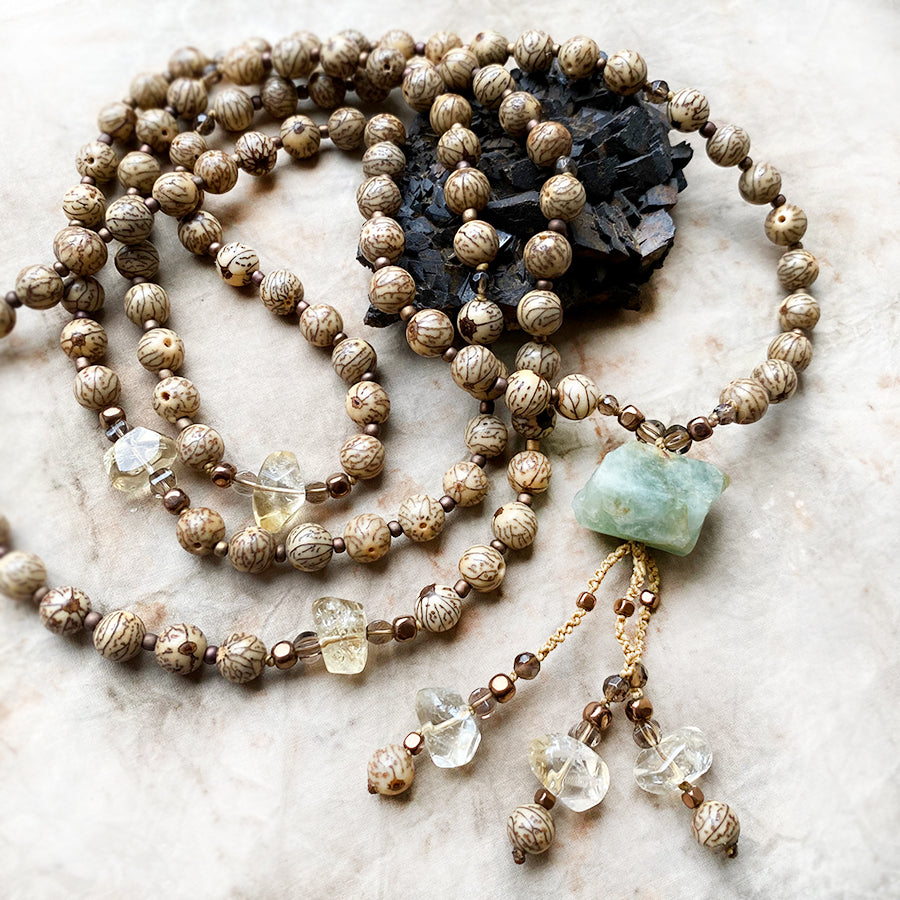 Bodhi seed meditation mala with Citrine & Aquamarine
DESCRIPTION
One of a kind, contemporary 108 bead meditation mala with Bodhi seed beads. Bodhi seeds have traditionally been significant to seekers of divine wisdom because Buddha became enlightened under a bodhi tree. Bodhi trees continue to symbolise a sense of peace and wisdom on one's path enlightenment. The three dividers are a combination of a lightly faceted Citrine with small Hematite and Smokey Quartz crystals. The guru bead consists of raw, rough cut Aquamarine with three long knotted crystal strands that each end in a Bodhi seed. The Bodhi seed counter beads are spaced with small matte brown glass seed beads in asymmetrical organic shapes. The mala is knotted with golden brown micro-macrame cord at every nine bead interval around a Smokey Quartz crystal. This mala has a light organic feel, with the Bodhi seed beads softly flowing through the fingers when handled. The Citrine and copper-plated Hematite adds uplifting sparkle to this one-of-a-kind mala.
All around length of mala: 124 cm (49")
Approx. counter bead diameter: 0.8 cm (0.3")
Approx. width of the divider combination: 2 cm (0.8")
Length of guru bead crystal combination: 7.5 cm (3")
CRYSTAL PROPERTIES
CITRINE
Affects a powerful alignment with the higher self. Balances the emotions and helps in uplifting one's mood to be more sunny and cheerful. Brings clarity of thought, and attracts abundance and prosperity through joy. Powerful transformer in healing work. Increases self-confidence and optimism, cleanses the surrounding energies and promotes creative thinking. Releases, dissipates and transforms denser energies on all levels, mental, emotional and physical. Works to release limitations and blockages particularly around the sacral / solar plexus area.
AQUAMARINE
Connected with the throat chakra, easing verbal self-expression. Helps you communicate your own truth and find your voice. Helps in looking at emotional situations from other perspectives, assists in opening up intuition and to calmly be in the flow of life. Aquamarine also aids in reaching deep meditative states. Resonates with the energy of the ocean. Stone of courage and protection.
SMOKEY QUARTZ
A grounding and calming stone that elevates moods and dissipates negative emotions. "A Stone of Serenity", it is comforting and protective for one's aura. Smokey Quartz is thought to assist in creative endeavours and also in setting personal boundaries. Offers protection against electromagnetic rays. A good healing stone for improving general feeling of well-being. Relieves anxiety and worry, wards off confusion. Shielding crystal to create a calm, safe environment.
HEMATITE
Creates a strong sense of self and enhances the creative flow. Relieves stress. Revitalises, enhancing personal magnetism and optimism. Helps in releasing self-imposed limitations to find your own unique gifts. A stone of balance and equilibrium. Grounds when feeling scattered, increases alertness and vigilance.
Recently Viewed