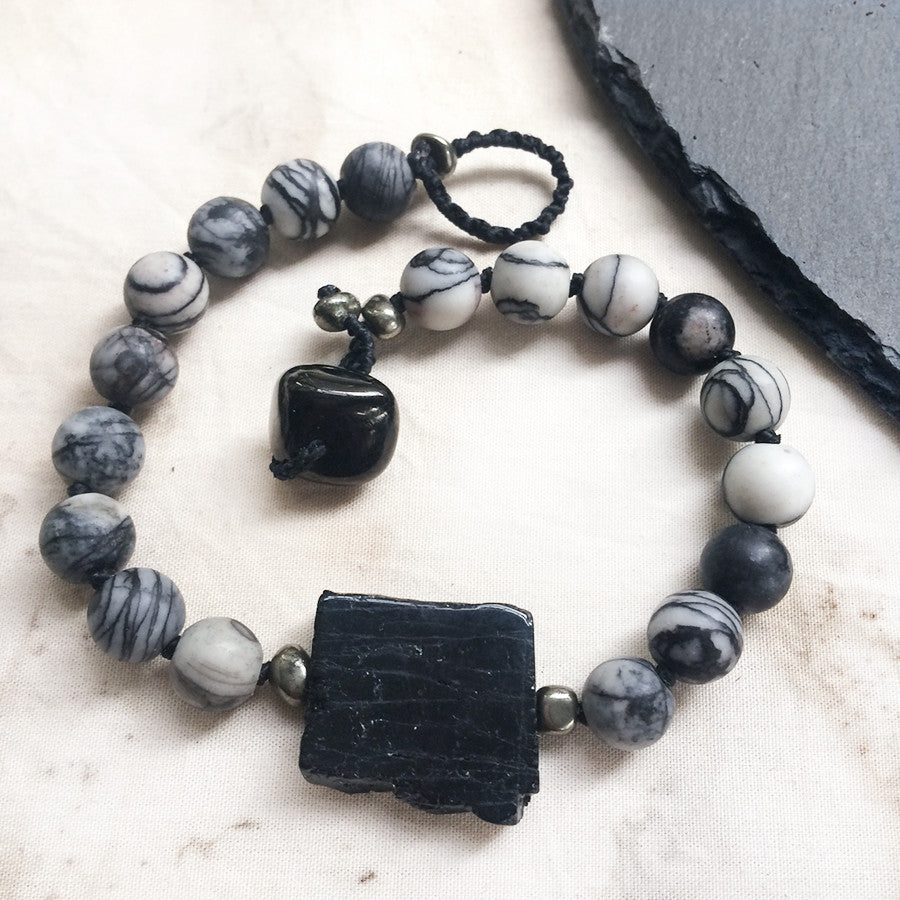 Mala bracelet with Black Line Jasper, Black Tourmaline, Pyrite & Jet ~ for up to 7" wrist
DESCRIPTION
Mala bracelet with 18 Black Line Jasper counter beads with a divider of Black Tourmaline & Pyrite. The toggle stone is Jet, with a secondary toggle of Pyrite (you can slip both through the knotted loop to fasten the bracelet). The counter beads are knotted individually for strength and flexibility, using black micro-macrame cord.
This is a handy meditation / mantra aid for times when you'd like something smaller than a full mala. You can still count up to 108 with these bracelet beads - or in multiples of 27 if you prefer. Simply count back and forth over the divider as many rounds as needed. Use the toggle crystal as the guru bead.
Whilst the total length of this bracelet, including the toggle, is 22 cm (8.7") it would make a good fit for up to a 7" wrist circumference, although if you prefer a more loose fit, this is fine for a smaller wrist too (loose fit but won't easily slip over your hand even if you wrist is 6"). The counter bead diameter is 0.8 cm (0.3").
This mala comes in one of my handmade soft leather pouches for safe-keeping. If you would rather have a fabric pouch, please let me know at the time of purchase.

Gift-wrapped at no extra charge.
Read more about Spirit Carrier mala beads
CRYSTAL PROPERTIES
BLACK LINE JASPER
Protective stone that's said to balance one's yin and yang energies. Grounding for one's kundalini channel. Instils a sense of wellness. Offers insight into one's life path and its purpose.
BLACK TOURMALINE
One of the most well-known protective stones, shielding its user from negativity. A shamanic stone used for grounding during vision quests. Empowering for those who work in challenging environments. Purifies and transforms denser energies into lighter vibrations and is also detoxifying for the body. If you're sensitive to electromagnetic smog, you may get relief by wearing black Tourmaline.
PYRITE
Taps into your innate abilities, bringing confidence and perseverance to aim for your goals. A shielding stone that helps you see the truth in the motives of others. Increases vitality and enhances your assertive qualities. Helpful in turning melancholy into feeling empowered and more light-hearted. Helps in letting go thoughts of misfortune and worry, thus making it an excellent stone for manifesting abundance. Symbolises the warmth and presence of sun, attracting also abundance of love, friendship and success.
JET
Stone of protection and purification. Often used to protect finances and business but also as a shield against psychic attacks and removing energetic attachments. Assists in spiritual advancement and the rise of kundalini energy. Enlists the help of Earth energy in manifesting one's desires. Calming for those battling with difficulties. Comforting for dealing with grief, easing anxiety and fears. Increases self-reliance and helps in the process of life changes.
Recently Viewed