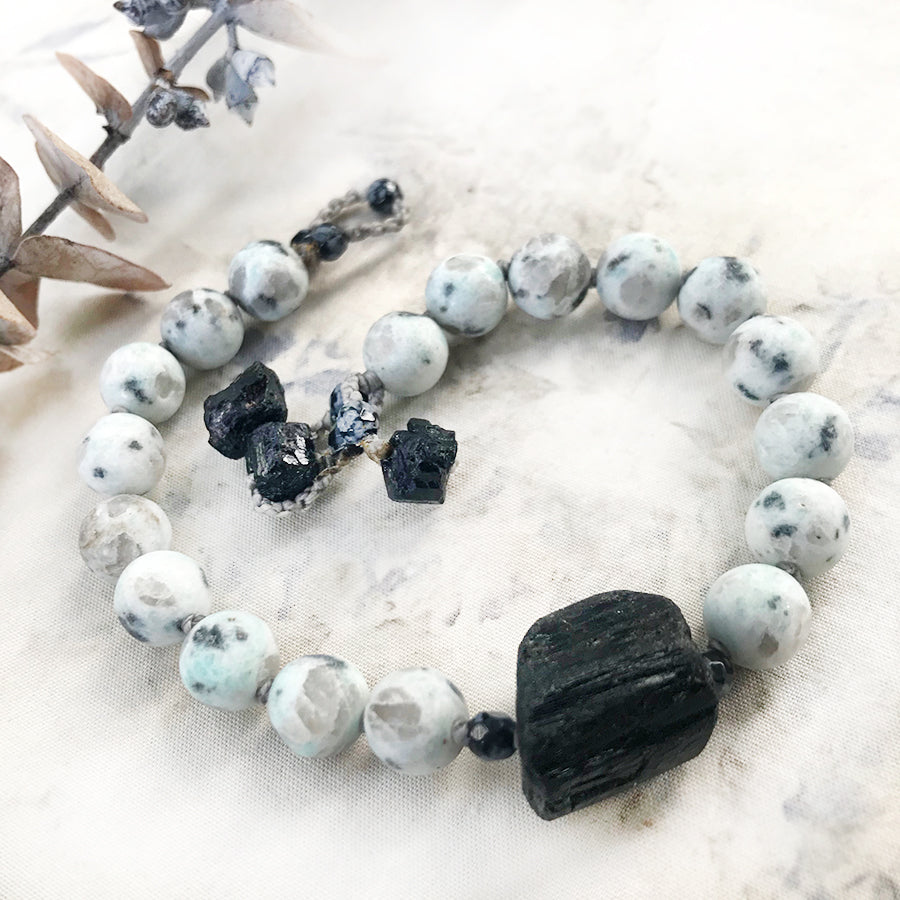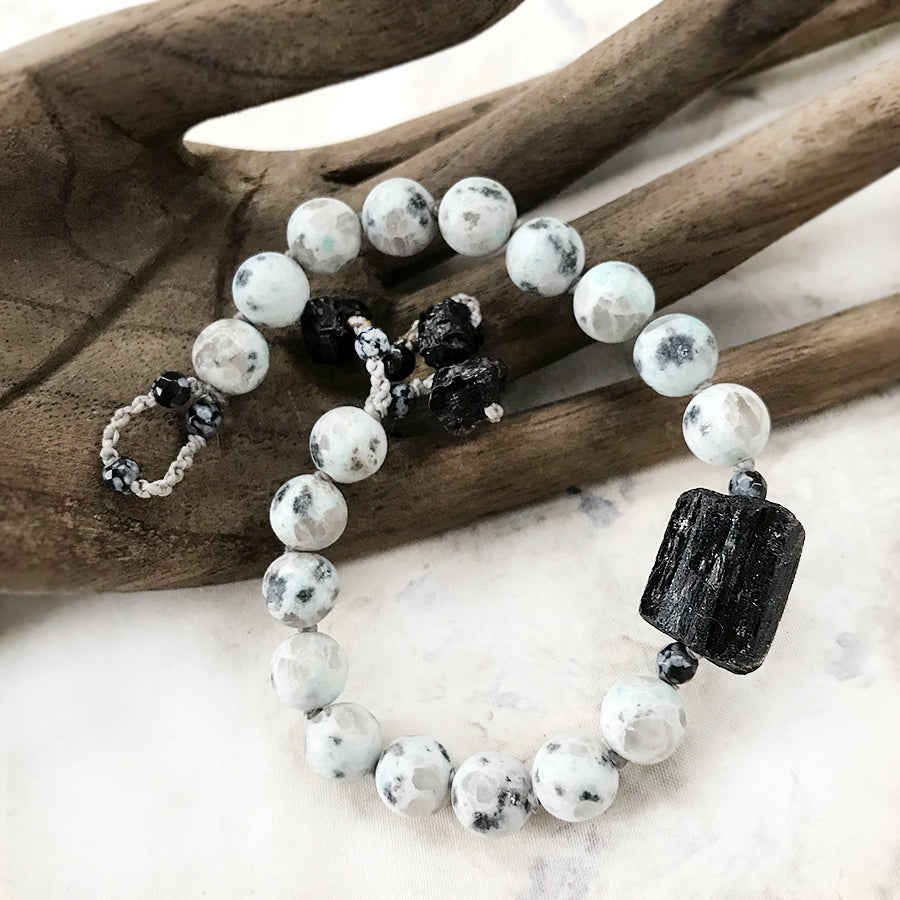 Mala bracelet with Granite & Black Tourmaline ~ for up to 7" wrist
DESCRIPTION
Mala bracelet with 18 Granite counter beads with a divider of a rough Black Tourmaline and small Snowflake Obsidian crystals. The three toggle stones are also Black Tourmaline ~ you can slip one or more toggle strands through the knotted loop to fasten the bracelet securely. The Granite counter beads show a subtle light blue tone and are knotted individually for strength and flexibility, using grey micro-macrame cord.
This is a handy meditation / mantra aid for times when you'd like something smaller than a full mala. You can still count up to 108 with these bracelet beads - or in multiples of 27 if you prefer. Simply count back and forth over the divider as many rounds as needed. Use the toggle crystals as the guru bead.
Whilst the total length of this bracelet, including the toggle, is 21 cm (8.3") it would make a good fit for up to a 7" (17.5 cm) wrist circumference. The counter bead diameter is 0.8 cm (0.3"). The central Black Tourmaline is approx. 1.5 cm (0.6") in its longest dimension.
This mala bracelet comes in one of Spirit Carrier's handmade drawstring *fabric* pouches for safe-keeping and gift-wrapped at no extra charge. 
CRYSTAL PROPERTIES
GRANITE
Balancing and grounding stone that's good for relating to others. Fosters positivity and cooperation, helping to see the bigger picture. Known as a stone of wealth. Boosts energy flow through the body. Stone of strength and resilience.
BLACK TOURMALINE (aka Schorl)
One of the most well-known protective stones, shielding its user from negativity. A shamanic stone used for grounding during vision quests. Empowering for those who work in challenging environments. Purifies and transforms denser energies into lighter vibrations and is also detoxifying for the body. If you're sensitive to electromagnetic smog, you may get relief by wearing black Tourmaline.
SNOWFLAKE OBSIDIAN
Promotes a sense of calm and inner equilibrium, bringing balance to body, mind and spirit. A grounding, protective stone. Eases worries and when carried/worn helps one to stay balanced and centred throughout the day. Native American shamans often carried Snowflake Obsidian as a powerful talisman to avert evil and bring good fortune, also considering it to be the guardian of the Great Spirit.
Recently Viewed