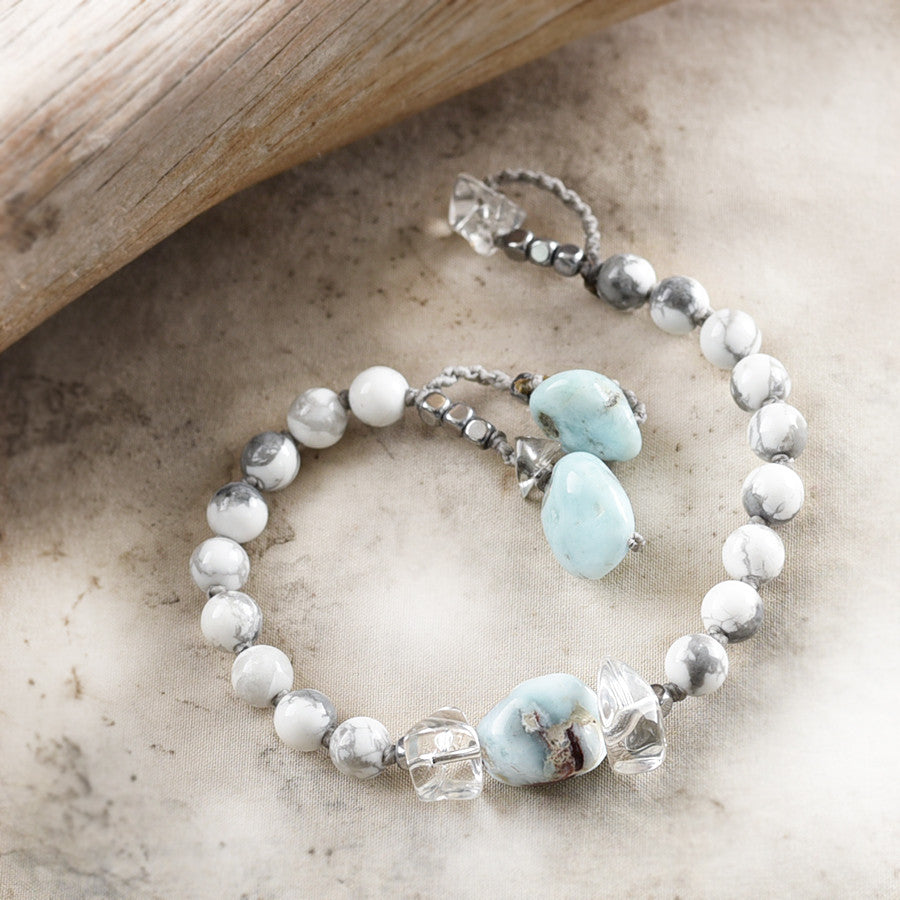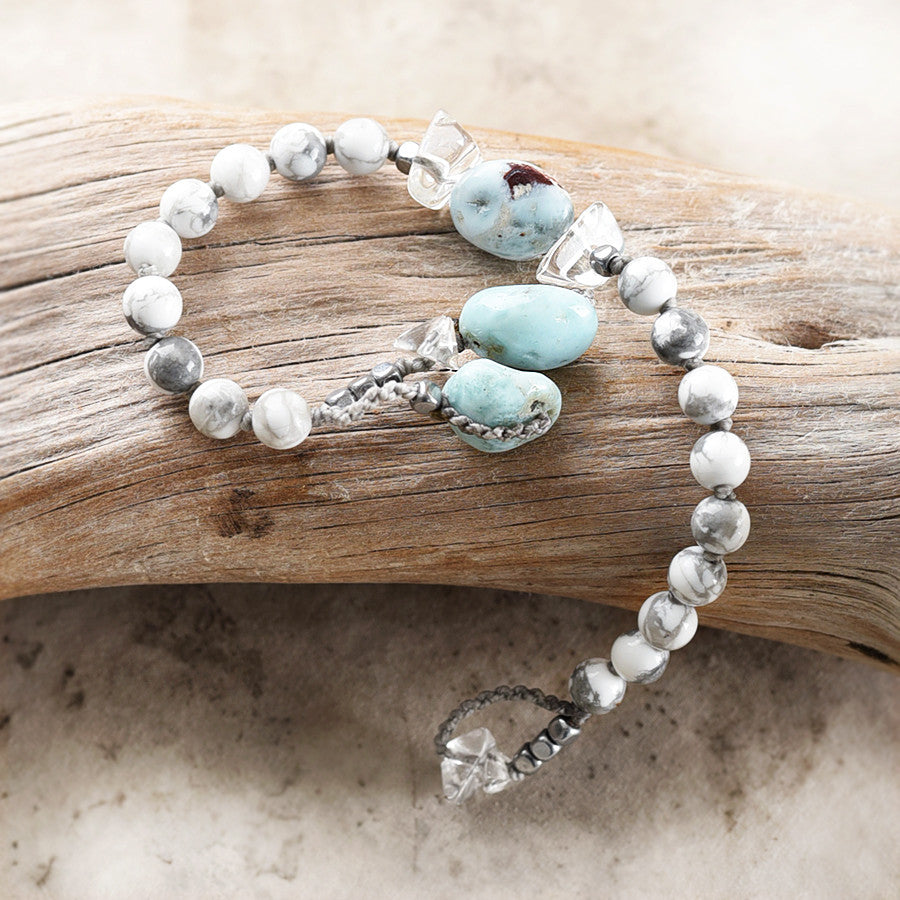 Mala bracelet with Howlite, Larimar & clear Quartz ~ for up to 6.25" wrist
DESCRIPTION
Small and delicate mala bracelet with 18 Howlite counter beads with a divider of Larimar & clear Quartz. The small highlighting stones are rhodium-plated Hematite. The two toggle stones are Larimar - you can slip both through the knotted loop to fasten the bracelet. The counter beads are knotted individually for strength and flexibility, using light grey micro-macrame cord.
This is a handy meditation / mantra aid for times when you'd like something smaller than a full mala. You can still count up to 108 with these bracelet beads - or in multiples of 27 if you prefer. Simply count back and forth over the divider as many rounds as needed. Use the toggle crystals as the guru bead.
Whilst the total length of this bracelet, including the toggle, is 18.5 cm (7.3") it would make a good fit for up to a 6"-6.25" wrist circumference. Please note that the counter bead diameter in this mala bracelet is 0.6 cm (0.2") which is smaller than the usual Spirit Carrier mala bracelets.
This mala comes in one of my handmade soft leather pouches for safe-keeping. If you would rather have a fabric pouch, please let me know at the time of purchase.

Gift-wrapped at no extra charge.
Read more about Spirit Carrier mala beads
CRYSTAL PROPERTIES
HOWLITE
Belongs to the "attunement" stones, linking its keeper to higher spiritual consciousness. Enhances self-awareness by providing insight into one's own actions and behaviour. Boosts creativity. Encourages you to look inside yourself for answers and is a generally calming and balancing stone. Helps in eliminating rage, anger and frustration, to assist with emotional expression. Opens the Third Eye to connect to wider awareness and spiritual insights.
LARIMAR
A relatively rare stone, only found in the Dominican Republic. In crystal lore it is associated with the ancient civilization on Lemuria, and also sometimes called a "Dolphin Stone". Larimar is soothing and uplifting, bringing tranquility into heart and mind. It is said to support self-expression, creativity and patience.
CLEAR QUARTZ
The universal master crystal that has a harmonising effect on all levels of being. Programmable by intention, so can be used for versatile purposes. Quartz can clear, enhance, amplify, transmute, balance, focus and transmit energy. Raises one's energetic vibration. Brings clarity and filters out distractions. A deep soul cleanser, attuning its keeper to their higher self. Each Quartz crystal is unique with its own character and teachings it offers, all are known as "Stones of Power" and "Master Healers".
HEMATITE
Creates a strong sense of self and enhances the creative flow. Relieves stress. Revitalises, enhancing personal magnetism and optimism. Helps in releasing self-imposed limitations to find your own unique gifts. A stone of balance and equilibrium. Grounds when feeling scattered, increases alertness and vigilance.
Recently Viewed