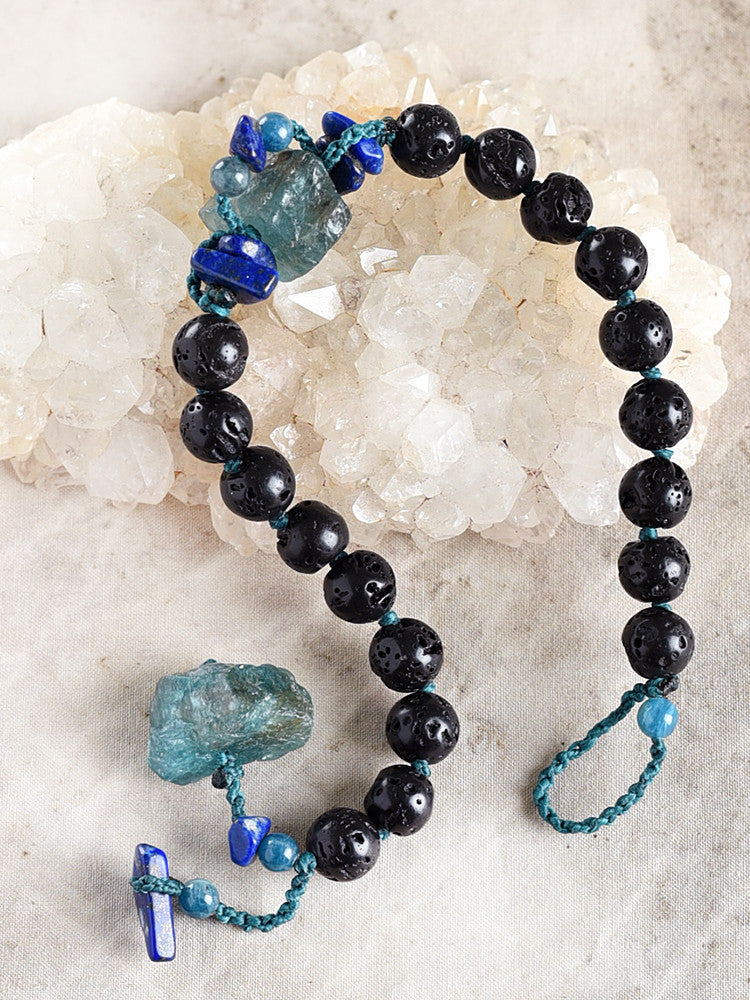 Mala bracelet with Lava Stone, Apatite & Lapis Lazuli ~ for up to 7" wrist
DESCRIPTION
Mala bracelet with 18 Lava Stone counter beads with a divider of Apatite & Lapis Lazuli. The toggle stone is Apatite, with a secondary toggle of Lapis Lazuli (you can slip both through the knotted loop to fasten the bracelet). The counter beads are knotted individually for strength and flexibility, using bright petrol green micro-macrame cord.
This is a handy meditation / mantra aid for times when you'd like something smaller than a full mala. You can still count up to 108 with these bracelet beads - or in multiples of 27 if you prefer. Simply count back and forth over the divider as many rounds as needed. Use the toggle crystal as the guru bead.
Whilst the total length of this bracelet, including the toggle, is 22 cm (8.7") it would make a good fit for up to a 7" wrist circumference, although if you prefer a more loose fit, this is fine for a smaller wrist too (loose fit but won't slip over your hand even if you wrist is 6"). The counter bead diameter is 0.8 cm (0.3").
This mala comes in one of my handmade soft black leather pouches for safe-keeping. If you would rather have a fabric pouch, please let me know at the time of purchase.

Gift-wrapped at no extra charge.
Read more about Spirit Carrier mala beads
CRYSTAL PROPERTIES
LAVA STONE
Stone of vitality, assertiveness and passion. Provides stability in times of change. Grounding and protective. Supports courage and decisiveness. Helps in finding one's 'life path'. Encourages personal development and growth.
APATITE
Enhances one's insight and imagination, and gives increased self-confidence. Blue Apatite connects to high level of spiritual guidance and is helpful in letting go of anything that no longer serves your highest good. Apatite crystal is also said to be a good aid in curbing one's appetite!
LAPIS LAZULI
Creativity super charger stone. Ignites new ideas and encourages different creative ways of thinking. Stone of truthfulness, openness, inner power, intuition and manifestation. Thought to increase self-confidence as well as to promote spiritual healing, mental calmness and strength of will. Powerful tool for dream work. Historically a stone of royalty.
Recently Viewed