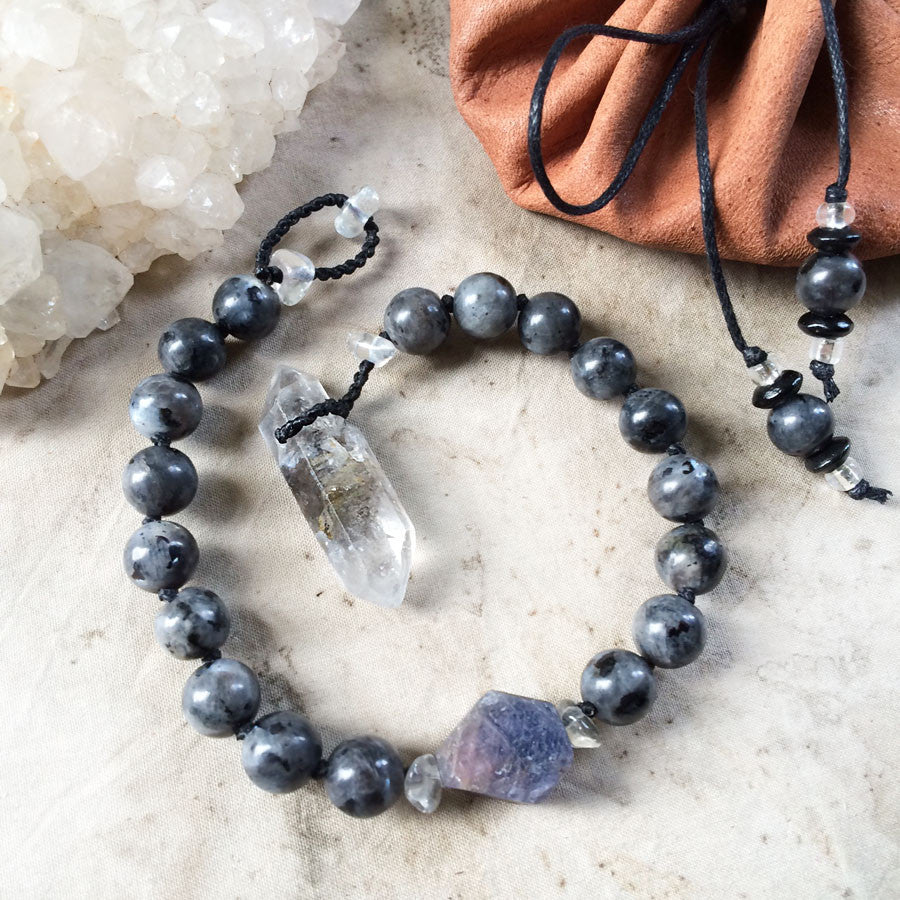 Mala bracelet with Norwegian Moonstone, record-keeper Sapphire & Sichuan Quartz ~ for wrist size 6.25"-6.75"
DESCRIPTION
Mala bracelet with 18 Norwegian Moonstone counter beads with a divider of very rare record-keeper Sapphire & clear Quartz. The toggle stone is a double-terminated Sichuan Quartz. 
This is a handy meditation / mantra aid for times when you'd like something smaller than a full mala. You can still count up to 108 with these bracelet beads - or in multiples of 27 if you prefer. Simply count back and forth over the divider as many rounds as needed. Use the toggle crystal as the guru bead.
Whilst the total length of this bracelet is 21 cm (8.3") it would make a good snugg fit for a 6.75" wrist circumference, or if you prefer a more loose fit, this is fine for a smaller wrist too. The counter bead diameter is 0.8 cm (0.3").
This mala comes in one of my handmade soft brown leather pouches for safe-keeping. If you would rather have a fabric pouch, please let me know at the time of purchase.

Gift-wrapped at no extra charge.
CRYSTAL PROPERTIES
NORWEGIAN MOONSTONE (aka Black Labradorite, Larvikite)
Repels negative energy and can make you more adaptable to life's situations. It also stimulates inner visions so it's very suited to meditation. Black Labradorite is also said to connect with nature spirits. On physical level, it is said to be good for renewing and maintaining vitality and youthfulness.
SAPPHIRE
A stone of psychic activation, enhances insight and focus. Helps the throat and third eye chakras to work in unison to strengthen and express one's inner vision. Grounds higher knowledge and helps one to stay centred. Evokes the wisdom needed to see past any situation into the underlying truth. Helpful in channeling healing energy from the highest source, allowing access to deeper levels of consciousness.
RECORD-KEEPER CRYSTALS: Rare to find, characterised by the appearance of raised or sunken "record-keeper" triangles on the faces of the crystal. Activating dormant intuitive abilities and enhancing one's psychic skills. Can be used to access the knowledge and wisdom of ancient civilizations from Akashic Records.
SICHUAN QUARTZ
Spiritually attuned to the white flame of pure consciousness, activating the crown and the third eye chakras. Aligns all the energy bodies, bringing forth a meditative state, peace and present moment awareness. Expands your consciousness and opens up psychic channels. Releases old, stagnant emotions, cleanses one's auric field and releases negative thoughts. Emanates a strong "OM" vibration. Can be used to intensify attainments, find out about karmic lessons and to bring deep healing for all levels of being. Double-terminated Sichuan Quartz brings powerful spiritual protection and purification.
Recently Viewed