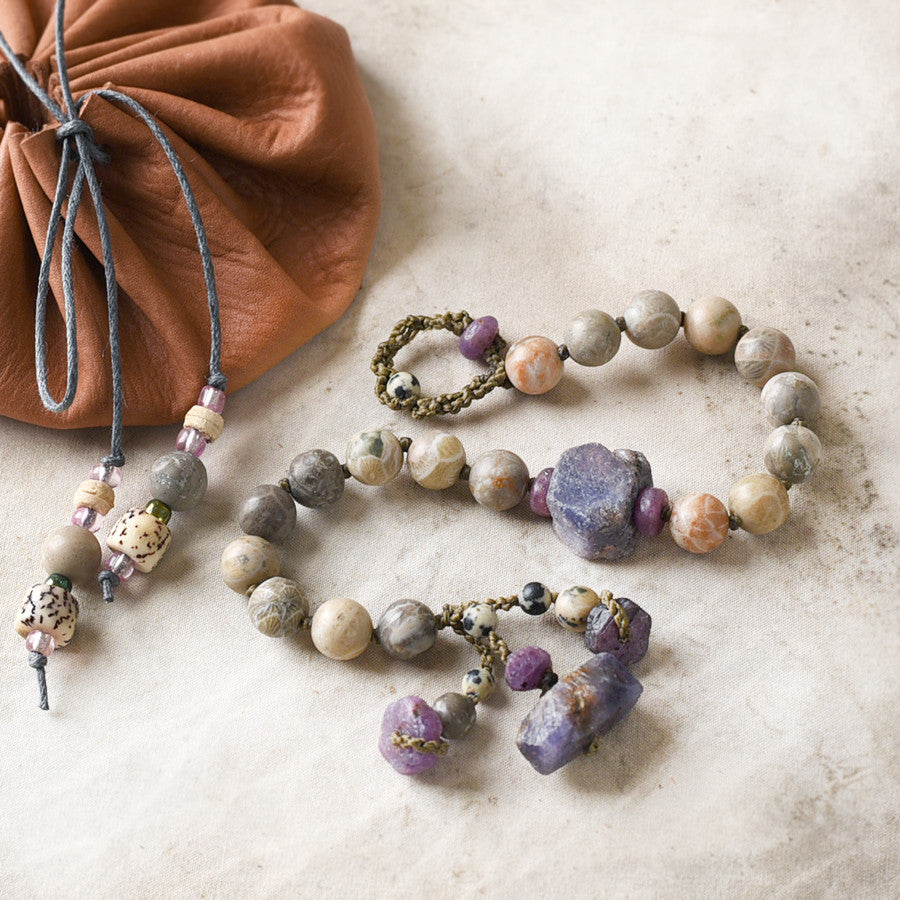 Mala bracelet with Petoskey Stone, Sapphire, Ruby & Dalmatian Jasper
DESCRIPTION
Mala bracelet with 18 Petoskey Stone counter beads with a divider of Sapphire and two small Rubies. The toggle closure includes three strands, one with Sapphire and two with Rubies (you can slip one, two or all of them through the knotted loop to fasten the bracelet). The counter beads are knotted individually for strength and flexibility, using dark moss green micro-macrame cord.
This is a handy meditation / mantra aid for times when you'd like something smaller than a full mala. You can still count up to 108 with these bracelet beads - or in multiples of 27 if you prefer. Simply count back and forth over the divider as many rounds as needed. Use the toggle crystals as the guru bead.
Whilst the total length of this bracelet, including the toggle loop, is 21 cm (8.3") it would make a good fit for up to a 7" wrist circumference to allow for movement while counting beads in meditation. Although if you prefer a more loose fit, this is fine for a smaller wrist too (loose fit but won't slip over your hand even if you wrist is 6"-6.5"). The Petoskey Stones' diameter is 0.8 cm (0.3").
This mala comes in one of my handmade soft leather pouches for safe-keeping. If you would rather have a fabric pouch, please let me know at the time of purchase.

Gift-wrapped at no extra charge.

Read more about Spirit Carrier mala beads
CRYSTAL PROPERTIES
PETOSKEY STONE
A supportive companion at times of transformation and major shifts in one's being. Encourages the integration of new positive changes into our life. Helps in developing one's intuitive senses and to feel the connection with subtle energies. Enhances imagination. Calls its keeper to recognise and appreciate their own unique individuality which makes life even richer.
SAPPHIRE
A stone of psychic activation, enhances insight and focus. Helps the throat and third eye chakras to work in unison to strengthen and express one's inner vision. Grounds higher knowledge and helps one to stay centred. Evokes the wisdom needed to see past any situation into the underlying truth. Helpful in channeling healing energy from the highest source, allowing access to deeper levels of consciousness. (Sapphire is one of the four 'precious' gemstones, the other three being Ruby, Emerald & Diamond. Other gemstones are considered 'semi-precious'.)
RUBY
Increases vitality and one's life-force energy, Very energising, excellent for women. Promotes clear mind, motivation and concentration. Associated with love, passionate commitment and heart-based closeness, offering help in shedding past hurts. Encourages you to 'follow your bliss' and have courageous attitude. Supports closeness and commitment. Shielding crystal to keep your energy field in your own command. (Ruby is one of the four 'precious' gemstones, the other three being Emerald, Sapphire & Diamond. Other gemstones are considered 'semi-precious'.)
DALMATIAN JASPER
Helps in removing barriers that prevent you from moving forward in life, and to discover your true purpose of being in the world. Brings joy and playfulness into one's life. The black spots in this stone are Black Tourmaline, which adds to this stone's protective qualities.
Recently Viewed