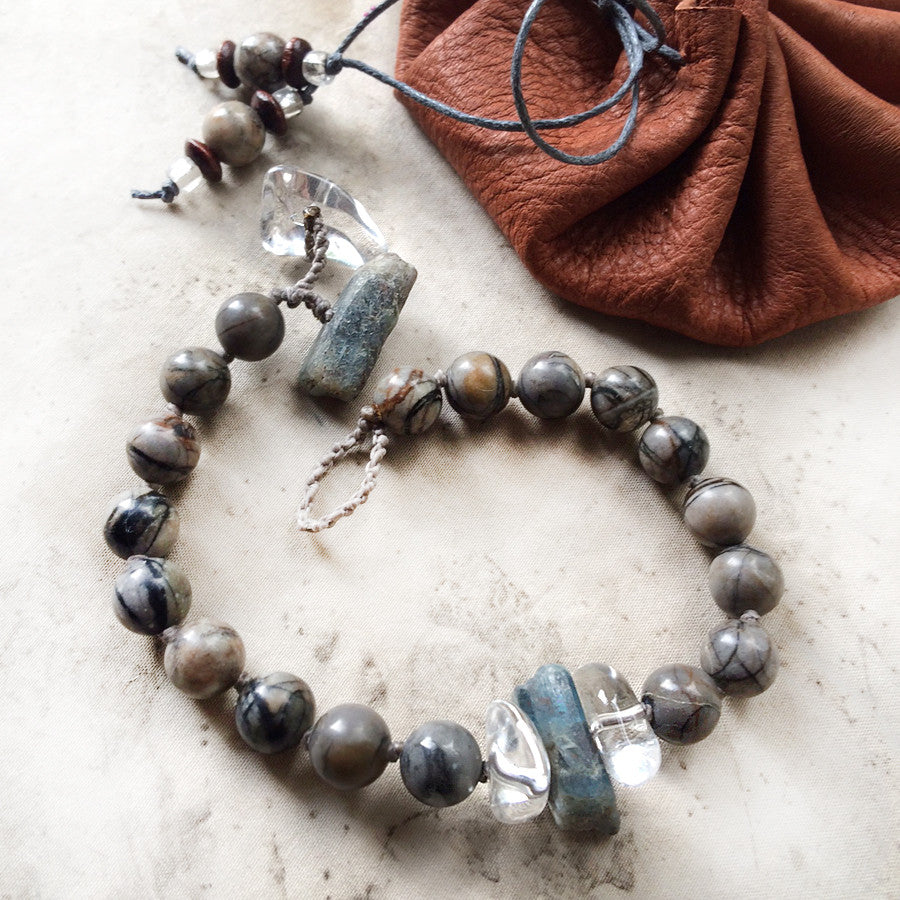 Mala bracelet with Picasso Jasper, blue Kyanite & clear Quartz ~ for up to 7" wrist
DESCRIPTION
Mala bracelet with 18 Picasso Jasper counter beads with a divider of blue Kyanite & clear Quartz. The toggle clasp has two stones, a clear Quartz and blue Kyanite (you can slip both through the knotted loop to fasten the bracelet).
This is a handy meditation / mantra aid for times when you'd like something smaller than a full mala. You can still count up to 108 with these bracelet beads - or in multiples of 27 if you prefer. Simply count back and forth over the divider as many rounds as needed. Use the toggle crystals as the guru bead.
Whilst the total length of this bracelet is 22 cm (8.7") it would make a good snugg fit for a 7" wrist circumference, or if you prefer a more loose fit, this is fine for a smaller wrist too. The counter bead diameter is 0.8 cm (0.3").
This mala comes in one of my handmade soft brown leather pouches for safe-keeping. If you would rather have a fabric pouch, please let me know at the time of purchase.

Gift-wrapped at no extra charge.
Read more about Spirit Carrier mala beads
CRYSTAL PROPERTIES
PICASSO JASPER
A joyful, harmonious stone, said to effect transformations in the area of relationships, attracting like-minded people and loyal friends. Offers stability and balance in times of change. Releases blocks from the way of one's creativity. Encourages to celebrate life!
KYANITE
'Stone of connection' that opens up energetic pathways where none existed. Enhances telepathic and psychic abilities, aligning chakras and subtle bodies. Calming and soothing, aids meditative work. Beneficial in negotiations, creating harmony between people through enhanced communication. Empowers you to stay true to your path. Helps in hearing one's intuitive guidance.
CLEAR QUARTZ
The universal master crystal that has a harmonising effect on all levels of being. Programmable by intention, so can be used for versatile purposes. Quartz can clear, enhance, amplify, transmute, balance, focus and transmit energy. Raises one's energetic vibration. Attunes its keeper to their higher self. Known as the "Stone of Power" and "Master Healer".
Recently Viewed