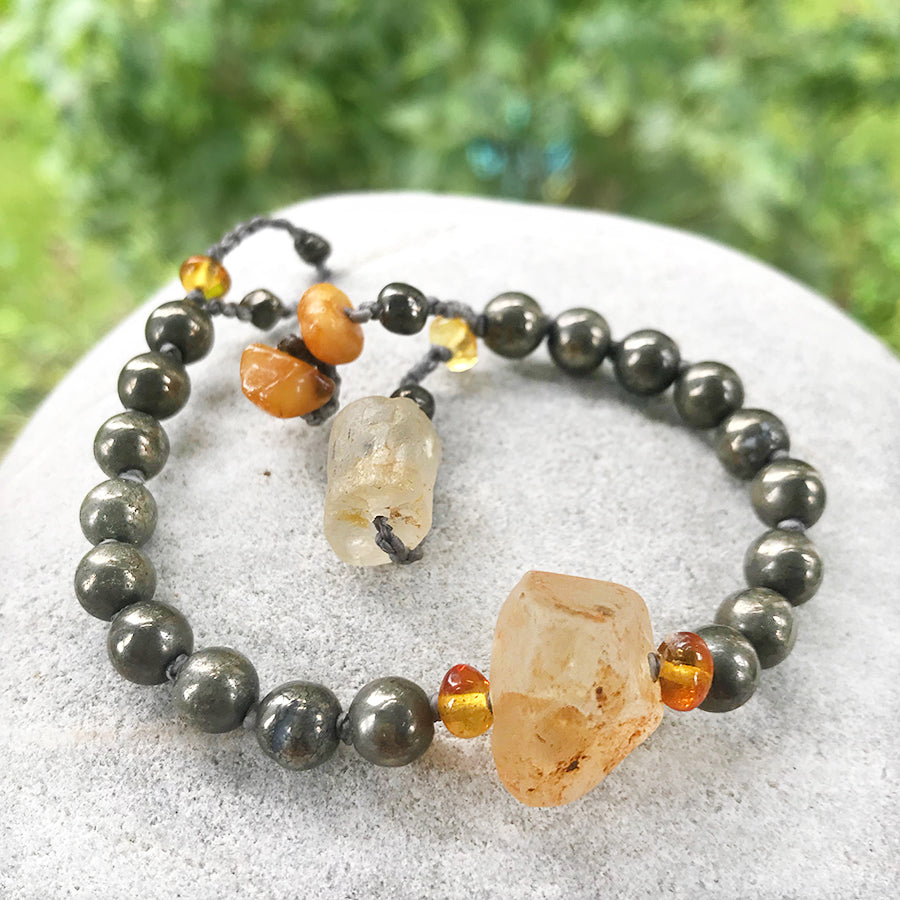 Mala bracelet with Pyrite, Topaz & Amber ~ for up to 6.25" wrist
DESCRIPTION
Mala bracelet with 18 Pyrite counter beads with a divider of a rough yellow Topaz with small Amber nuggets. The two toggle stones are Topaz and Amber ~ you can slip both toggle strands through the knotted loop to fasten the bracelet securely. The Pyrite counter beads are knotted individually for strength and flexibility, using light grey micro-macrame cord.
This is a handy meditation / mantra aid for times when you'd like something smaller than a full mala. You can still count up to 108 with these bracelet beads - or in multiples of 27 if you prefer. Simply count back and forth over the divider as many rounds as needed. Use the toggle crystal as the guru bead.
Whilst the total length of this bracelet, including the toggle, is 17.5 cm (6.9") it would make a good fit for up to a 6.25" wrist circumference. The counter bead diameter is 0.6 cm (0.2"). The central yellow Topaz is approx. 1.5 cm (0.6") in its longest dimension.
Please note: This mala bracelet comes in one of Spirit Carrier's handmade drawstring *fabric* pouches for safe-keeping and gift-wrapped at no extra charge. >>Leave a message in the Note-section when purchasing if you would prefer one of Spirit Carrier's brown leather pouches instead, there is no extra cost.
CRYSTAL PROPERTIES
PYRITE
Taps into your innate abilities, bringing confidence and perseverance to aim for your goals. A shielding stone that helps you see the truth in the motives of others. Increases vitality and enhances your assertive qualities. Helpful in turning melancholy into feeling empowered and more light-hearted. Helps in letting go thoughts of misfortune and worry, thus making it an excellent stone for manifesting abundance. Symbolises the warmth and presence of sun, attracting also abundance of love, friendship and success.
YELLOW TOPAZ
Stone of good fortune for those with good intentions. Exceptional aid in manifesting your intentions and desires into physical form. Aids in bringing all types of good things into your life, in alignment with your highest good. Increases faith in yourself and your ability to realise your goals. Helps in finding the right path and attracting helpful people to support you. Recharges your energy and relieves irritability.
AMBER
Amber is like sunshine solidified, offering a wonderful sense of health and wellbeing. Transmutes negative energies into positive, excellent for psychic protection. Cheers you up and helps you take action to make your ideas reality - ideal manifestation aid. Cleansing effect on the body, mind and spirit, promoting self-confidence and creative self-expression. Encourages spontaneity, patience and inner wisdom.
Recently Viewed