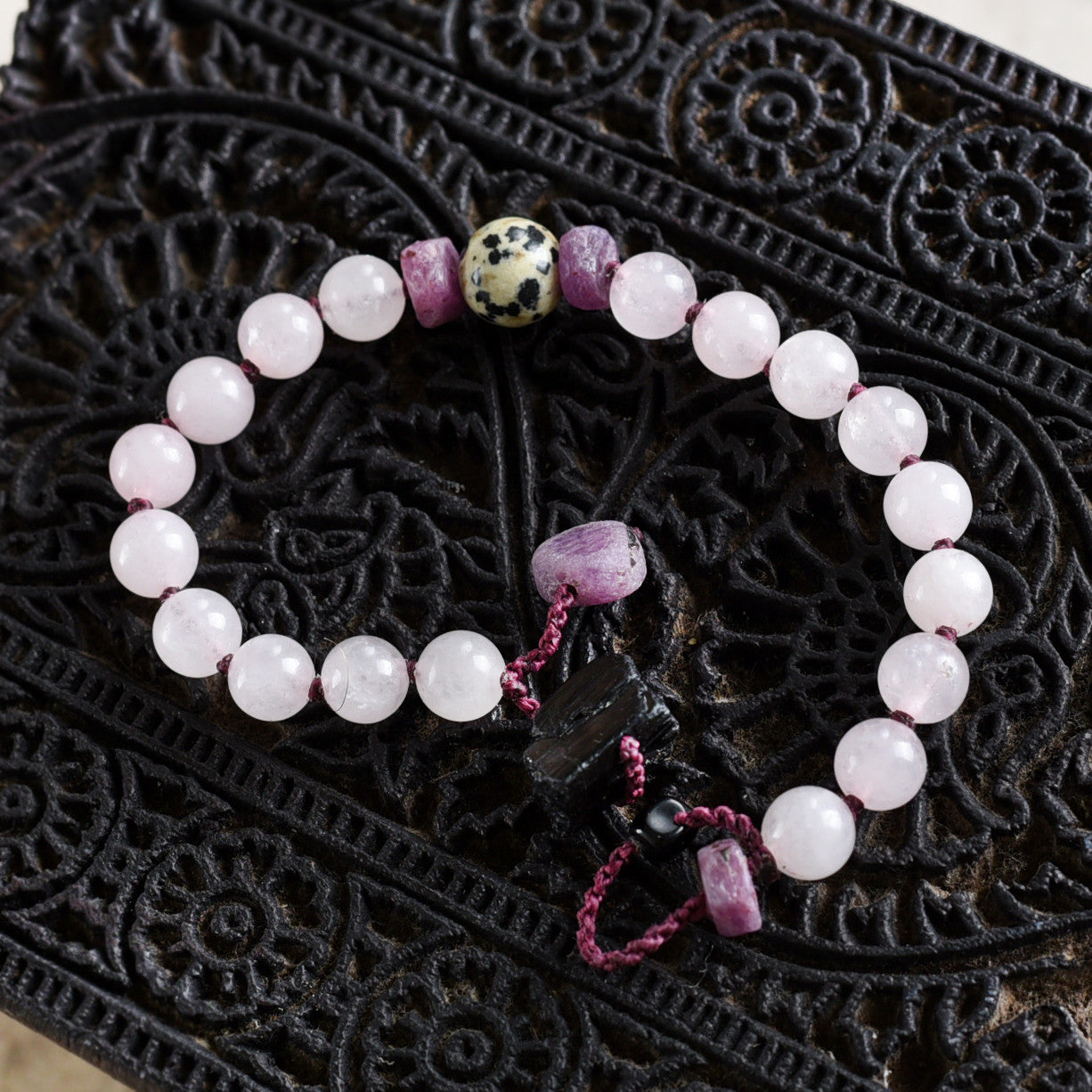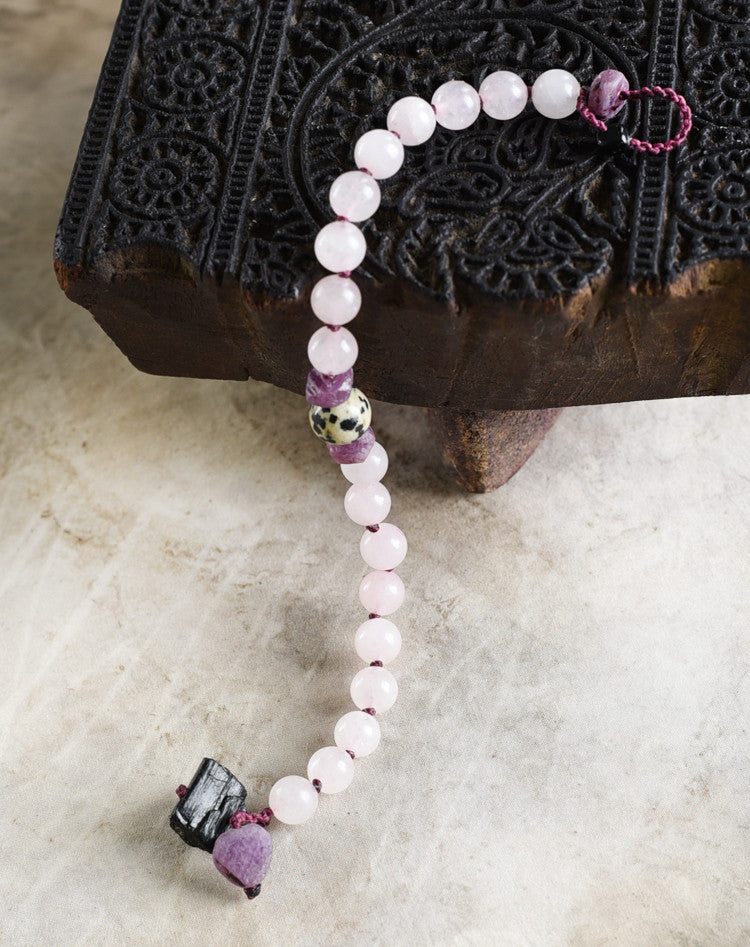 Mala bracelet with Rose Quartz, Ruby, Black Tourmaline & Dalmatian Jasper ~ for 6.5"-7" wrist
DESCRIPTION
Mala bracelet with 18 Rose Quartz counter beads with a divider of Ruby & Dalmatian Jasper. The toggle closure stone Black Tourmaline, with a secondary toggle of raw Ruby (you can slip both through the knotted loop to fasten the bracelet).
This is a handy meditation / mantra aid for times when you'd like something smaller than a full mala. You can still count up to 108 with these bracelet beads - or in multiples of 27 if you prefer. Simply count back and forth over the divider as many rounds as needed. Use the toggle crystals as the guru bead.
Whilst the total length of this bracelet is 21 cm (8.3") it would make a good snug fit for a 7" wrist circumference, although if you prefer a more loose fit, this is fine for a smaller wrist too. The counter bead diameter is 0.8 cm (0.3").
This mala comes in one of my handmade soft brown leather pouches for safe-keeping. If you would rather have a fabric pouch, please let me know at the time of purchase.

Gift-wrapped at no extra charge.
CRYSTAL PROPERTIES
ROSE QUARTZ
Powerful love stone, love that is all-encompassing and unconditional. Vibrates its loving energy to all chakras, offering gentle healing. Soothing and calming. Dissolves anger and resentment. Good for raising one's self-esteem and feelings of self-worth. Balances emotions and is said to support all types of healing.
RUBY
Increases vitality and one's life-force energy. Promotes clear mind, motivation and concentration. Associated with love, passionate commitment and heart-based closeness, offering help in shedding past hurts. Encourages you to 'follow your bliss' and have courageous attitude. Supports closeness and commitment. Being a shielding crystal, guards against energetic attacks. (Ruby is one of the four 'precious' gemstones, the other three being Emerald, Sapphire & Diamond. Other gemstones are considered 'semi-precious'.)
BLACK TOURMALINE
One of the most well-known protective stones, shielding its user from negativity. A shamanic stone used for grounding during vision quests. Empowering for those who work in challenging environments. Purifies and transforms denser energies into lighter vibrations and is also detoxifying for the body. If you're sensitive to electromagnetic smog, you may get relief by wearing black Tourmaline.
DALMATIAN JASPER
Helps in removing barriers that prevent you from moving forward in life, and to discover your true purpose of being in the world. Brings joy and playfulness into one's life. The black spots in this stone are Black Tourmaline, which adds to this stone's protective qualities.
Recently Viewed