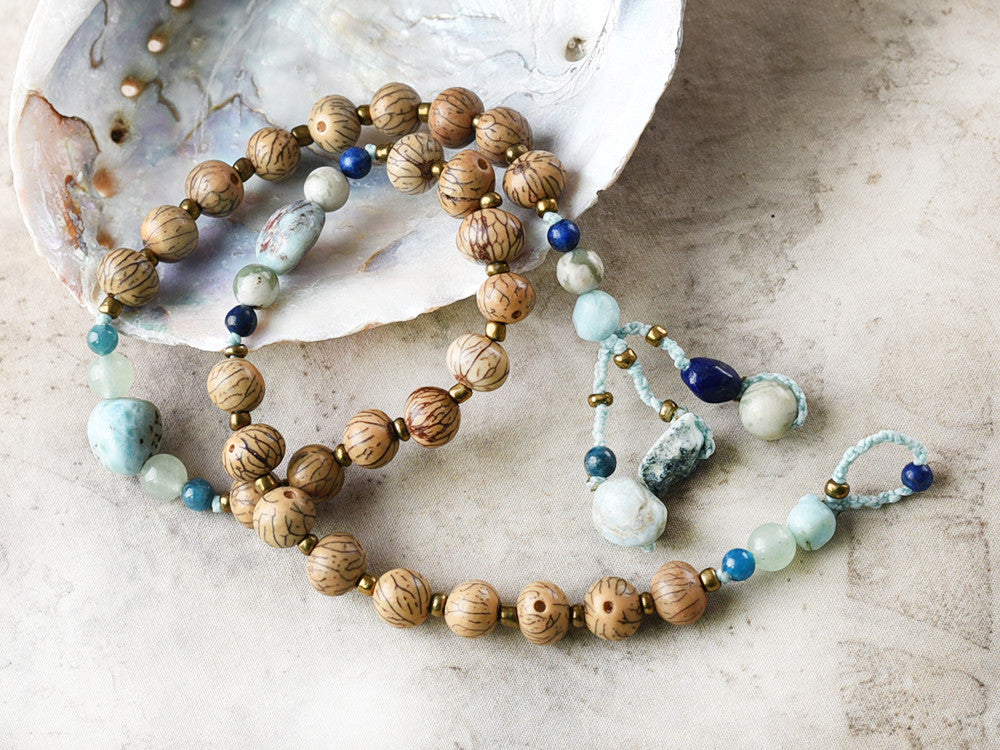 Mala double wrap bracelet with Bodhi seeds & blue tone crystals ~ for up to 6.5" wrist
DESCRIPTION
Mala double wrap bracelet with 27 Bodhi seed counter beads with two dividers at nine bead intervals, crystals include: Larimar, Calcite, Lapis Lazuli, Peace Jade and Apatite. The toggle closure has three strands - you can slip one or all toggle stones through the knotted loop to fasten the bracelet. Bodhi seeds are traditionally used in Tibetan Buddhist malas. These counter beads are spaced with matt brown glass seed beads, knotted and strung with light blue micro-macrame cord.
This is a handy meditation / mantra aid for times when you'd like something smaller and more light weight than a full mala. You can still count up to 108 with these bracelet beads - in multiples of 27 if you prefer. Simply count back and forth over the dividers as many rounds as needed. Use the toggle crystals as the guru bead.
Whilst the total length of this bracelet, including the toggle loop, is 39 cm (15.3") it would make a good fit for up to a 6.5" wrist circumference, although if you prefer a more loose fit, this is fine for a smaller wrist too (loose fit but won't slip over your hand even if your wrist is 6"). Being natural, dried seeds, the Bodhi seed beads are not uniformly round. Their diameter is approx. 0.8 cm (0.3").
This mala bracelet comes in one of my handmade drawstring fabric pouches for safe-keeping.

Gift-wrapped at no extra charge.
Read more about Spirit Carrier mala beads
CRYSTAL PROPERTIES
LARIMAR
A relatively rare stone, only found in the Dominican Republic. In crystal lore it is associated with the ancient civilization on Lemuria, and also sometimes called a "Dolphin Stone". Larimar is soothing and uplifting, bringing tranquility into heart and mind. It is said to support self-expression, creativity and patience.
CALCITE
Calming and peaceful, amplifies and increases energy in general. Protects and purifies. Helps in remaining detached from chaos and in dealing with challenges. Increases one's sense of self-worth. Green Calcite is supportive for emotional balance and stress relief. Known as stone of manifestation, especially useful in manifesting prosperity and success. Associated with the heart chakra, releasing beliefs that might be holding you back.
APATITE
Enhances one's insight and imagination, and gives increased self-confidence. Blue Apatite connects to high level of spiritual guidance and is helpful in letting go of anything that no longer serves your highest good. Apatite crystal is also said to be a good aid in curbing one's appetite!
LAPIS LAZULI
Creativity super charger stone. Ignites new ideas and encourages different creative ways of thinking. Stone of truthfulness, openness, inner power, intuition and manifestation. Thought to increase self-confidence as well as to promote spiritual healing, mental calmness and strength of will. Powerful tool for dream work. Historically a stone of royalty.
PEACE JADE
Pure, intensely peaceful vibe which can be easily felt when just holding this stone. Releases internalised stress, allowing you feel serene and in alignment with your core self. Calming when feeling emotionally overwhelmed. Guides you to take that "deep breath" of release to let go of tension and worry. Compassionate heart chakra stone that fills you with divine tranquility.
Recently Viewed