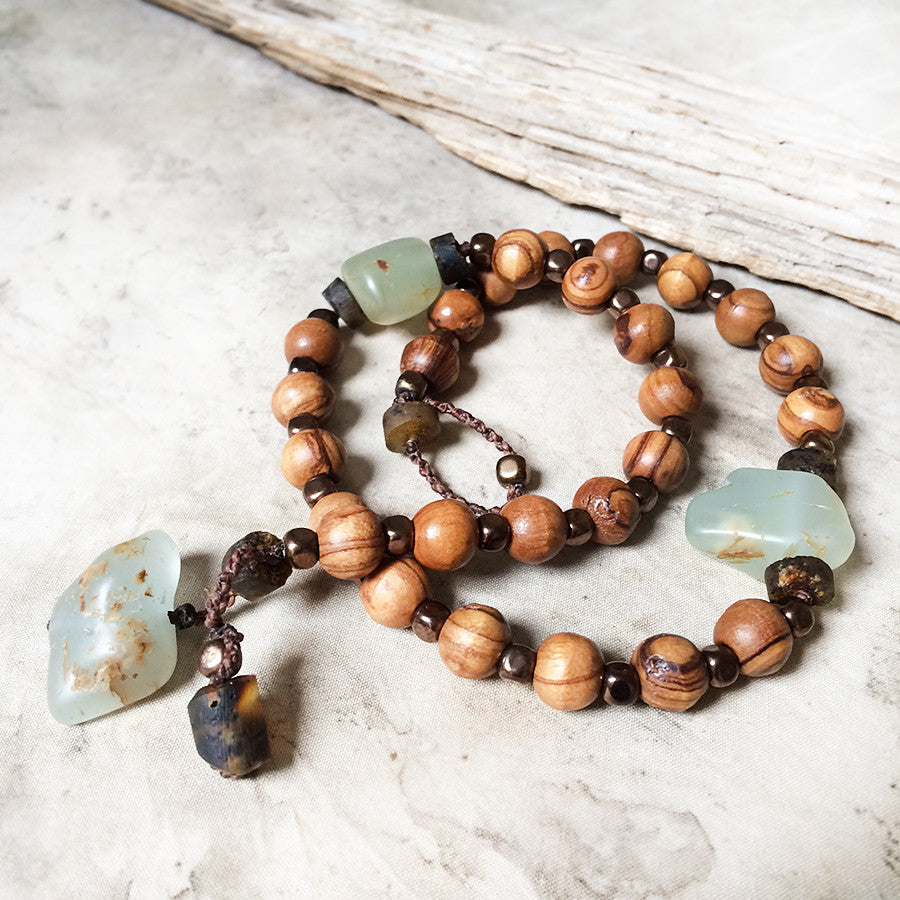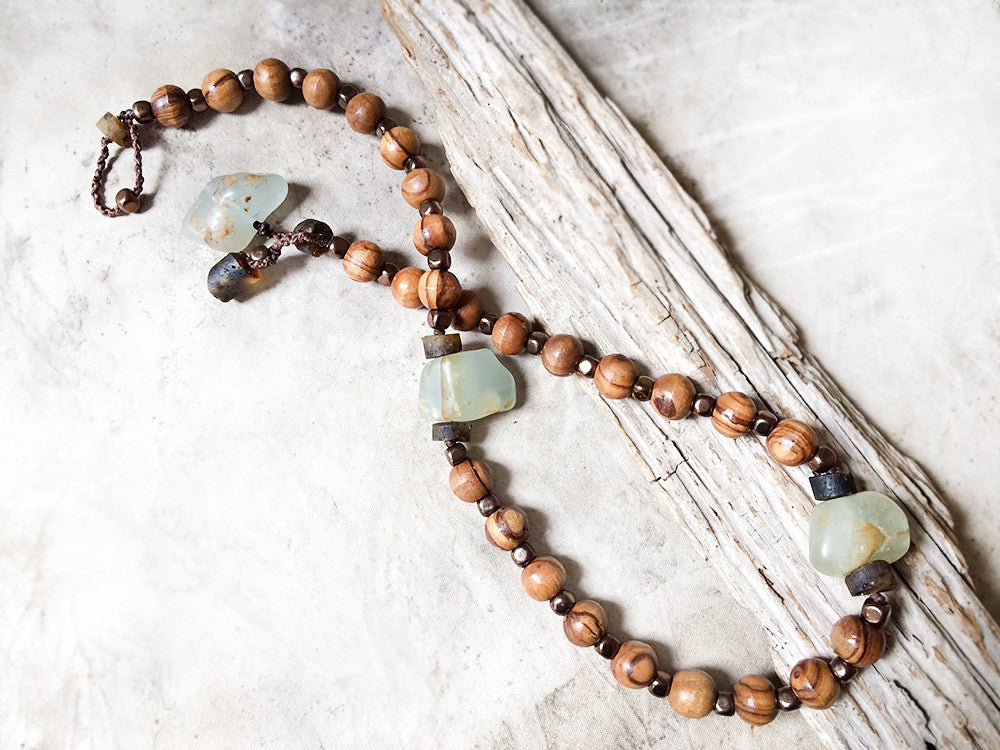 Mala double wrap bracelet with olive wood beads, Hematite, Amber & Aquamarine ~ for up to 6.75" wrist
DESCRIPTION
Mala double wrap bracelet with 27 olive wood counter beads with two dividers at nine bead intervals with Aquamarine and Baltic Amber. The toggle closure has two strands - you can slip either just the Aquamarine or also the smaller Amber toggle through the knotted loop to fasten the bracelet. The counter beads are spaced with small copper-plated Hematite beads (dark shiny copper tone) and knotted with dark brown micro-macrame cord. Copper is a good energy conductor and together with the olive wood creates a warm, energising vibe. Olive wood symbolises peace, abundance and wisdom.
This is a handy meditation / mantra aid for times when you'd like something smaller and more light weight than a full mala. You can still count up to 108 with these bracelet beads - in multiples of 27 if you prefer. Simply count back and forth over the dividers as many rounds as needed. Use the toggle crystals as the guru bead.
Whilst the total length of this bracelet, including the toggle loop, is 40 cm (15.7") it would make a good fit for up to a 6.75" wrist circumference, although if you prefer a more loose fit, this is fine for a smaller wrist too (loose fit but won't slip over your hand even if your wrist is 6"). Being all natural, the olive wood beads have slight textural differences and each has a different vein pattern (dark on lighter, reddish brown). Their diameter is approx. 0.8 cm (0.3").
This mala bracelet comes in one of my handmade drawstring leather pouches for safe-keeping. Please let me know at the time of purchase if you'd rather have a fabric pouch.

Gift-wrapped at no extra charge.
Read more about Spirit Carrier mala beads
CRYSTAL PROPERTIES
AQUAMARINE
Connected with the throat chakra, easing verbal self-expression. Helps you communicate your own truth and find your voice. Helps in looking at emotional situations from other perspectives, assists in opening up intuition and to calmly be in the flow of life. Aquamarine also aids in reaching deep meditative states. Resonates with the energy of the ocean. Stone of courage and protection.
BALTIC AMBER
Amber is like sunshine solidified, offering a wonderful sense of health and wellbeing. Transmutes negative energies into positive, excellent for psychic protection. Cheers you up and helps you take action to make your ideas reality - ideal manifestation aid. Cleansing effect on the body, mind and spirit, promoting self-confidence and creative self-expression. Encourages spontaneity, patience and inner wisdom.
HEMATITE
Creates a strong sense of self and enhances the creative flow. Relieves stress. Revitalises, enhancing personal magnetism and optimism. Helps in releasing self-imposed limitations to find your own unique gifts. A stone of balance and equilibrium. Grounds when feeling scattered, increases alertness and vigilance.
Recently Viewed