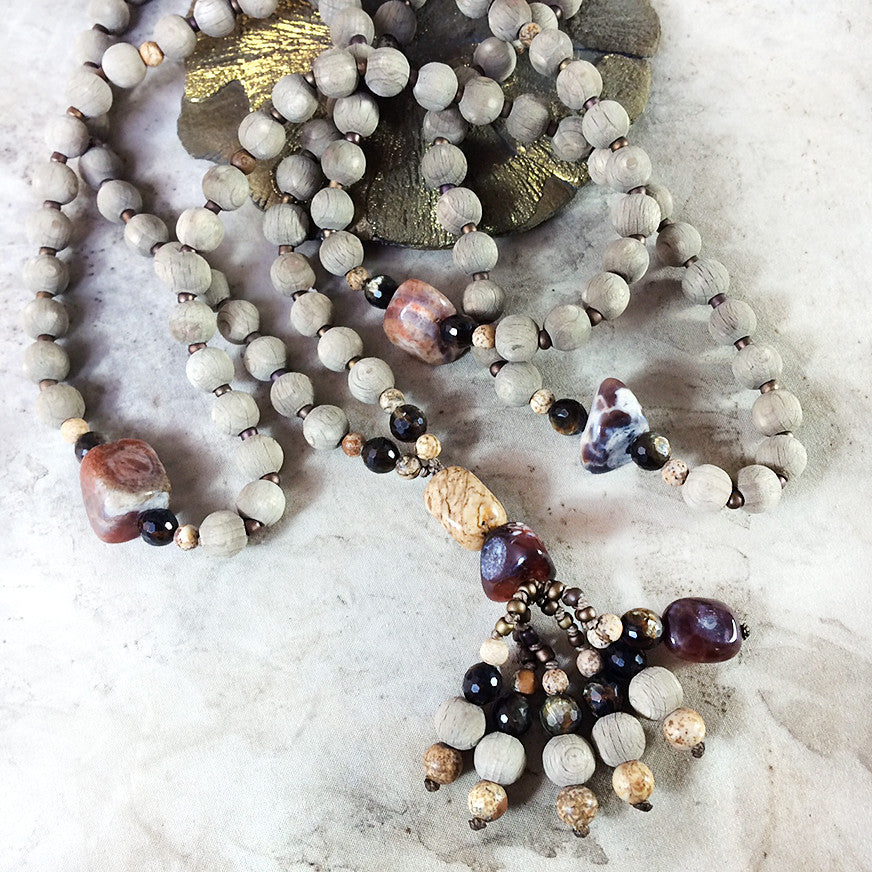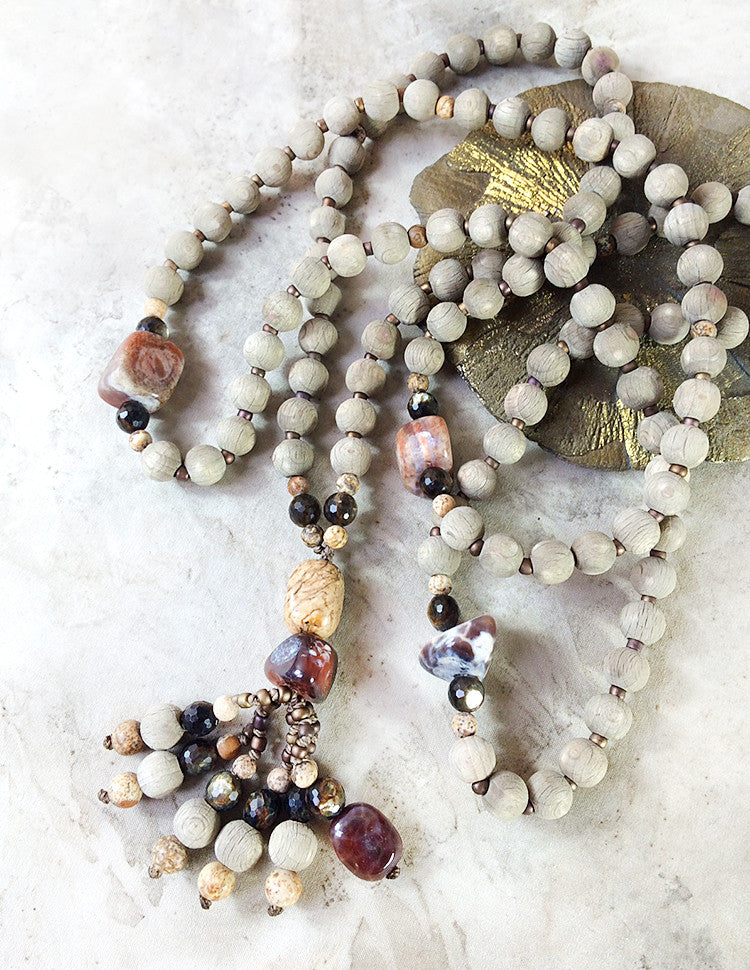 Mala with rough beech wood beads, Fire Agate, Picture Jasper & Golden Mica
DESCRIPTION
Unusual, one of a kind, contemporary 108 bead meditation mala with aged beechwood counter beads, Fire Agate, Picture Jasper and Golden Mica. Quite 'wabi sabi' in feel. The wooden beads make this mala much lighter in weight than full gemstone malas. You can also wrap this around your wrist a few times to carry as a bracelet. On average, the diameter of the beechwood beads is approx. 0.7-0.8 cm (up to 0.3").
The main beads are beech, which I have given an aged patina by eco-dye method using onion skins. The texture is rough, resembling drift wood - these beads are un-oiled, and thus don't 'slide' through your grip like smooth beads would. If you use essential oils, you could make these beads fragrant, by adding a drop of your favourite aromatherapy scent in its carrier oil to some of the beads, and a different scent on a few other beads etc. A very personal talismanic mala.
The three dividers are Fire Agate, combined with Picture Jasper and Golden Mica on either side. Picture Jasper and Golden Mica beads also lead to the guru tassel which is a combination of further beech beads and a Fire Agate. Each counter bead is spaced with a small matt brown glass seed bead, with the exception of every nine counter beads being knotted with a small Picture Jasper bead.
The all-around measurement of the mala is 44.5" (113 cm) with the guru tassel combination being 2.5" (6 cm) in length.
This mala comes in one of my handmade soft brown leather pouches for safe-keeping. If you would rather have a fabric pouch, please let me know at the time of purchase.
Read more about Spirit Carrier mala beads
CRYSTAL PROPERTIES
FIRE AGATE
Assists in taking decisive action in unclear situations. Connects with one's inner courage to go after one's goals. Helpful in overcoming creative blocks of any kinds. Promotes inner stability. Forms a protective auric shield. Grounding and revitalising.  It can alleviate the emotional charge in problems, and enhances all healing energies. Helps you to tap into your own perfection.
PICTURE JASPER
Associated with expanded creativity, visions, invention and initiative. Helps in grounding ideas into reality. Believed to contain hidden messages from the past. Nurturing and harmonious, it also offers psychic protection during shamanic journeying as well as activates the third eye chakra. Inspires creative visualisation and is excellent for overcoming any creative blocks. Good confidence stone, particularly helpful in business pursuits.
GOLDEN MICA
Uplifting mineral. Increases compassion towards others. A peace keeper that shields against anger and jealousy. Said to improve stamina and strength. Helps one to see situations for what they are, while staying heart-centred. Releases energetic blocks within the body and aligns chakras. Works in a light and joyous way while helping one to see what needs changing in one's outlook.
Recently Viewed