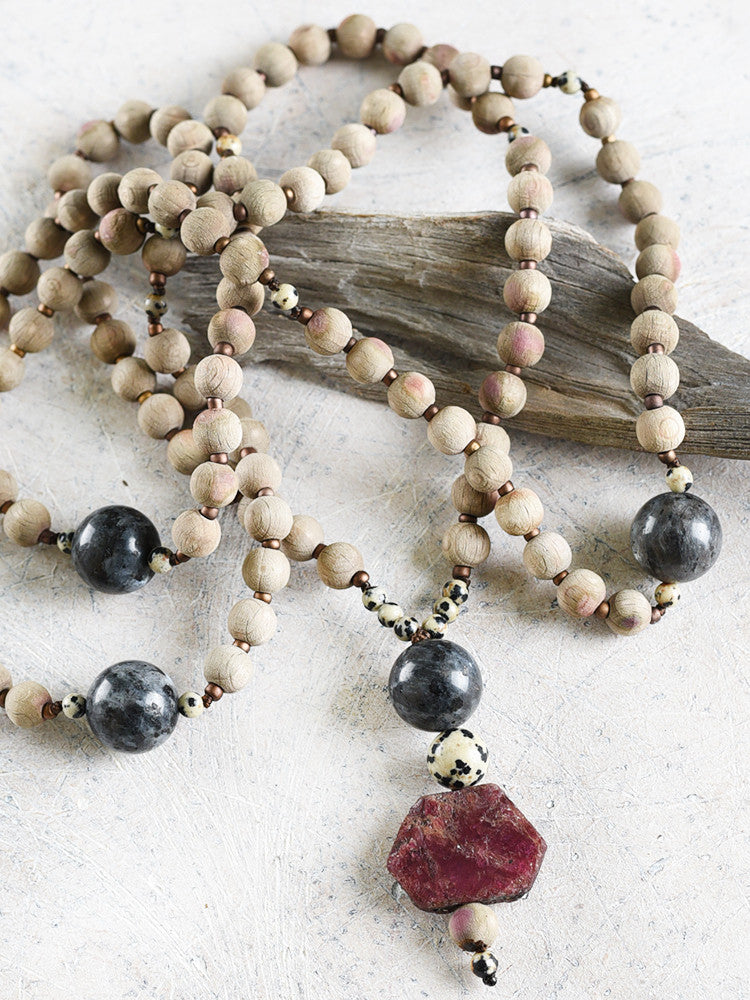 Mala with rough beech wood beads, Norwegian Moonstone, Dalmatian Jasper & raw Ruby
DESCRIPTION
Unusual, one of a kind, contemporary 108 bead meditation mala with aged beechwood counter beads, Norwegian Moonstone, Dalmatian Jasper and raw Ruby. Quite 'wabi sabi' in feel. The wooden beads make this mala much lighter in weight than full gemstone malas. You can also wrap this around your wrist a few times to carry as a bracelet. On average, the diameter of the beechwood beads is approx. 0.7-0.8 cm (up to 0.3").
The main beads are beech, which I have given an aged patina by eco-dye method using onion and avocado skins. There is a faint pink hue showing on some of the beads, and the texture is rough, resembling drift wood - these beads are un-oiled, and thus don't 'slide' through your grip like smooth beads would. If you use essential oils, you could make these beads fragrant, by adding a drop of your favourite scent in its carrier oil to some of the beads, and a different scent on a few other beads etc. A very personal talismanic mala.
The three dividers are Norwegian Moonstone, 1.6 cm (0.6") in diameter and a small Dalmatian Jasper bead on either side. Dalmatian Jasper beads also lead to the guru bead which is a combination of Norwegian Moonstone, Dalmatian Jasper and raw Ruby. Each counter bead is spaced with a small matt brown glass seed bead, with the exception of every nine counter beads being knotted with a small Dalmatian Jasper bead.
The all-around measurement of the mala is 47" (119 cm) with the guru bead combination being 2.5" (6 cm) in length.
This mala comes in one of my handmade soft brown leather pouches for safe-keeping. If you would rather have a fabric pouch, please let me know at the time of purchase.
Read more about Spirit Carrier mala beads
CRYSTAL PROPERTIES
NORWEGIAN MOONSTONE (aka Black Labradorite, Larvikite)
Repels negative energy and can make you more adaptable to life's situations. It also stimulates inner visions so it's very suited to meditation. Black Labradorite is also said to connect with nature spirits. On physical level, it is said to be good for renewing and maintaining vitality and youthfulness.
DALMATIAN JASPER
Helps in removing barriers that prevent you from moving forward in life, and to discover your true purpose of being in the world. Brings joy and playfulness into one's life. The black spots in this stone are Black Tourmaline, which adds to this stone's protective qualities.
RUBY
Increases vitality and one's life-force energy. Promotes clear mind, motivation and concentration. Associated with love, passionate commitment and heart-based closeness, offering help in shedding past hurts. Encourages you to 'follow your bliss' and have courageous attitude. Supports closeness and commitment. Being a shielding crystal, guards against energetic attacks. (Ruby is one of the four 'precious' gemstones, the other three being Emerald, Sapphire & Diamond. Other gemstones are considered 'semi-precious'.)
Recently Viewed