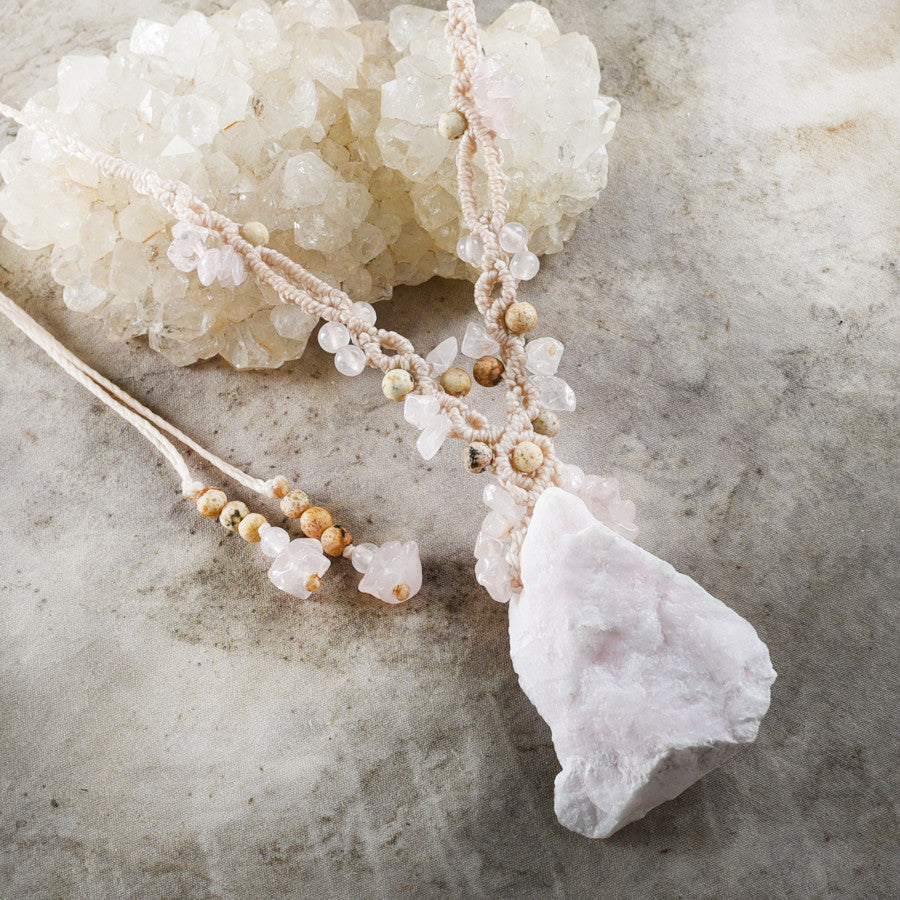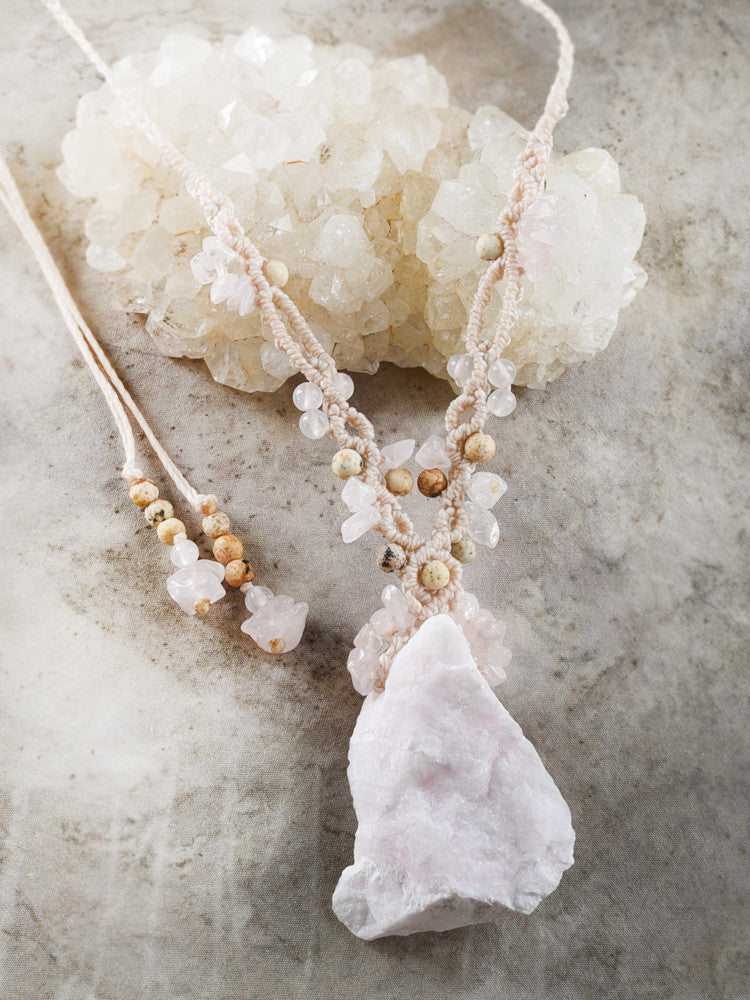 'Vision Mountain' ~ Mangano Calcite crystal amulet with Picture Jasper & Rose Quartz
DESCRIPTION
Pure crystal healing energy - this is a rough, un-polished Mangano Calcite, knotted with light cream tone micro-macrame cord which is strong and durable, yet soft to wear. The highlighting crystals are Rose Quartz & Picture Jasper.
The length of the necklace is adjustable from very short down to solar plexus level. The Mangano Calcite is just over 4 cm (1.6") tall and just over 3.5 cm (1.4") at its widest.
There are no metals in this necklace so would be particularly suitable for those with metal sensitivities, energy workers and those who simply prefer not to wear metal.
You'll receive this crystal healing necklace in one of my fabric draw-string pouches, great for the safe-keeping of the necklace. Gift-wrapped at no extra charge.
CRYSTAL PROPERTIES
MANGANO CALCITE
Stone of peace and well-being with a purifying effect. Carries a sweet, loving energy. Attracts new opportunities to feel and experience Universal Love. Beneficial for clearing away effects of emotional trauma. Enhances energy flow between the crown chakra and the heart chakra. Excellent stone for energy workers and distance healers.
ROSE QUARTZ
Powerful love stone, love that is all-encompassing and unconditional. Vibrates its loving energy to all chakras, offering gentle healing. Soothing and calming. Dissolves anger and resentment. Good for raising one's self-esteem and feelings of self-worth. Balances emotions and is said to support all types of healing.
PICTURE JASPER
Associated with expanded creativity, visions, invention and initiative. Helps in grounding ideas into reality. Believed to contain hidden messages from the past. Nurturing and harmonious, it also offers psychic protection during shamanic journeying as well as activates the third eye chakra. Inspires creative visualisation and is excellent for overcoming any creative blocks. Good confidence stone, particularly helpful in business pursuits.
Recently Viewed