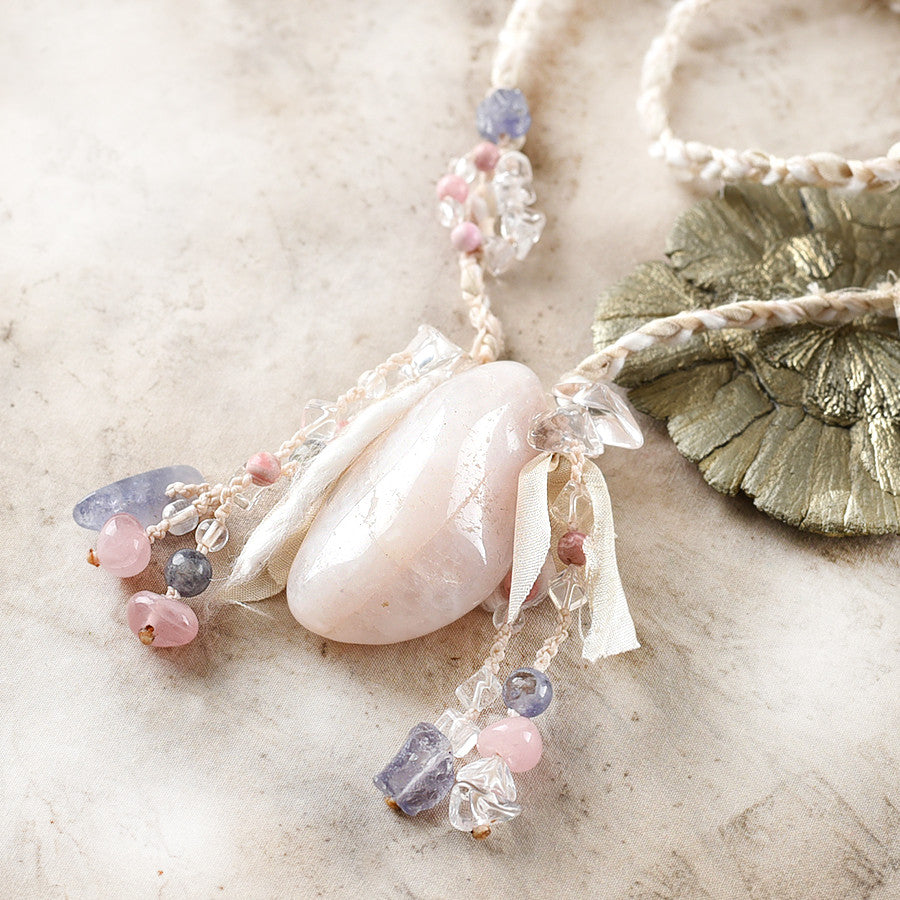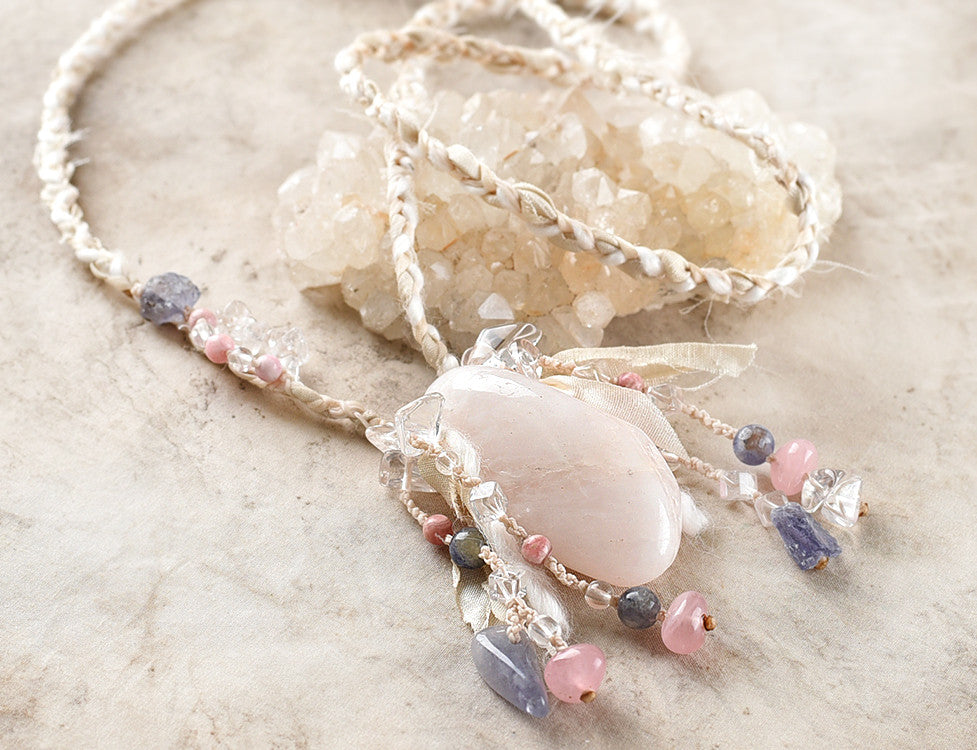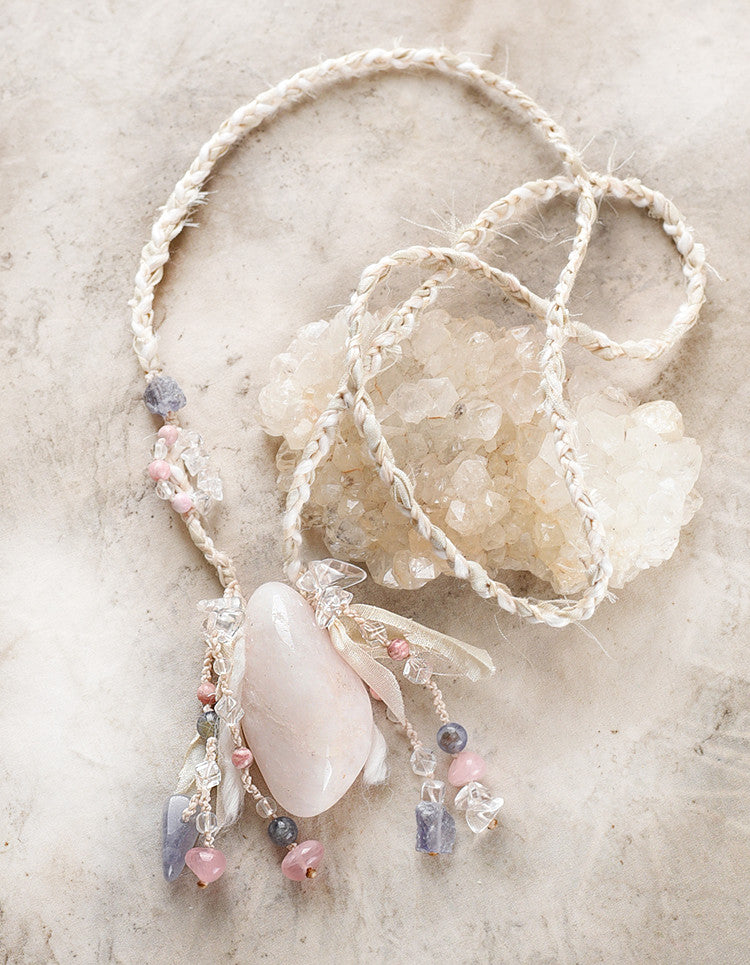 Mangano Calcite crystal healing talisman
DESCRIPTION
Organically shaped, smoothly polished Mangano Calcite pebble is the centre piece of this gentle crystal healing talisman. The necklace is braided with a combination of three silks - white silk ribbon, soft hand-spun silk yarn and recycled, un-bleached sari silk, all combined with cream white micro-macrame cord for added strength. The talisman is highlighted with both rough and smooth Iolite crystals, clear Quartz. Madagascan Rose Quartz (the rare, naturally deep pink variety) and small Rhodochrosite crystals. Knotted strands of these crystals adorn both sides of the Mangano Calcite, as well as there being a small crystal floret of Quartz, Rhodochrosite and Iolite on one side of the necklace braid.
The necklace braid is set length, allowing the Mangano Calcite to hang down approx. 34-35 cm (14") measured from the back of the neck to the top edge of the stone. The all-around length of the necklace braid is 69 cm (27").
The Mangano Calcite is approx. 4.5 cm (1.8") tall and 2.5 cm (1") at its widest.
There are no metals in this necklace so would be particularly suitable for those with metal sensitivities / metal allergy, energy workers and those who simply prefer not to wear metal.
You'll receive this crystal healing necklace in one of my handmade fabric draw-string pouches - great for the safe-keeping of the necklace. Gift-wrapped at no extra charge.
Read here about how to take care of your natural crystal jewellery.
CRYSTAL PROPERTIES
MANGANO CALCITE
Stone of peace and well-being with a purifying effect. Carries a sweet, loving energy. Attracts new opportunities to feel and experience Universal Love. Beneficial for clearing away effects of emotional trauma. Enhances energy flow between the crown chakra and the heart chakra. Excellent stone for energy workers and distance healers.
IOLITE
Aids in making inner visions more vivid, dissolving fear of the unknown. Helps in blending everyday conscious thinking with intuitive inner knowing. Awakens psychic gifts, activating and clearing the third eye. Helps accessing communication from higher vibratory realms. Helps one to act and respond to situations from one's higher guidance.
ROSE QUARTZ
Powerful love stone, love that is all-encompassing and unconditional. Awakens one's heart to its own innate love, compassion and acceptance. Vibrates its loving energy to all chakras, offering gentle healing. Soothing and calming. Dissolves anger and resentment. Good for raising one's self-esteem and feelings of self-worth. Balances emotions and is said to support all types of healing. Guide's one's life path towards a sense of personal fulfilment and contentment.
CLEAR QUARTZ
The universal master crystal that has a harmonising effect on all levels of being. Programmable by intention, so can be used for versatile purposes. Quartz can clear, enhance, amplify, transmute, balance, focus and transmit energy. Raises one's energetic vibration. Brings clarity and filters out distractions. A deep soul cleanser, attuning its keeper to their higher self. Each Quartz crystal is unique with its own character and teachings it offers, all are known as "Stones of Power" and "Master Healers".
RHODOCHROSITE
A stone of deep emotional healing. Comforting and positive, strengthening feelings of self-love, self-worth and self-forgiveness. Supportive heart-healer stone for those who are grieving or might feel stuck in the process. Repairs damages to one's subtle energy bodies. Helps in recovering lost talents you might have given up on due to past hurts, in order to discover your true purpose in this life.
Recently Viewed