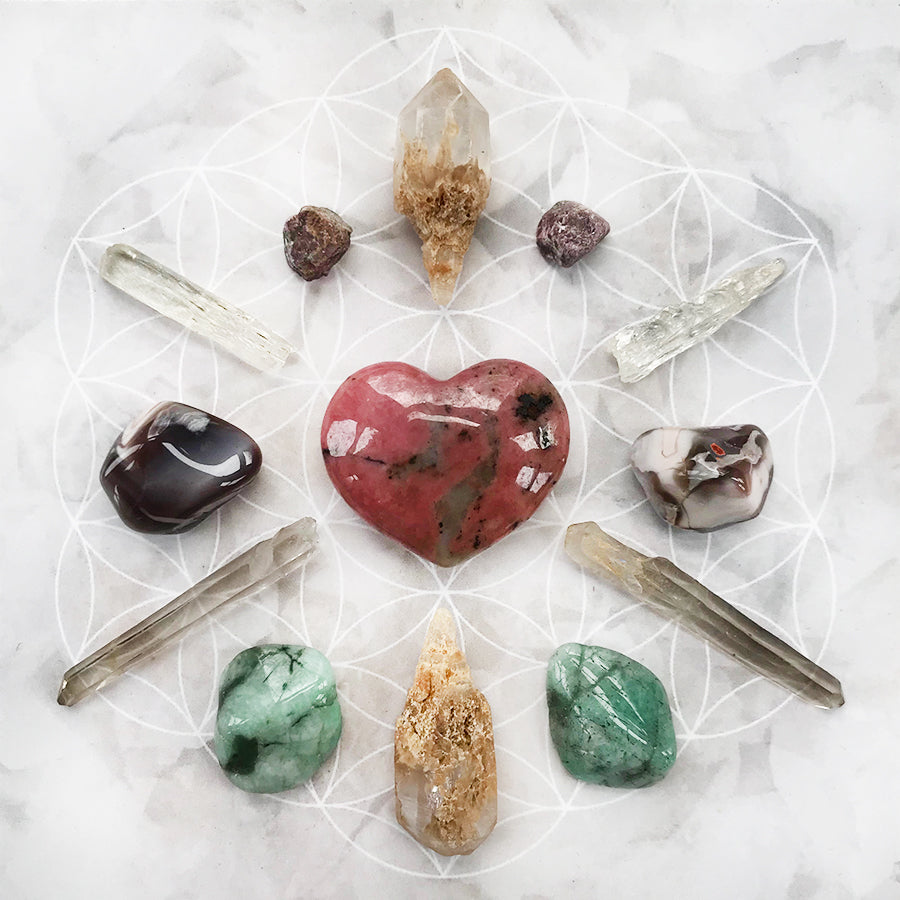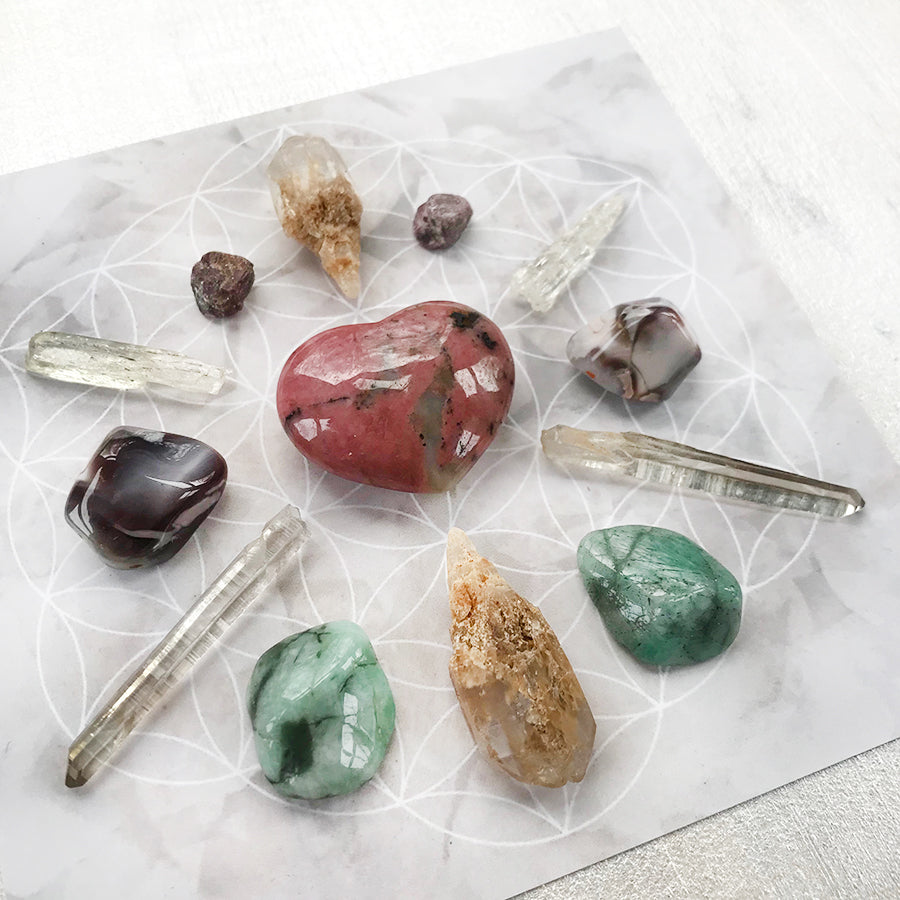 'Manifesting Love' ~ crystal grid set
DESCRIPTION 
One-of-a-kind crystal grid set with 13 crystals in a leather drawstring pouch, comes with Spirit Carrier's 'Flower of Life' sacred geometry base. You can use the photo here as a guide how to set the crystals on the grid when you receive it, or you may choose to change the positions according to your own intuitive guidance - as well as substituting some with crystals from your own collection (or adding more). Just make sure with this particular grid, that apart from the heart activation stone in the middle, all crystals in this grid appear in pairs, i.e. there are two of each, which pertains to the frequency on companionship.
The crystals in this grid (pictured) that you receive, are not programmed as such by me because it is important that your energy is what sets your own intention for the grid. However, these crystals are selected and chosen specifically with the purpose of attracting love into your life, manifesting an abundance of love in all its forms. Each crystal in the grid has a multitude of skills which, woven together into a group, will amount to a greater whole than each crystal would achieve on its own. This is the beauty of combining crystals, their joint synergies create a resonance that activates with your personal intention to serve your highest good.

These crystals are cleansed and energised with the efficient methods I use when I send crystals onwards from my studio, and they're empowered to purely embody their own full potential and crystal soul essence. Please read the individual crystal properties associated with the seven types of crystals in this grid and when you set up the grid, do so with a clear intention - whatever it might be personally for you in terms of manifesting love. Set your intention with a pure, trusting heart and a deep knowing that you allow love to enter your life. Once your grid is set in your chosen calm place, focus on your intention. If you have adopted your own methods for activating a crystal grid, do what feels natural to you. If you're new to crystal grids, there's no complexity needed. Simply hold your focus, state your intention clearly and feel a heart connection with the grid. You may use your hand/fingers to touch the centre stone (followed by the others) if this helps your focus. You will begin to feel a flow of energy and will learn to notice, whether through a physical sensation in your body or a general shift in emotions within, when the grid activation resonates as complete and you can allow it to be. But do not forget about the grid completely so that it starts to gather dust! Every few days you may want to say hello to your grid, perhaps light a candle, and/or touch the centre stone and feel gratitude for the fact that what you've invited into your life, is already in existence on another level and is with you in certainty - first taking shape on the energetic sphere until ready to manifest in the physical.
Most of all relax, follow your own intuition and enjoy!

Crystals included for this grid (13):

1x Rhodonite (heart)
2x Sceptre Quartz
2x Emerald
2x Ruby
2x Quartz Laser Wand
2x Botswana Agate
2x Hiddenite
Included is also the pictured 'Flower of Life' crystal grid base which is sized 12 x 12 cm (4.7" x 4.7")
You'll receive the above crystals in a handmade drawstring leather pouch. If you'd rather have a fabric pouch, please let me know at the time of purchase.
CRYSTAL PROPERTIES
RHODONITE
Known for its capacity to bring emotional healing, releasing blockages in the heart chakra. Balances emotions during chaotic times. Restores calm after emotional upheavals. Beneficial for the harmony of close relationships. A beautiful stone specifically for discovering one's inner gifts and can act as a catalyst for fulfilling one's life purpose. Stone of self-confidence that supports you in trusting your own heart.
SCEPTRE QUARTZ
Sceptres are a symbol of divine authority. A crystal of empowerment. According to legend in the ancient Lemuria sceptres were used as energy tools by the goddesses, and the right to use one had to be earned. Sceptres improve psychic attunement and increase confidence. They provide protection against controlling influences. Harmonises the higher vibrational energies in the aura and stimulates healing.
EMERALD
Stone of Love. Opening and nurturing to the heart chakra. Benefits heart-based intuition. Promotes joyous emotions, enhances emotional and spiritual balance. Restores confidence where needed. Brings visionary insight, especially relating to one's vocation. In crystal lore, Emerald is the sacred stone of the goddess Venus. It was the symbol of eternal life in ancient Egypt. Also known as a great aid for manifesting prosperity.
RUBY
Increases vitality and one's life-force energy, Very energising, excellent for women. Promotes clear mind, motivation and concentration. Associated with love, passionate commitment and heart-based closeness, offering help in shedding past hurts. Encourages you to 'follow your bliss' and have courageous attitude. Supports closeness and commitment. Shielding crystal to keep your energy field in your own command. 
HIDDENITE
Stone of unconditional, divine love. Brings teachings of joy, spontaneity, compassion and gratitude. Helps in extending your loving acceptance to the deepest parts of your own being so you become aware of your own value in the universe. Assists in improving personal relationships, and is also an excellent stone for manifestation, helping the Solar Plexus and the Heart chakra work in unison.
AGATE
The oldest good luck amulet. In ancient times Persian magicians were, according to legend, diverting storms with the powers of Agate. Considered a protective stone (especially for travel), said to shield its keeper against dangers. Increases inner stability, enhances personal courage and fosters self-confidence. Grounding and soothing. Balancing stone for one's energy system to experience oneness instead of duality.
QUARTZ, LASER WAND
Can be used to focus energy to create powerful healing beams. Amplifies any energy or intention. Helps with clarity of thought. Facilitates connection with the higher realms and one's highest self.
Recently Viewed