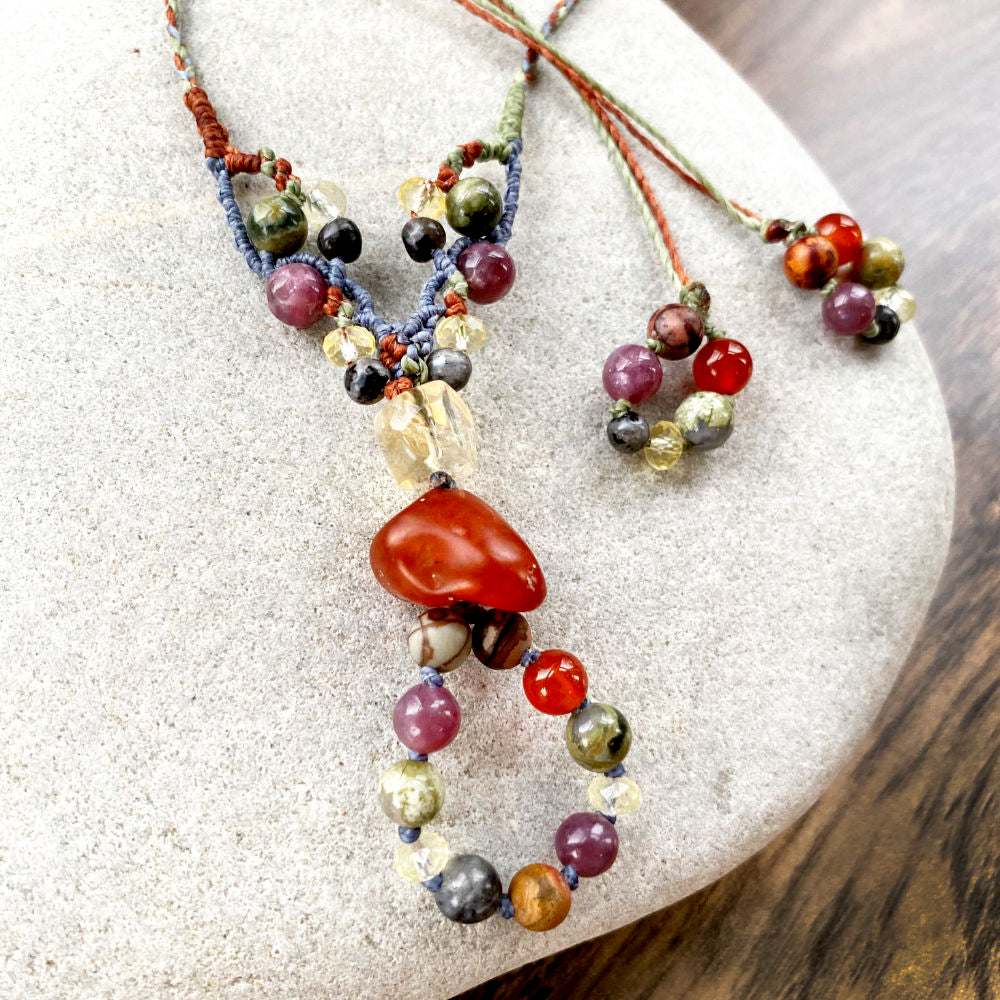 'Melody in Colour' ~ crystal healing amulet
DESCRIPTION
Crystal healing necklace combining the energies of six different crystal types: Carnelian, Citrine, Lepidolite, Norwegian Moonstone, Picasso Jasper and Rhyolite. This crystal amulet is knotted and braided with muted blue, light green and dark orange micro-macrame cords, which makes the braid strong and durable, yet soft and comfortable to wear.
The length of the necklace is adjustable from very short down to solar plexus level. The total length of the crystal pendant (from top edge of the Citrine down to the base of the crystal loop) is 5 cm (2").
There are no metals in this necklace so would be particularly suitable for those with metal sensitivities, energy workers and those who simply prefer not to wear metal.
You'll receive this crystal healing necklace in one of my fabric draw-string pouches, great for the safe-keeping of the necklace. Gift-wrapped at no extra charge.

Read here how to take care of your crystal jewellery.
CRYSTAL PROPERTIES
CARNELIAN
Known as a stone of motivation and courage. Stimulates creativity and increases one's sense of self-worth. Balancing for body's energy levels, restoring vitality and motivation. Said to attract prosperity, new resources and good luck. A success stone that helps you follow through with plans. Stone of action that aids in overcoming procrastination. Helps in gaining more understanding of one's inner self. Stimulating to the Sacral Chakra, which, when in balance, allows one to enjoy life, feel its joys and pleasures, be flexible and 'go with the flow'.
CITRINE
Affects a powerful alignment with the higher self. Balances the emotions and helps in uplifting one's mood to be more sunny and cheerful. Brings clarity of thought, and attracts abundance and prosperity through joy. Powerful transformer in healing work. Increases self-confidence and optimism, cleanses the surrounding energies and promotes creative thinking. Releases, dissipates and transforms denser energies on all levels, mental, emotional and physical. Works to release limitations and blockages particularly around the sacral / solar plexus area.
LEPIDOLITE
An open, inviting stone, offering its gentle love readily when you just hold it in your hand. Useful in reducing depression and stress, it can assist in moving calmly through life transitions. In crystal healing practice, Lepidolite has been used to ease emotional traumas, panic attacks and addictions. Lepidolite is said to help you to nurture yourself and be optimistic, and to clear out ties to the past, assisting you in moving freely forward in joy and happiness.
NORWEGIAN MOONSTONE (aka Black Labradorite, Larvikite)
Repels negative energy and can make you more adaptable to life's situations. It also stimulates inner visions so it's very suited to meditation. Black Labradorite is also said to connect with nature spirits. On physical level, it is said to be good for renewing and maintaining vitality and youthfulness.
PICASSO JASPER (also known as Cherry Creek Jasper)
A joyful, harmonious stone, said to effect transformations in the area of relationships, attracting like-minded people and loyal friends. Offers stability and balance in times of change. Releases blocks from the way of one's creativity. Encourages to celebrate life!
RHYOLITE
Balancing stone on all levels, alleviating anxiety and worries. Builds emotional strength in view of fulfilling ones dreams and goals. Shifts energy towards moving forward, assists in visualising desired change. Ignites creativity, helping to make things happen in one's life and to tap into one's innate abilities. Also thought to help its keeper to look and feel younger!
Recently Viewed