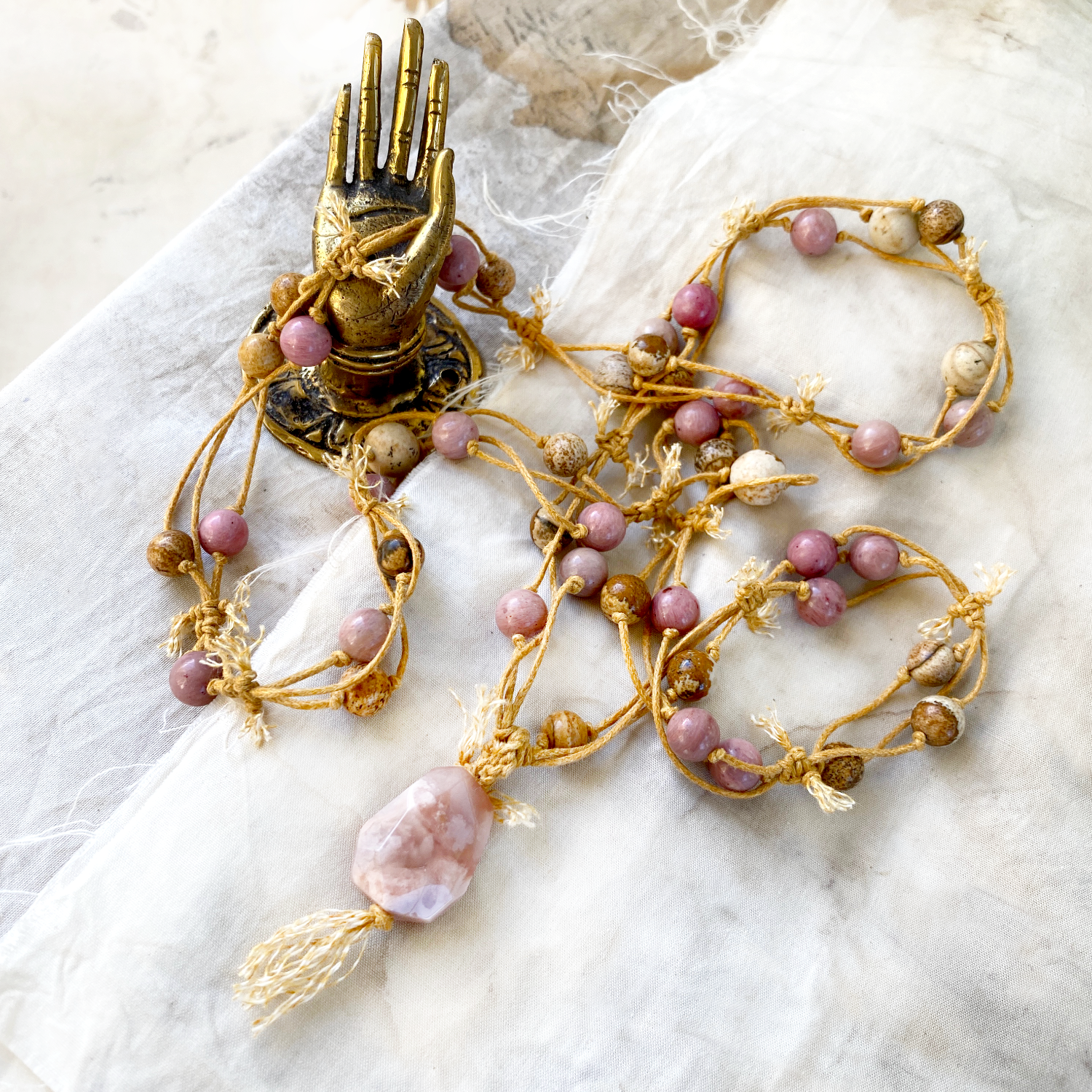 'Memory Knots' ~ crystal healing amulet
DESCRIPTION
Unusual crystal energy necklace with three combined strands of earthy yellow cotton cord, knotted together with soft tiny tassels along the necklace length, Rhodonite and Picture Jasper crystals are knotted in asymmetrical pattern along the strands. The pendant stone is Flower Agate, bringing the strands together.
This is a soft, comforting necklace that slips easily over head for quick wear. Energetically designed with a story in mind - for you to release the emotional charge from such past happenings that would otherwise hold you from progress in life, while keeping the learnings and the good stuff. You can also use this necklace as a tactile anchor for those moments when you need to bring yourself back to focus and calm. Handle the crystal spheres and feel the soft texture of the knots.

The all-around necklace length is 86 cm (34") and the Flower Agate is just under 2.5 cm (1") tall.
There are no metals in this necklace so would be particularly suitable for those with metal sensitivities / metal allergy, energy workers and those who simply prefer not to wear metal.

You'll receive this crystal healing necklace in one of Spirit Carrier's fabric draw-string pouches, great for the safe-keeping of the necklace. Gift-wrapped at no extra charge.

Read here how to take care of your crystal jewellery.
CRYSTAL PROPERTIES
RHODONITE
Known for its capacity to bring emotional healing, releasing blockages in the heart chakra. Balances emotions during chaotic times. Restores calm after emotional upheavals. Beneficial for the harmony of close relationships. A beautiful stone specifically for discovering one's inner gifts and can act as a catalyst for fulfilling one's life purpose. Stone of self-confidence that supports you in trusting your own heart.
PICTURE JASPER
Nurturing, comforting stone, associated with expanded creativity, invention and initiative. Helps in grounding one's ideas into reality. Believed to contain hidden messages from the past, connecting and grounding into the earth energies. Harmonious stone offering psychic protection during shamanic journeying as well as activating the third eye chakra. Inspires creative visualisation and is excellent for overcoming any creative blocks and clear away past hurts. Good for confidence, particularly helpful in business pursuits. Revered in many native cultures as a sacred stone of courage and wisdom.
FLOWER AGATE
Encourages self-growth so you can develop into the best version of yourself. Assists in bringing to light your hidden talents, thus supporting you to reach your full potential. A feminine power stone, with a gentle yet potent energy. Helps release self-doubt and motivates to take action. Excellent manifestation aid, nurturing your dreams to grow from seed to full blossom, and helping the endeavours dearest to your heart to flourish.
Recently Viewed