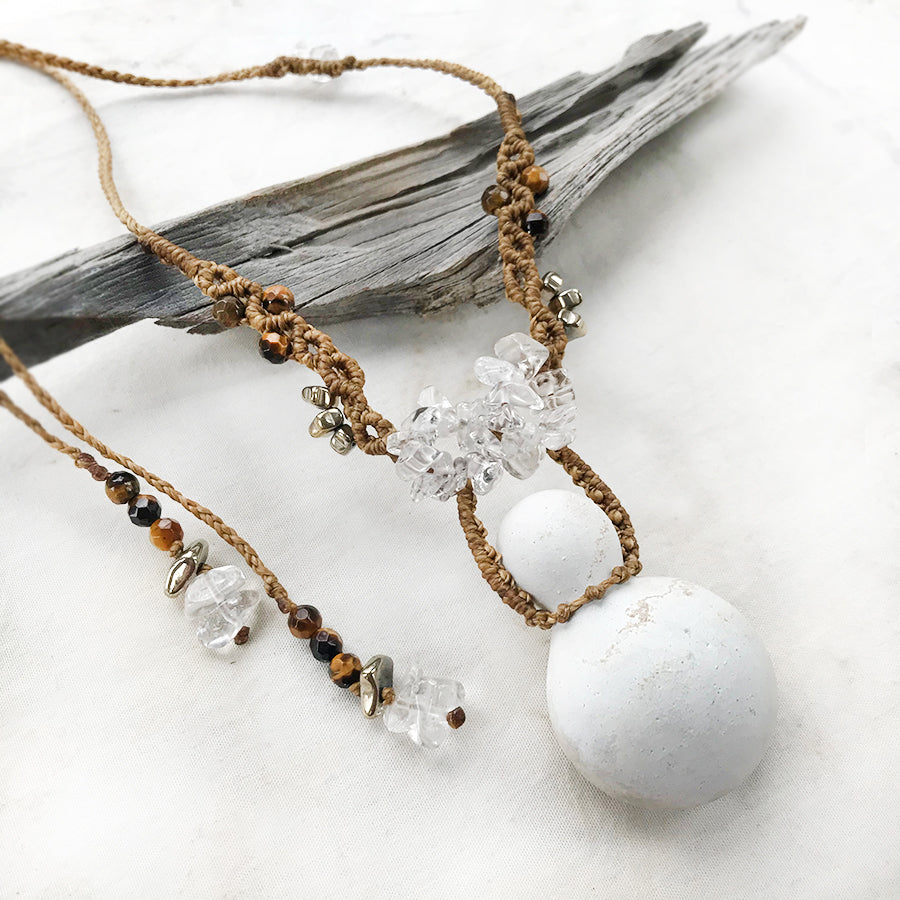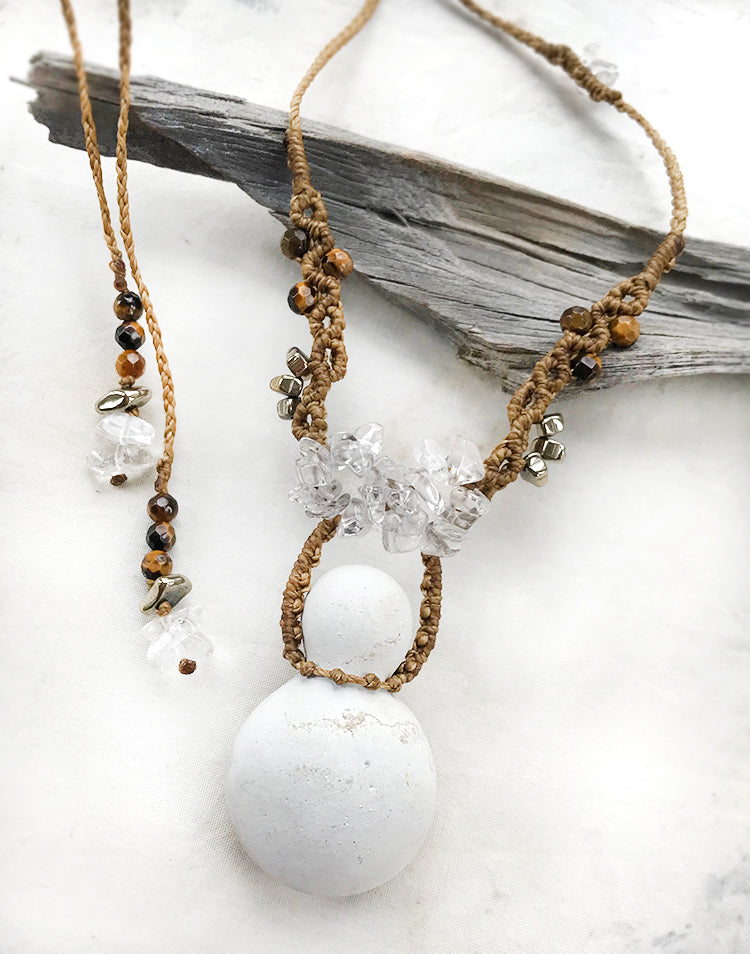 Menalite crystal healing amulet
DESCRIPTION
Crystal healing amulet with smooth, natural shape Menalite goddess stone, attaching to a golden brown micro-macrame braid. The highlighting crystals are clear Quartz, Tiger Eye and gold-plated Hematite. The braid ends are also decorated with matching crystals, with a small floret of Quartz crystals adorning on side of the necklace braid. This unusual stone is quite eye-catching in this setting, adding a touch of individual character to a formal outfit and also bringing flair to a more casual style.
The Menalite is approx. 4.5 cm (1.8") tall and just over 3 cm (1.2") at its widest.
You'll receive this crystal healing necklace in one of Spirit Carrier's handmade fabric draw-string pouches - great for the safe-keeping of the necklace. Gift-wrapped at no extra charge.

Read here how to take care of your crystal jewellery.
CRYSTAL PROPERTIES
MENALITE
Also called 'Goddess Stone' and a stone of feminine wisdom. According to legend, Menalite Goddess was used in rites of passage, to ease the life transitions of females. Deeply shamanic stone. Nurturing, mysterious and sensual, this stone makes a connection with your inner goddess.
TIGER EYE
Helpful stone for learning to feel connected to one's personal strength. Excellent stone for attracting prosperity. But it has also a highly spiritual energy and is useful in understanding any life cycle that one is living through. Helps in seeing through illusions and discerning the truth in any situation. A highly protective stone. Good for strengthening the solar plexus (3rd) chakra and developing one's will power and courage.
HEMATITE
Creates a strong sense of self and enhances the creative flow. Relieves stress. Revitalises, enhancing personal magnetism and optimism. Helps in releasing self-imposed limitations to find your own unique gifts. A stone of balance and equilibrium. Grounds when feeling scattered, increases alertness and vigilance.
CLEAR QUARTZ
The universal master crystal that has a harmonising effect on all levels of being. Programmable by intention, so can be used for versatile purposes. Quartz can clear, enhance, amplify, transmute, balance, focus and transmit energy. Raises one's energetic vibration. Brings clarity and filters out distractions. A deep soul cleanser, attuning its keeper to their higher self. Each Quartz crystal is unique with its own character and teachings it offers, all are known as "Stones of Power" and "Master Healers".
Recently Viewed