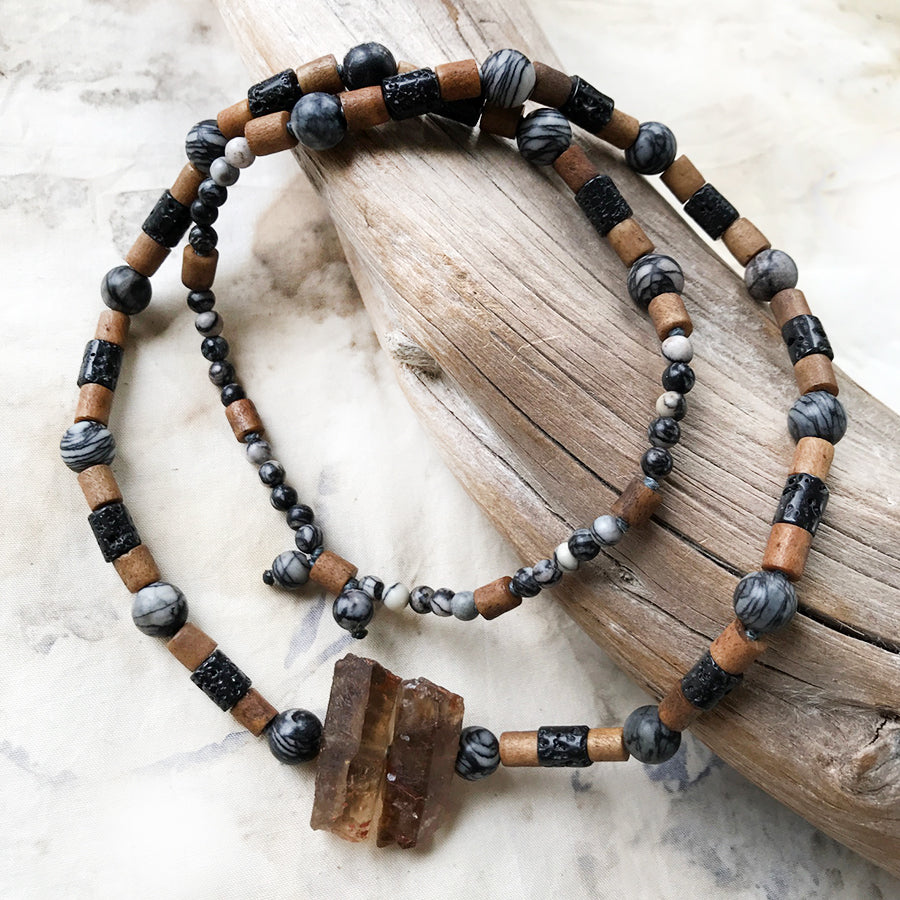 Men's stone talisman necklace with Citrine, Lava Stone & Black Line Jasper
Stone talisman for men, with two rough smokey Citrine crystals and a pattern of alternating Lava Stone, Black Line Jasper and horn beads. The necklace is long enough to simply slip over the heard without any need for closing clasps. You'll receive this necklace in a brown leather drawstring pouch and gift-wrapped for no extra charge.

Crystal properties ~
CITRINE
Affects a powerful alignment with the higher self. Balances the emotions and helps in uplifting one's mood to be more sunny and cheerful. Brings clarity of thought, and attracts abundance and prosperity through joy. Powerful transformer in healing work. Increases self-confidence and optimism, cleanses the surrounding energies and promotes creative thinking. Releases, dissipates and transforms denser energies on all levels, mental, emotional and physical. Works to release limitations and blockages particularly around the sacral / solar plexus area.
LAVA STONE
Stone of vitality, assertiveness and passion. Provides stability in times of change. Grounding and protective. Supports courage and decisiveness. Helps in finding one's 'life path'. Encourages personal development and growth.
BLACK LINE JASPER
Protective stone that's said to balance one's yin and yang energies. Grounding for one's kundalini channel. Instils a sense of wellness. Offers insight into one's life path and its purpose.
Recently Viewed