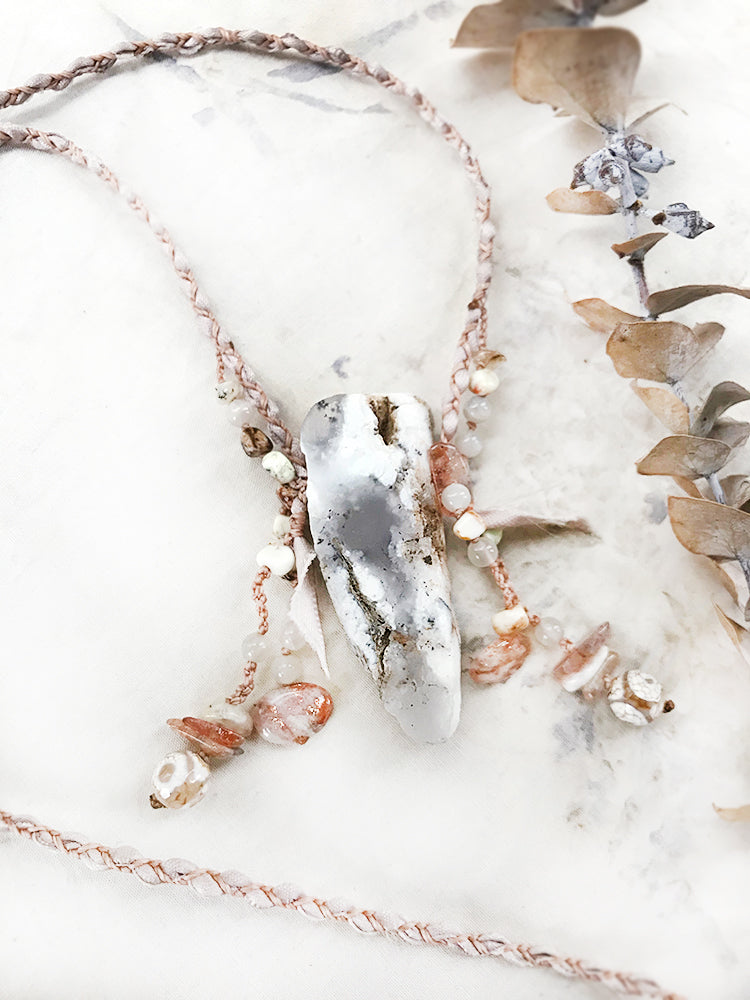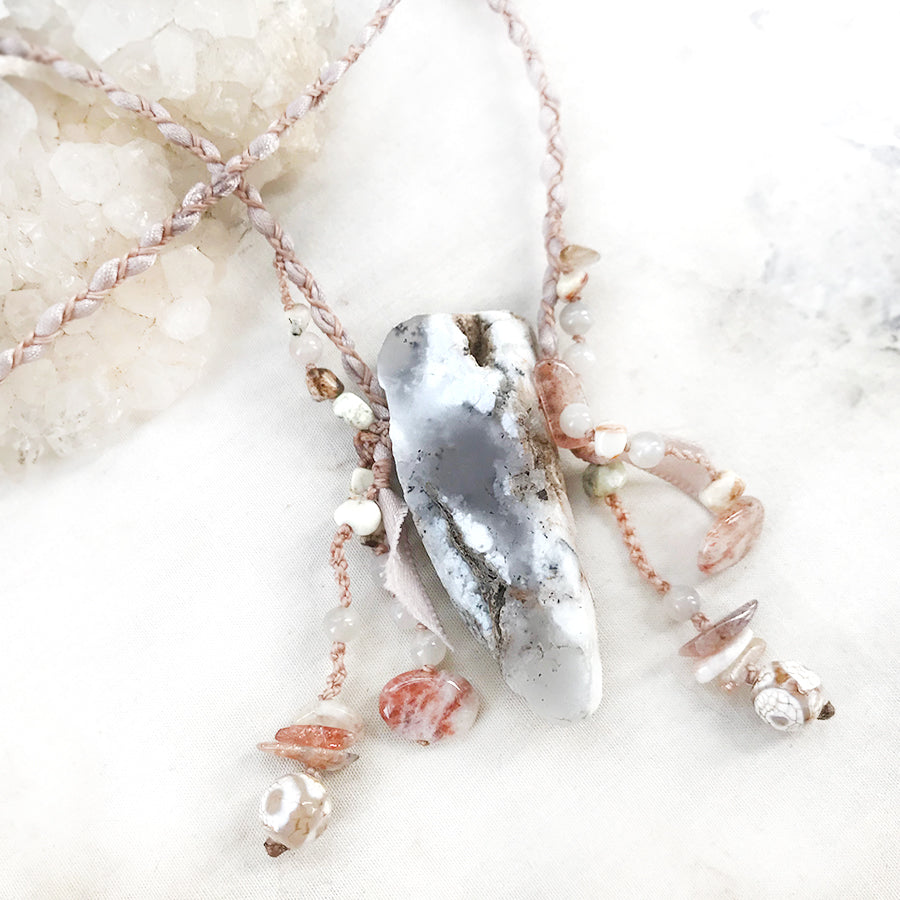 Merlinite crystal healing talisman
DESCRIPTION
Crystal healing stone talisman with a slice of Merlinite. The accent crystals are Lepidochrosite in Quartz, Moonstone, white Chrysoprase and white Dzi Agate. The necklace is braided with pale taupe tone satin and light pink/beige micro-macrame cord.
The necklace braid is set length, with an all-around measurement of approx. 73 cm (28.7"). Thus the stone hangs approx. 36.5 cm (14.4") down from behind the neck. The Merlinite is just over 5 cm (2") tall and approx. 2 cm (0.8") at its widest.
There are no metals in this necklace so would be particularly suitable for those with metal sensitivities, energy workers and those who simply prefer not to wear metal.
You'll receive this crystal healing necklace in one of my fabric draw-string pouches, great for the safe-keeping of the necklace. Gift-wrapped at no extra charge.

Read here how to take care of your crystal jewellery.
CRYSTAL PROPERTIES
MERLINITE
Stone of spiritual development, assisting in accessing multiple realms including akashic records. Softens one's emotional guards in aid of making deeper connections with out fellow humans, remaining open regardless of past experiences. Supports the journey to achieving one's personal goals. Helps with integrating one's shadow self as well as attracting spiritual guides.
LEPIDOCHROSITE IN QUARTZ
Stimulates intuitive spiritual awareness, at the same time gently grounding to Earth energy. Raises consciousness, and can be used for focusing intent during energy healing sessions. Calming and soothing, aids in releasing fears and aligning one with Divine will. A stone of 'allowing' and trusting the flow of life.
MOONSTONE
Useful for feeling balanced or when changing aspects in one's life. Symbolises 'new beginnings'. Brings calmness through awareness. Provides the energy to sustain you through stages of growth. A highly intuitive stone allowing self expression and creativity to flow. Provides protection while travelling. A bringer of good fortune. Stone of feminine wisdom, inner growth and strength. Calming and soothing stone, enhancing intuition and inspiration. White moonstone is stimulating for psychic perception, vision and dream work.
CHRYSOPRASE
Opens and activates the Heart chakra, and helps one to live 'from the heart'. It encourages acceptance of oneself and others, as well as bringing a sense of hope into situations that may look dire. A loving and supportive stone at times of transitional phases. Initiates inner growth and the healing of heart-felt sorrows. A stone of grace and compassion.
AGATE
The oldest good luck amulet. In ancient times Persian magicians were, according to legend, diverting storms with the powers of Agate. Considered a protective stone (especially for travel), said to shield its keeper against dangers. Increases inner stability, enhances personal courage and fosters self-confidence. Grounding and soothing. Balancing stone for one's energy system to experience oneness instead of duality.
Recently Viewed