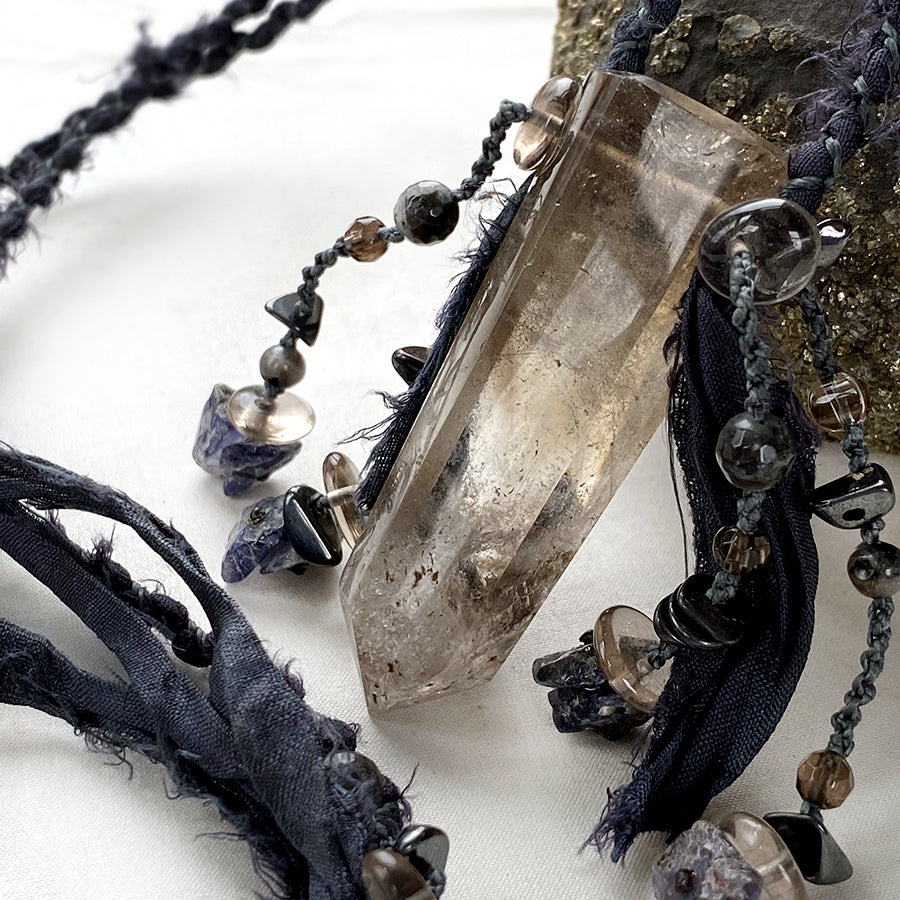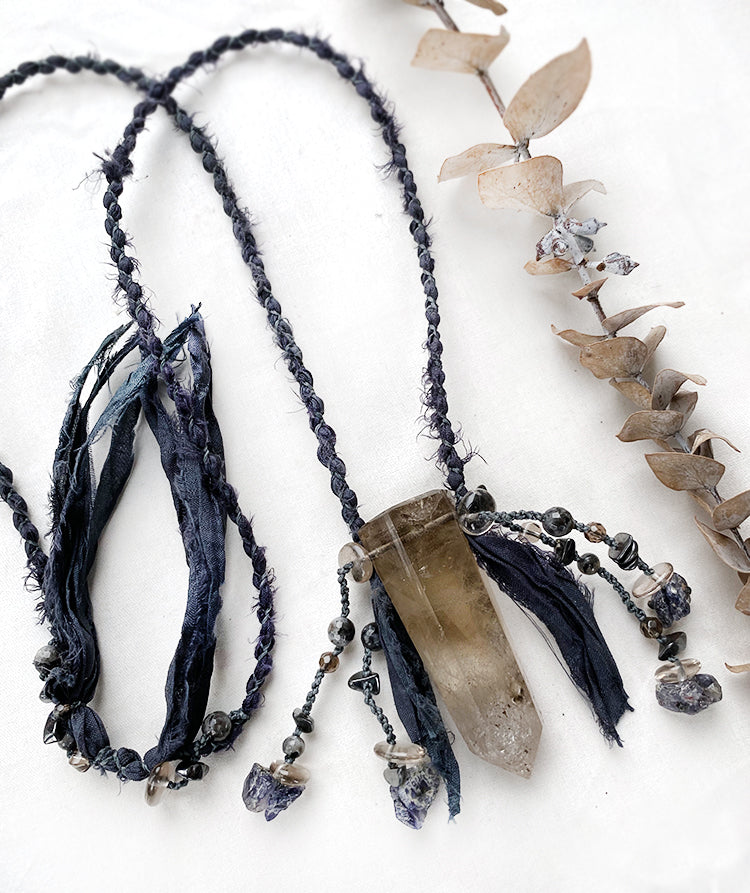 'Midnight Wisdom' ~ Smokey Quartz crystal healing talisman
DESCRIPTION
Talismanic crystal energy necklace in dark tones and with a lot of symbolism. The stunning Smokey Quartz point comes across more like an energy tool than adornment, and retains its natural inner landscape which can be peered into through its smooth faceted sides.
The necklace braid is made with recycled sari silk in faded black tone combined with dark petrol blue micro-macrame cord. This thick, soft necklace braid also shows some deep purple undertones in certain light. The main crystal is accompanied with knotted crystal strands of Iolite, Hematite, Norwegian Moonstone and Smokey Quartz, dangling on both sides. 
This talisman could tell a thousand stories - perhaps it was made for a shapeshifting magician, a raven's guardian, a fearless warrior? The soft silk strands that settle at the back of the neck when this talisman is worn, are reminiscent of wing feathers. These 'protective wings' are combined with small crystals of Smokey Quartz, Hematite and Norwegian Moonstone, to bring crystal healing energy also to the back side of your body.
The necklace braid is set length, with an all around measurement of approx. 74 cm (29"), thus allowing the pendant crystal hang down approx. 37 cm (14.5") if measured from the back of the neck down to the top edge of the crystal. The Smokey Quartz point is approx. 6 cm (2.4") tall and approx. 2 cm (0.8") wide and thick at its middle.
You'll receive this crystal healing necklace in one of my handmade fabric draw-string pouches - great for the safe-keeping of the necklace. Gift-wrapped at no extra charge.

Read here how to take care of your crystal jewellery.
CRYSTAL PROPERTIES
SMOKEY QUARTZ
A grounding and calming stone that elevates moods and dissipates negative emotions. "A Stone of Serenity", it is comforting and protective for one's aura. Smokey Quartz is thought to assist in creative endeavours and also in setting personal boundaries. Offers protection against electromagnetic rays. A good healing stone for improving general feeling of well-being. Relieves anxiety and worry, wards off confusion. Shielding crystal to create a calm, safe environment.
IOLITE
Aids in making inner visions more vivid, dissolving fear of the unknown. Helps in blending everyday conscious thinking with intuitive inner knowing. Awakens psychic gifts, activating and clearing the third eye. Helps accessing communication from higher vibratory realms. Helps one to act and respond to situations from one's higher guidance.
NORWEGIAN MOONSTONE (aka Black Labradorite, Larvikite)
Repels negative energy and can make you more adaptable to life's situations. It also stimulates inner visions so it's very suited to meditation. Black Labradorite is also said to connect with nature spirits. On physical level, it is said to be good for renewing and maintaining vitality and youthfulness.
HEMATITE
Creates a strong sense of self and enhances the creative flow. Relieves stress. Revitalises, enhancing personal magnetism and optimism. Helps in releasing self-imposed limitations to find your own unique gifts. A stone of balance and equilibrium. Grounds when feeling scattered, increases alertness and vigilance.
Recently Viewed