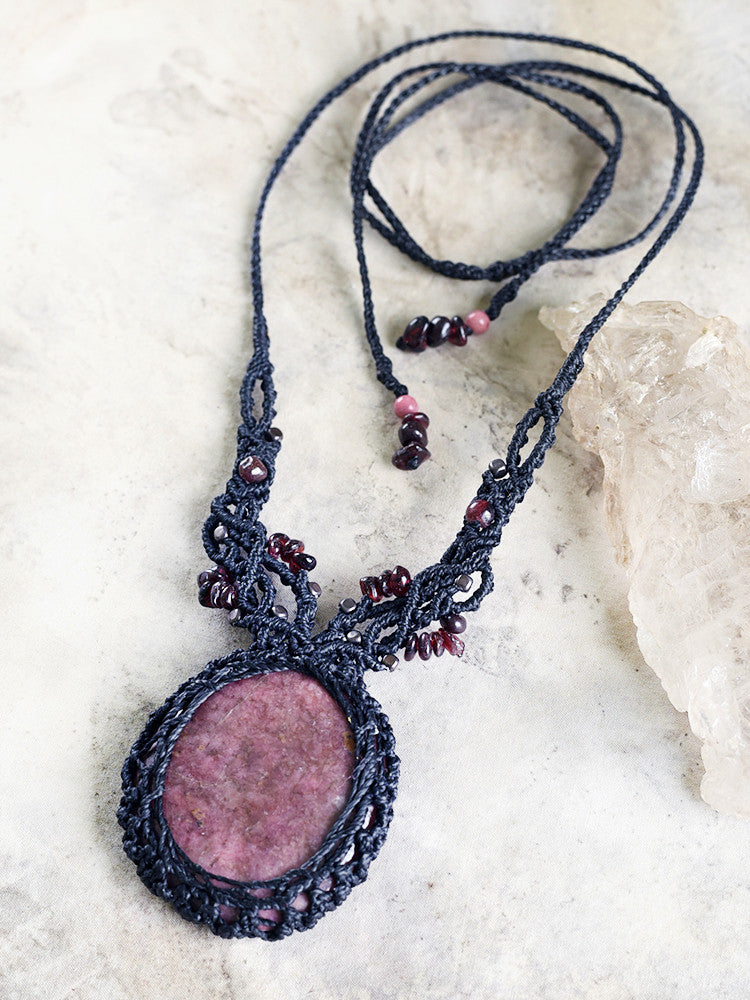 'Mirror of the Heart' ~ crystal healing necklace with Rhodonite, Hematite & Almandine Garnet
DESCRIPTION
Crystal amulet with a smooth Rhodonite crystal. The stone is un-drilled, held securely in a nest of knotting which extends to form the intricate necklace with a lacy look. The necklace is knotted and braided with black micro-macrame cord and highlighted with Hematite and Almandine Garnet crystals.
The length of the necklace is adjustable from very short down to just above solar plexus level. The Rhodonite approx. 5 cm (2") tall and 4.5 cm (1.8") wide. The visible area of the stone within the circular knotted frame is approx. 4 x 3 cm (1.6" x 1.2").
There are no metals in this necklace so would be particularly suitable for those with metal sensitivities, energy workers and those who simply prefer not to wear metal.
You'll receive this one-of-a-kind crystal healing necklace in one of my fabric draw-string pouches, great for the safe-keeping of the necklace. Gift-wrapped at no extra charge.

Prior to leaving Spirit Carrier studio, all crystals are energy cleansed, balanced and activated for the highest good of their new keeper. 

CRYSTAL PROPERTIES
RHODONITE
Known for its capacity to bring emotional healing, releasing blockages in the heart chakra. Balances emotions during chaotic times. Restores calm after emotional upheavals. Beneficial for the harmony of close relationships. A beautiful stone specifically for discovering one's inner gifts and can act as a catalyst for fulfilling one's life purpose. Stone of self-confidence that supports you in trusting your own heart.
HEMATITE
Creates a strong sense of self and enhances the creative flow. Relieves stress. Revitalises, enhancing personal magnetism and optimism. Helps in releasing self-imposed limitations to find your own unique gifts. A stone of balance and equilibrium. Grounds when feeling scattered, increases alertness and vigilance.
ALMANDINE GARNET
Stimulates one's life force. Opens the root chakra while drawing earth energy into the body, helping you to feel secure and centred. Awakens the "inner fire" of creativity. Highly protective stone and a great companion to keep you energised. Excellent good fortune and 'success' stone in both social and career ventures, adding positive vibes both in your personal or business life. Stone of purification and cleansing. Symbolises passionate, devoted love.
Recently Viewed