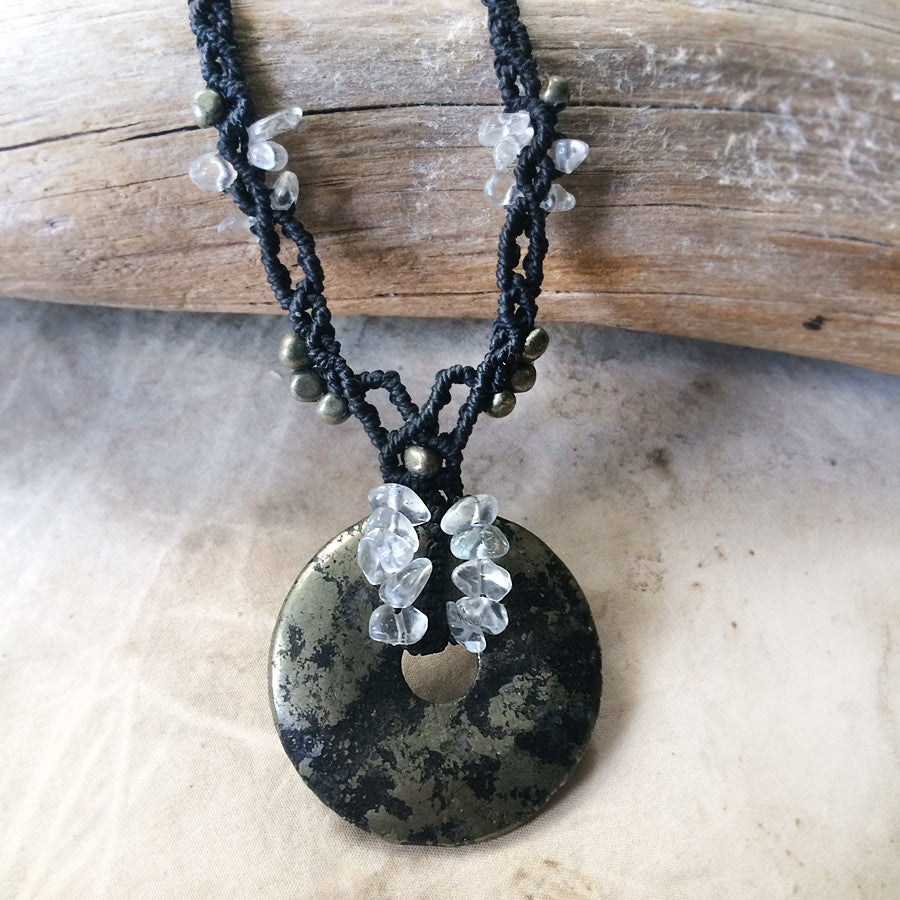 'Moon's Embrace' ~ Pyrite crystal healing amulet with clear Quartz
DESCRIPTION
Crystal healing necklace combining the energy of Pyrite with clear Quartz. The round Pyrite disk attaches to decoratively knotted black macrame necklace, highlighted with small Pyrite and clear Quartz crystals. The ends of the adjustable necklace cords are decorated with Pyrite and clear Quartz as well.
The length of the necklace is adjustable from very short down to solar plexus level. The diameter of the Pyrite disk is 4 cm (1.6").
You'll receive this crystal healing necklace in one of my fabric draw-string pouches, great for the safe-keeping of the necklace. Gift-wrapped at no extra charge.
CRYSTAL PROPERTIES
PYRITE
Taps into one's innate abilities, bringing confidence and perseverance to aim for one's goals. A shielding stone and protective amulet. Increases vitality and enhances one's assertive qualities. Helpful in turning melancholy into feeling empowered. Excellent stone for manifesting abundance.
CLEAR QUARTZ
The universal master crystal that has a harmonising effect on all levels of being. Programmable by intention, so can be used for versatile purposes. Quartz can clear, enhance, amplify, transmute, balance, focus and transmit energy. Raises one's energetic vibration. Attunes its keeper to their higher self. Known as the "Stone of Power" and "Master Healer".
Recently Viewed