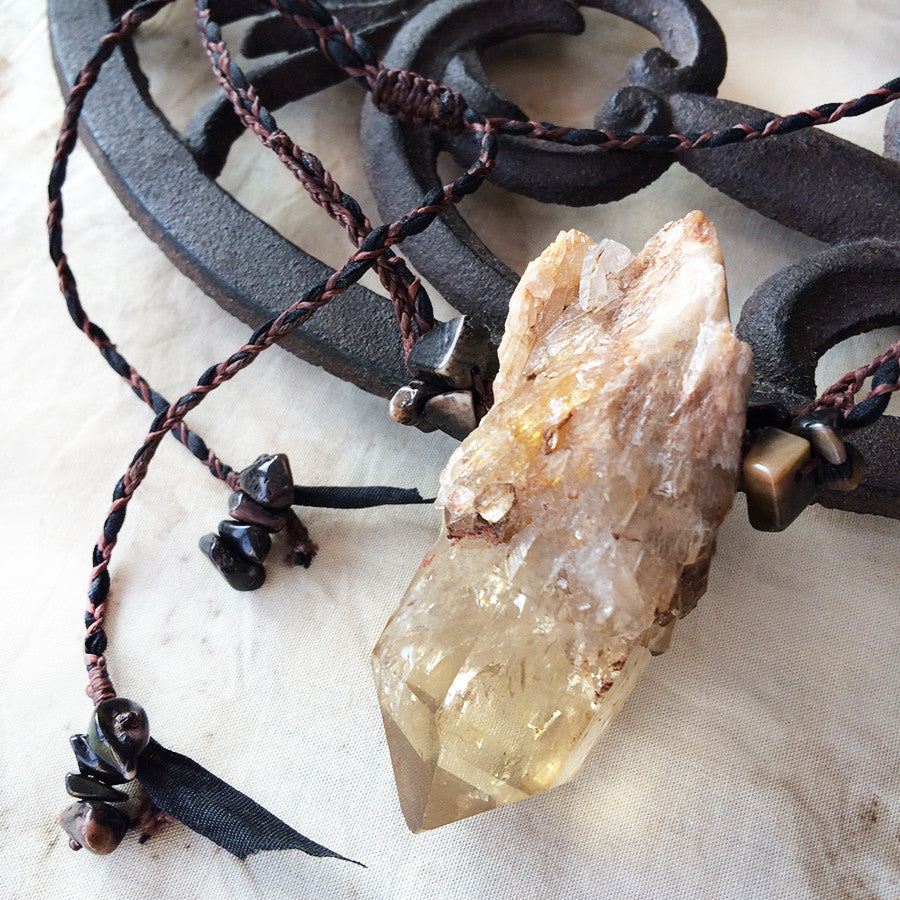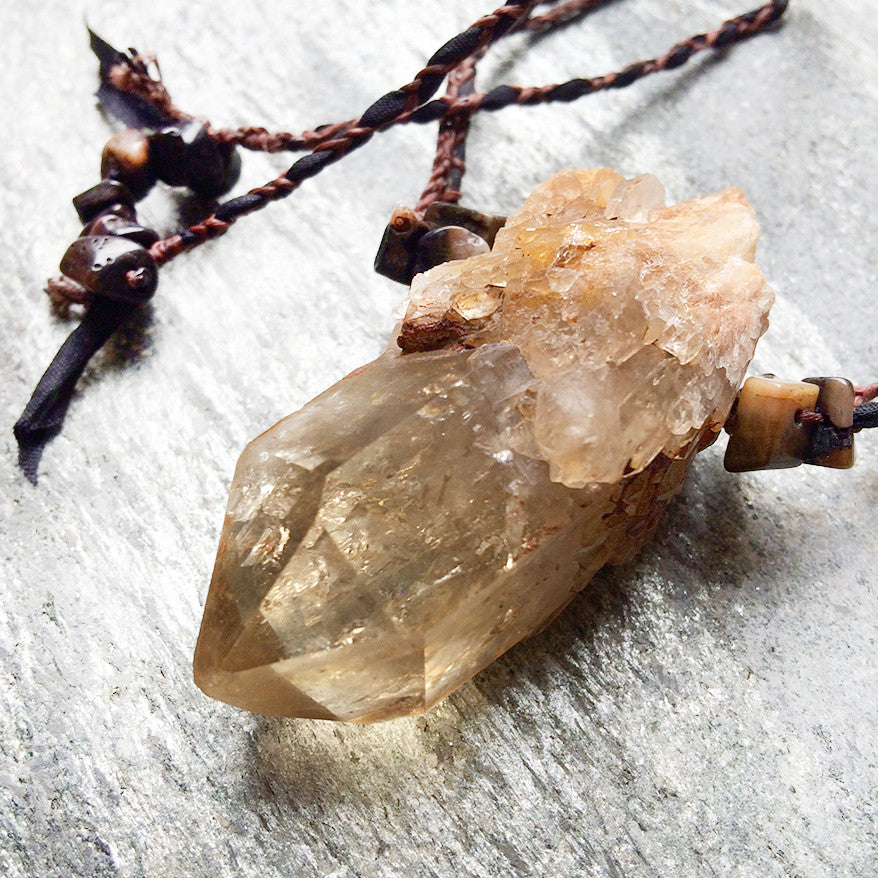 Natural Citrine crystal healing talisman
DESCRIPTION
Stone talisman with natural Citrine from Congo, with beautiful honey tone - all natural and un-heated. This is somewhat peculiar shaped crystal as in it's slightly curved. The formation of this crystal is 'Abundance Quartz', meaning that several tiny crystal points grow from the main crystal point's base. The necklace is minimally braided with black silk ribbon and dark brown micro-macrame cord, and the braid is highlighted with small Black Coral nuggets. This necklace would also work well in "layering" together with other crystal amulets for an individual look.
The necklace length is adjustable from as short as you wish down to just above the solar plexus level. The Citrine measures approx. 6 cm (2.4") tall and approx. 2.5 cm (1") at its widest and thickest.

There are no metals in this necklace so would be particularly suitable for those with metal sensitivities / metal allergy, energy workers and those who simply prefer not to wear metal.
You'll receive this crystal healing necklace in one of my handmade fabric draw-string pouches - great for the safe-keeping of the necklace. Gift-wrapped at no extra charge.
Read here about how to take care of your natural crystal jewellery.
CRYSTAL PROPERTIES
CITRINE
Affects a powerful alignment with the higher self. Balances the emotions and helps in uplifting one's mood to be more sunny and cheerful. Brings clarity of thought, and attracts abundance through joy. Powerful transformer in healing work. Increases self-confidence and optimism, cleanses the surrounding energies and promotes creative thinking. Releases, dissipates and transforms denser energies on all levels, mental, emotional and physical. Works to release limitations and blockages particularly around the sacral / solar plexus area.
BLACK CORAL
Generates serenity and peace while absorbing negative energy. Excellent for psychic protection and for guarding one's personal space. Inspires creativity and enhances the flow of creative ideas. Associated with the third chakra, the 'seat of the soul', guarding one's personal power and strength from outside influences. Digs deep to heal hidden emotions that might hold you back in life. Energetically cleansing, and said to help in detoxing the body.
Recently Viewed