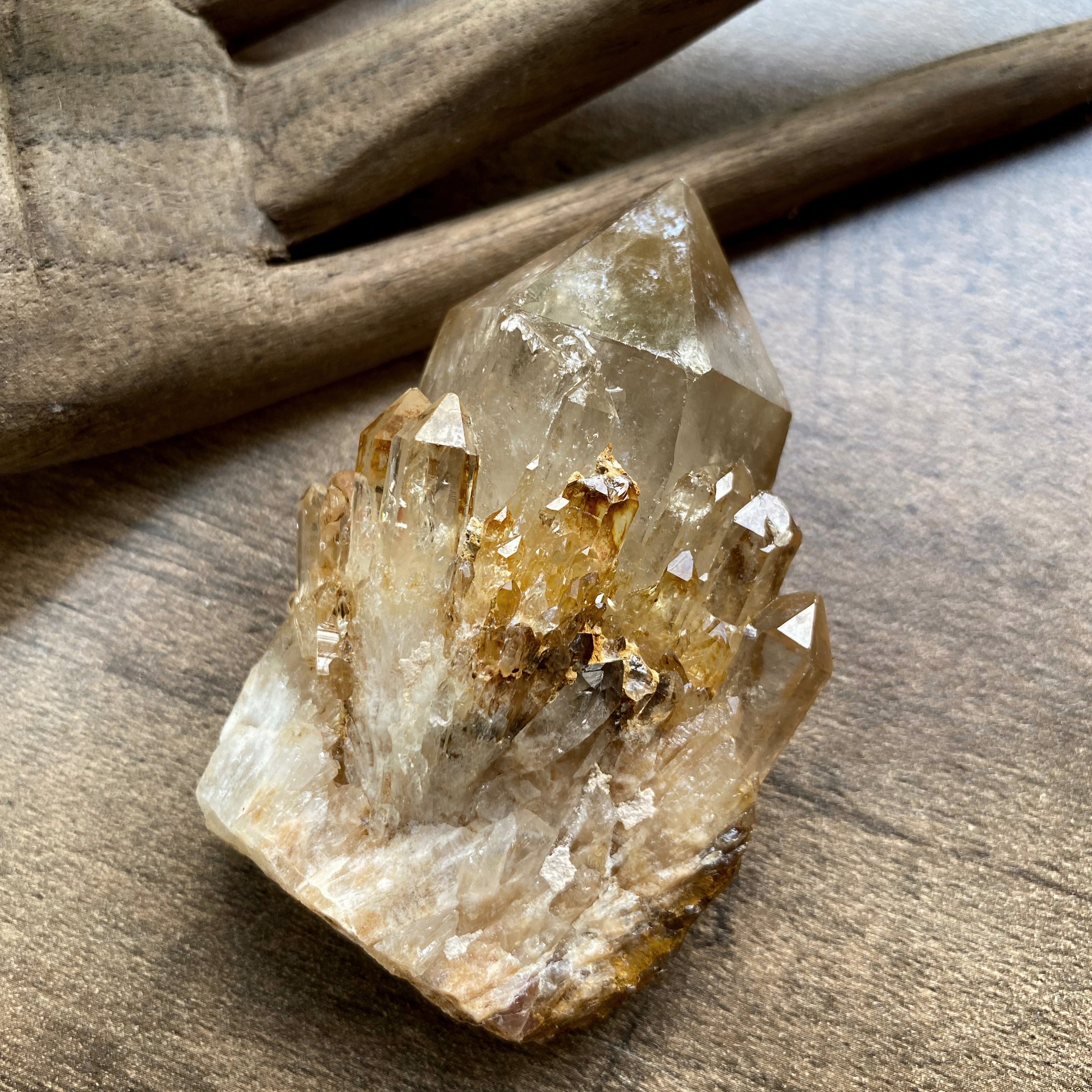 Natural Citrine lightbrary crystal point
Some of the most amazing Citrine energy comes from Congo. It has also become known as "kundalini Citrine" for its powerful ability to assist in moving kundalini energy. These special crystal spirits are not easy to come by and are very distinctive in their natural honey hue. Cheap Citrines being sold are often heated Amethyst - certainly not these ones. This is as pure and natural as Citrine gets! Often these Congo Citrines also display some iron inclusions on the surface which adds to the crystal's characteristic vibe. If you love Citrine, experiencing the Congo Citrine energy is a must!

This lovely specimen is also an Abundance crystal, meaning there are a minimum of nine smaller points growing from the root of the main point. 

The size of this Citrine point is approx. 7 cm (2.75") at its longest.

Please expect and enjoy any dents and chips in this crystal as this is a rough specimen with no polishing done to it. Although it has travelled through very few hands, its journey has been long. Any imperfections in this crystal in no way affects it powerful energy, but are instead a part of its life story - in the same way as our own are. You can even connect with it through the photograph.

You'll receive this crystal treasure securely padded and wrapped to protect it on the postal journey.
~
CITRINE
Affects a powerful alignment with the higher self. Balances the emotions and helps in uplifting one's mood to be more sunny and cheerful. Brings clarity of thought, and attracts abundance and prosperity through joy. Powerful transformer in healing work. Increases self-confidence and optimism, cleanses the surrounding energies and promotes creative thinking. Releases, dissipates and transforms denser energies on all levels, mental, emotional and physical. Works to release limitations and blockages particularly around the sacral / solar plexus area.
Recently Viewed