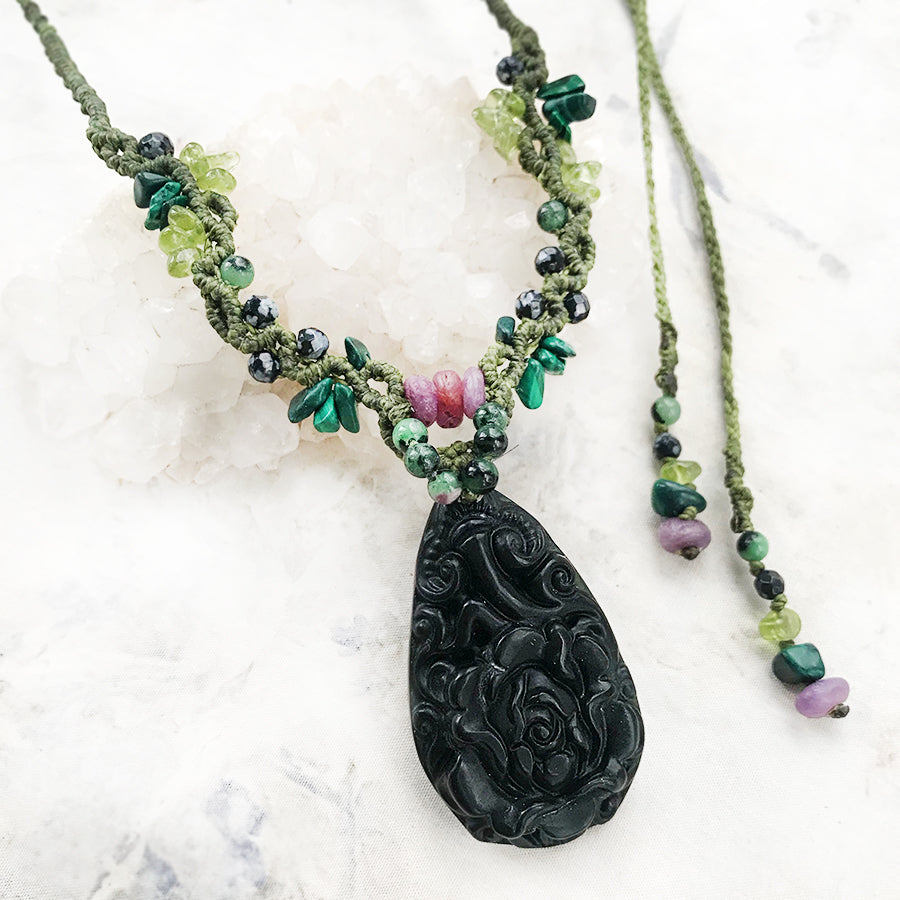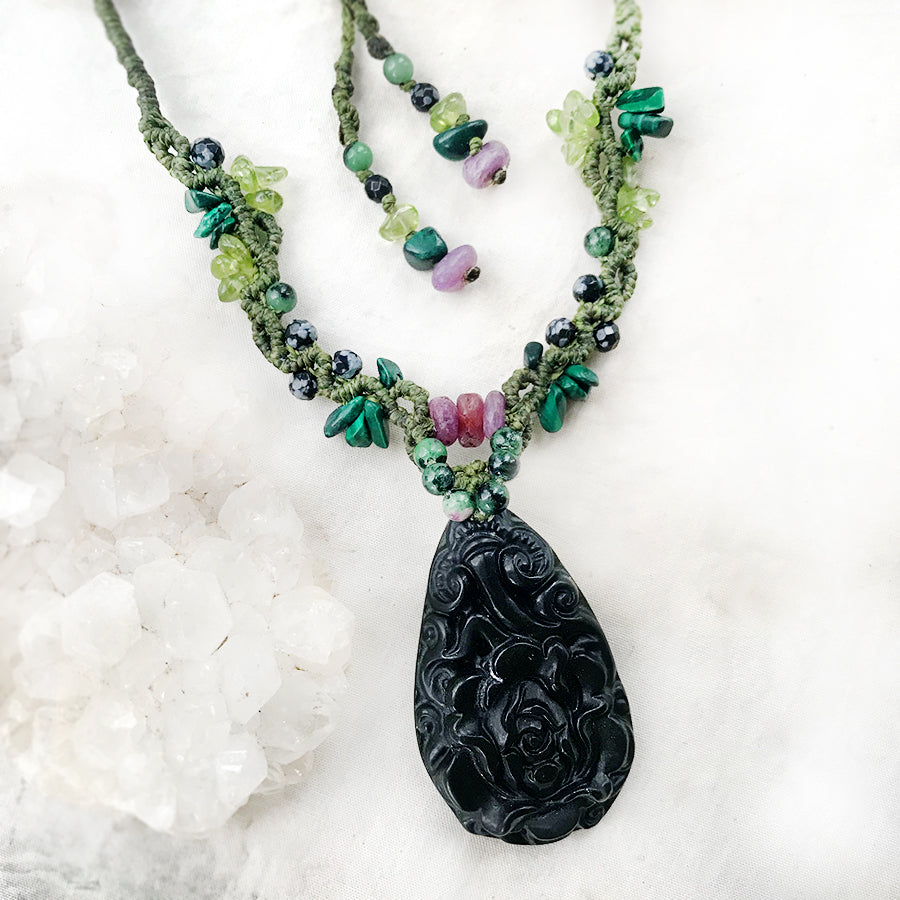 Nephrite Jade crystal healing amulet
DESCRIPTION
Crystal healing amulet with a smooth drop-shaped Nephrite Jade, with sculptural texture of a carved rose. The necklace is intricately knotted with forest green micro-macrame cord. The energetic effects of this amulet are further enhanced by several small crystals within the knotwork: Ruby, Malachite, Snowflake Obsidian and Peridot. It may seem like this Jade is black, but in fact it is very, very dark green. If you hold this stone against a strong light source, you'll see the thinner areas of the stone show glowing translucent green.
The length of the necklace is adjustable from very short down to just above solar plexus level. The Jade is approx. 4.5 cm (1.8") tall and 2.5 cm (1") wide at the middle.
There are no metals in this necklace so would be particularly suitable for those with metal sensitivities, energy workers and those who simply prefer not to wear metal.
You'll receive this crystal healing necklace in one of my fabric draw-string pouches, great for the safe-keeping of the necklace. Gift-wrapped at no extra charge.

Read here how to take care of your crystal jewellery.
CRYSTAL PROPERTIES
JADE
Known throughout history as the stone of happiness, prosperity and good luck. Said to bless everything it touches. For the Chinese, Jade is a stone of "long life & peaceful passing". Helps in advancing the human consciousness to higher levels. Strongly protective stone, strengthening the auric field, fostering balance and peace. Brown Jade is soothing and grounding amidst any emotional storms. Has a restorative energy, stimulates ideas and relinquishes self-imposed limitations. Promotes healthy self-confidence and strength of character.

RUBY
Increases vitality and one's life-force energy, Very energising, excellent for women. Promotes clear mind, motivation and concentration. Associated with love, passionate commitment and heart-based closeness, offering help in shedding past hurts. Encourages you to 'follow your bliss' and have courageous attitude. Supports closeness and commitment. Shielding crystal to keep your energy field in your own command. 
MALACHITE
Known as a stone transformation. Brings abundance, helps in manifestation and when setting intentions. Draws emotions to the surface to be cleared, especially heart-related matters, and can be used for deep energy clearing, as well as for creating balance in the matters of the heart. Assists in reaching your core self without fear, and to create new beginnings. Malachite's effects in clearing energy blockages may be sudden. Also used for protecting from the effect of electromagnetic fog (EMF).
PERIDOT
Upbeat and comforting, Peridot reduces stress and amplifies intuitive awareness. Soothes hurt feelings, supporting renewal and personal growth. Brings in-depth heart based awareness, extending from healing to understanding and offering protection against negative emotions. Known also as the stone of prosperity and happiness.
SNOWFLAKE OBSIDIAN
Promotes a sense of calm and inner equilibrium, bringing balance to body, mind and spirit. A grounding, protective stone. Eases worries and when carried/worn helps one to stay balanced and centred throughout the day. Native American shamans often carried Snowflake Obsidian as a powerful talisman to avert evil and bring good fortune, also considering it to be the guardian of the Great Spirit.
Recently Viewed