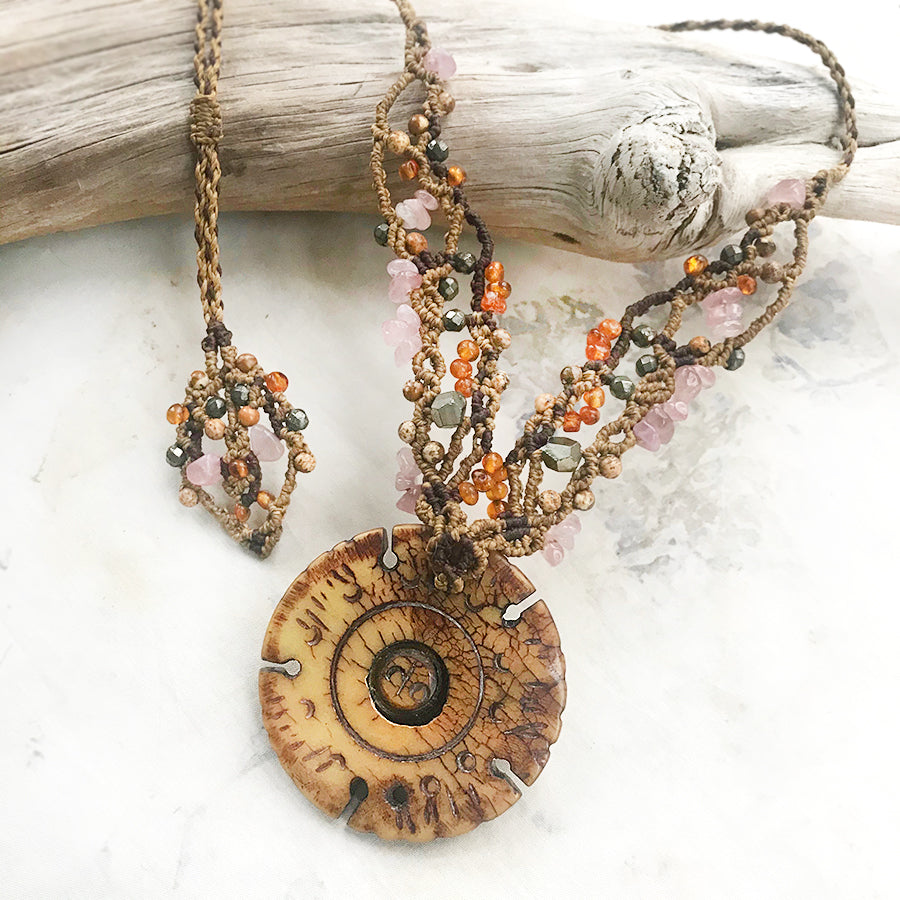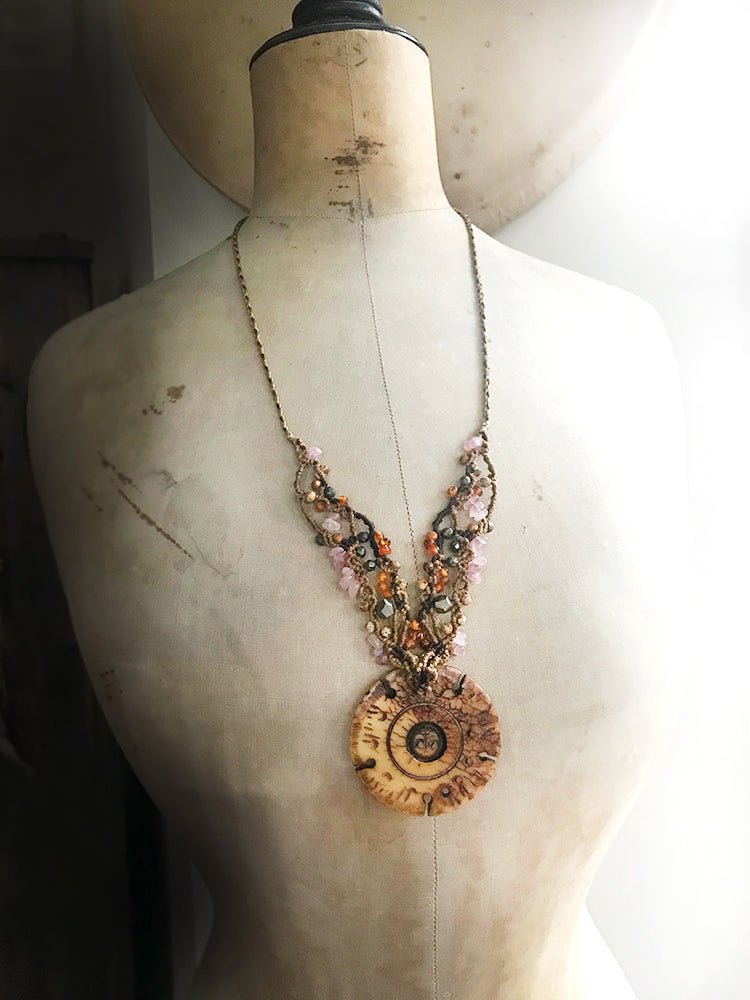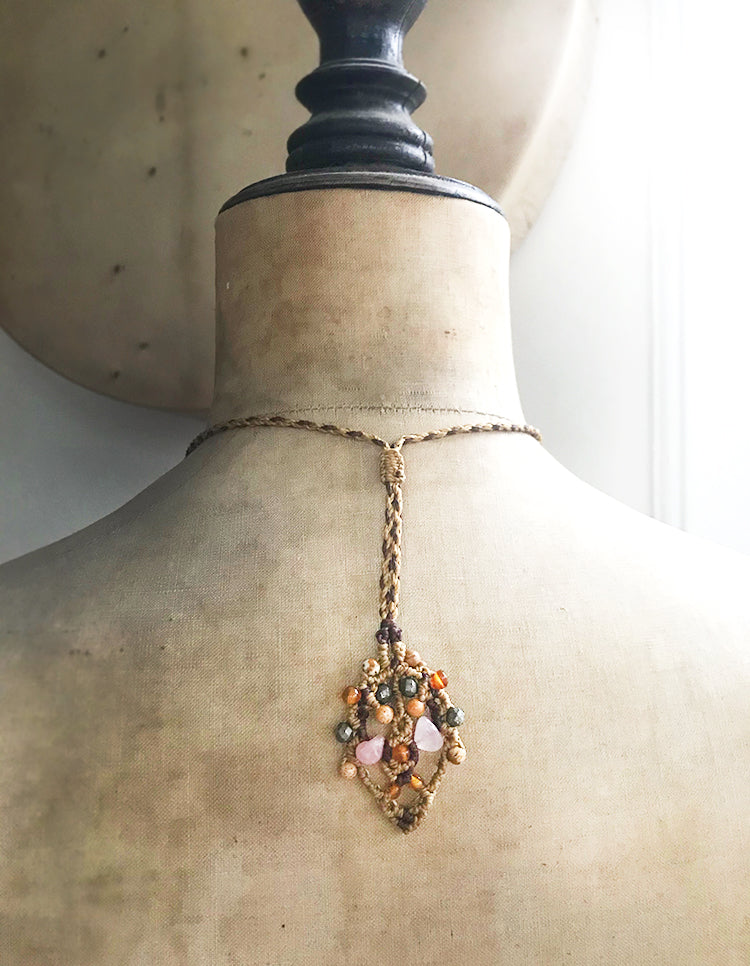 Nephrite Jade crystal healing amulet
DESCRIPTION
Crystal healing amulet with a carved, circular Jade plaque. The middle of the circle features a small rotating disk which is integrally carved out of the same stone - meaning it has not been added, but carved in such a manner that it stays within the plaque but is fully detached and can be rotated within the carved channel. The necklace is intricately knotted with two tones of brown micro-macrame cord. The energetic effects of this amulet are further enhanced by several small crystals within the knotwork: Rose Quartz, Pyrite, Amber and Picture Jasper. This unusual Jade plaque has a very ancient, mysterious feel to it - like it could be a key to a time portal..! The rotating middle could be used as a focus and centering aid throughout the day while wearing this necklace, or at times of meditation. The adjustable necklace weave ends in a decorative adornment which adds some crystal energy at the back of your body too, when worn.
The length of the necklace is adjustable from very short down to just above solar plexus level. The Jade has a diameter of just under 5.5 cm (2.2").
You'll receive this crystal healing necklace in one of my fabric draw-string pouches, great for the safe-keeping of the necklace. Gift-wrapped at no extra charge.

Read here how to take care of your crystal jewellery.
CRYSTAL PROPERTIES
JADE
Known throughout history as the stone of happiness, prosperity and good luck. Said to bless everything it touches. For the Chinese, Jade is a stone of "long life & peaceful passing". Helps in advancing the human consciousness to higher levels. Strongly protective stone, strengthening the auric field, fostering balance and peace. Brown Jade is soothing and grounding amidst any emotional storms. Has a restorative energy, stimulates ideas and relinquishes self-imposed limitations. Promotes healthy self-confidence and strength of character.
ROSE QUARTZ
Powerful love stone, love that is all-encompassing and unconditional. Awakens one's heart to its own innate love, compassion and acceptance. Vibrates its loving energy to all chakras, offering gentle healing. Soothing and calming. Dissolves anger and resentment. Good for raising one's self-esteem and feelings of self-worth. Balances emotions and is said to support all types of healing. Guides one's life path towards a sense of personal fulfilment and contentment.
PYRITE
Taps into your innate abilities, bringing confidence and perseverance to aim for your goals. A shielding stone that helps you see the truth in the motives of others. Increases vitality and enhances your assertive qualities. Helpful in turning melancholy into feeling empowered and more light-hearted. Helps in letting go thoughts of misfortune and worry, thus making it an excellent stone for manifesting abundance. Symbolises the warmth and presence of sun, attracting also abundance of love, friendship and success. 
AMBER
Amber is like sunshine solidified, offering a wonderful sense of health and wellbeing. Transmutes negative energies into positive, excellent for psychic protection. Cheers you up and helps you take action to make your ideas reality - ideal manifestation aid. Cleansing effect on the body, mind and spirit, promoting self-confidence and creative self-expression. Encourages spontaneity, patience and inner wisdom.
PICTURE JASPER
Nurturing, comforting stone, associated with expanded creativity, invention and initiative. Helps in grounding one's ideas into reality. Believed to contain hidden messages from the past, connecting and grounding into the earth energies. Harmonious stone offering psychic protection during shamanic journeying as well as activating the third eye chakra. Inspires creative visualisation and is excellent for overcoming any creative blocks and clear away past hurts. Good for confidence, particularly helpful in business pursuits. Revered in many native cultures as a sacred stone of courage and wisdom.
Recently Viewed