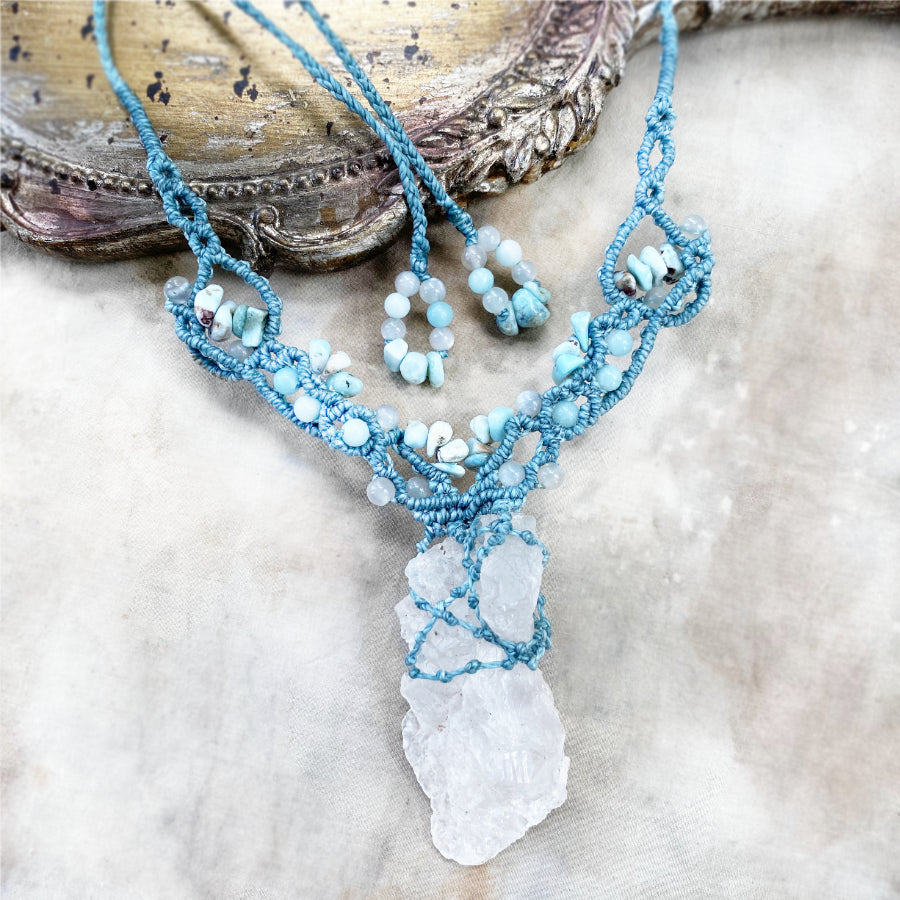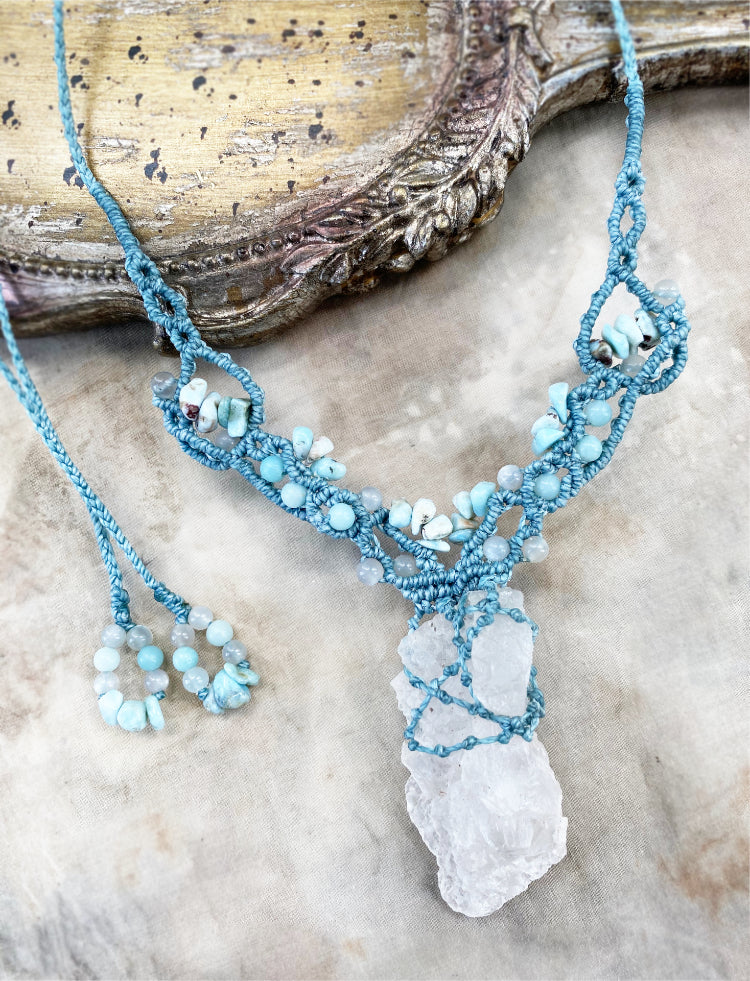 Nirvana Quartz crystal healing amulet
DESCRIPTION
Crystal healing amulet with raw, un-drilled Nirvana Quartz. The necklace is intricately knotted in a lace-like pattern with sky blue micro-macrame cord. The knotting is highlighted with Larimar, Moonstone and Amazonite crystals.
The necklace length is adjustable from as short as you wish down to just above the solar plexus level. The Nirvana Quartz measures just over 5.5 cm (2.2") tall and approx. 2.5 cm (1") at its widest.
You'll receive this crystal healing necklace in one of my handmade fabric draw-string pouches - great for the safe-keeping of the necklace. Gift-wrapped at no extra charge.

Read here how to take care of your crystal jewellery.
CRYSTAL PROPERTIES
NIRVANA QUARTZ (aka Himalayan Ice Quartz)
Helps in making a strong connection with the loving energy of one's heart. "Stone of Enlightenment" that resonates with the higher chakras, accelerating one's spiritual growth. Assists in moving past difficulties and painful experiences, towards experiencing inner radiance and strength with gratitude. Beneficial tool for seekers of truth, with many dimensions to explore through meditation.
LARIMAR
A relatively rare stone, only found in the Dominican Republic. In crystal lore it is associated with the ancient civilization on Lemuria, and also sometimes called a "Dolphin Stone". Larimar is soothing and uplifting, bringing tranquility into heart and mind. It is said to support self-expression, creativity and patience.
MOONSTONE
Useful for feeling balanced or when changing aspects in one's life. Symbolises 'new beginnings'. Brings calmness through awareness. Provides the energy to sustain you through stages of growth. A highly intuitive stone allowing self expression and creativity to flow. Provides protection while travelling. A bringer of good fortune. Stone of feminine wisdom, inner growth and strength. Calming and soothing stone, enhancing intuition and inspiration. White moonstone is stimulating for psychic perception, vision and dream work.
AMAZONITE
A stone of self-respect, confidence and grace. Soothes the spirit and calms the soul. Assists in connecting with one's intuition. Enhances creativity and self-expression. Empowers to move beyond fear, to live in alignment with your truth. A talisman for healing and prosperity, also said to bring in new business.
Recently Viewed