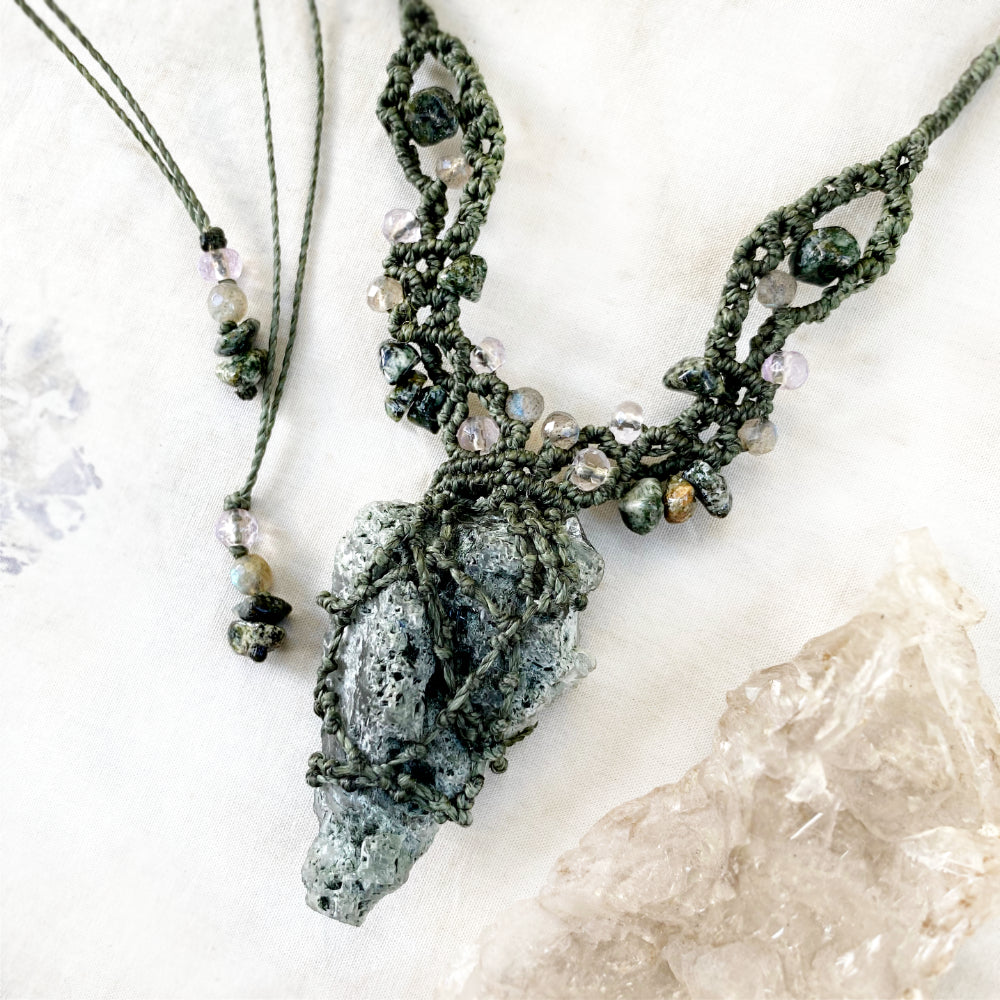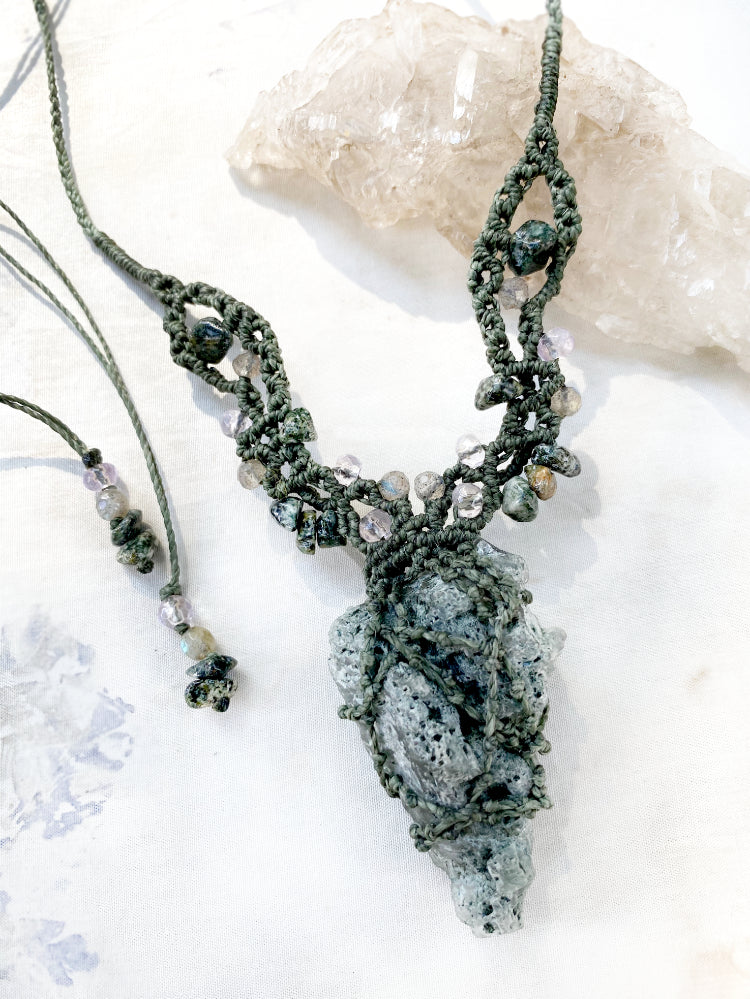 Nirvana Quartz crystal healing amulet
DESCRIPTION
Crystal healing amulet with raw, un-drilled Nirvana Quartz - quite a recent find, with a natural greenish hue resulting from Chrolite and Verdelite inclusions. The necklace is intricately knotted in a lace-like pattern with muted dark green micro-macrame cord. The knotting is highlighted with Ametrine, Labradorite and Preseli Bluestone crystals.
The necklace length is adjustable from as short as you wish down to just above the solar plexus level. The Nirvana Quartz measures just over 5 cm (2") tall and just over 3 cm (1.2") at its widest.
You'll receive this crystal healing necklace in one of Spirit Carrier's handmade fabric draw-string pouches - great for the safe-keeping of the necklace. Gift-wrapped at no extra charge.

Read here how to take care of your crystal jewellery.
CRYSTAL PROPERTIES
NIRVANA QUARTZ (aka Himalayan Ice Quartz)
Helps in making a strong connection with the loving energy of one's heart. "Stone of Enlightenment" that resonates with the higher chakras, accelerating one's spiritual growth. Assists in moving past difficulties and painful experiences, towards experiencing inner radiance and strength with gratitude. Beneficial tool for seekers of truth, with many dimensions to explore through meditation.

Inclusions: CHLORITE QUARTZ Known as 'Quartz of Compassion', this is a purifier crystal. Chlorite is cleansing to the aura, chakras, and energy meridians. Elevates one's vibration higher than that of illness. Can help one visualise and create a more positive future, financially, emotionally, physically. Helps to resolve issues of the heart and remove blockages and resistance so one may acknowledge, forgive, release, and move forward. Great in space clearing, to ward off chaotic, negative energy. / VERDELITE (aka Green Tourmaline) Connects to the energy of compassion, opening up pathways to self-healing and letting go of old heart wounds. Helpful in implementing new projects with the aim of bringing your true desires to fruition. Balancing and rejuvenating, attracting luck and prosperity.
AMETRINE
Infusion of the healing properties of both Amethyst and Citrine, but also emanates its own unique energy. Connects your third chakra and your seventh chakra beautifully, to align your will power with your soul's purpose. Helpful for procrastination sufferers, giving you a boost to joyfully complete your tasks, to be inspired and stay focused. Connects you with the divinity of all. Also said to be an aid in weight loss and in releasing addictions.
PRESELI BLUESTONE (also known as Dolerite)
The stone that the ancient Stonehenge monoliths are made from. Stone of unity and connection, with strong shamanic energy. Can be used in past life regression, in discovering aspects that may be holding you back in this life. Strengthens one's connection with all creation, bringing forth healing to the soul. Helps one to find inner harmony, releasing fears. Particularly good for matters of the heart, easing feelings of abandonment and restoring a sense of universal love and compassion within one's being.
LABRADORITE
One of the most powerful, versatile crystal tools for healing. Creates an auric shield and strengthens your innate energy and life force, preventing energy leakages. Enhances intuitive abilities and assists in spiritual transformation. Helps the wearer align with their highest destiny and discover their inner worth. Strengthens willpower and brings in new ideas. Often referred to as the 'Stone of Destiny', believed to help you to find your true path in life, and as 'Temple of the Stars', anchoring higher dimensional light into your being.
Recently Viewed