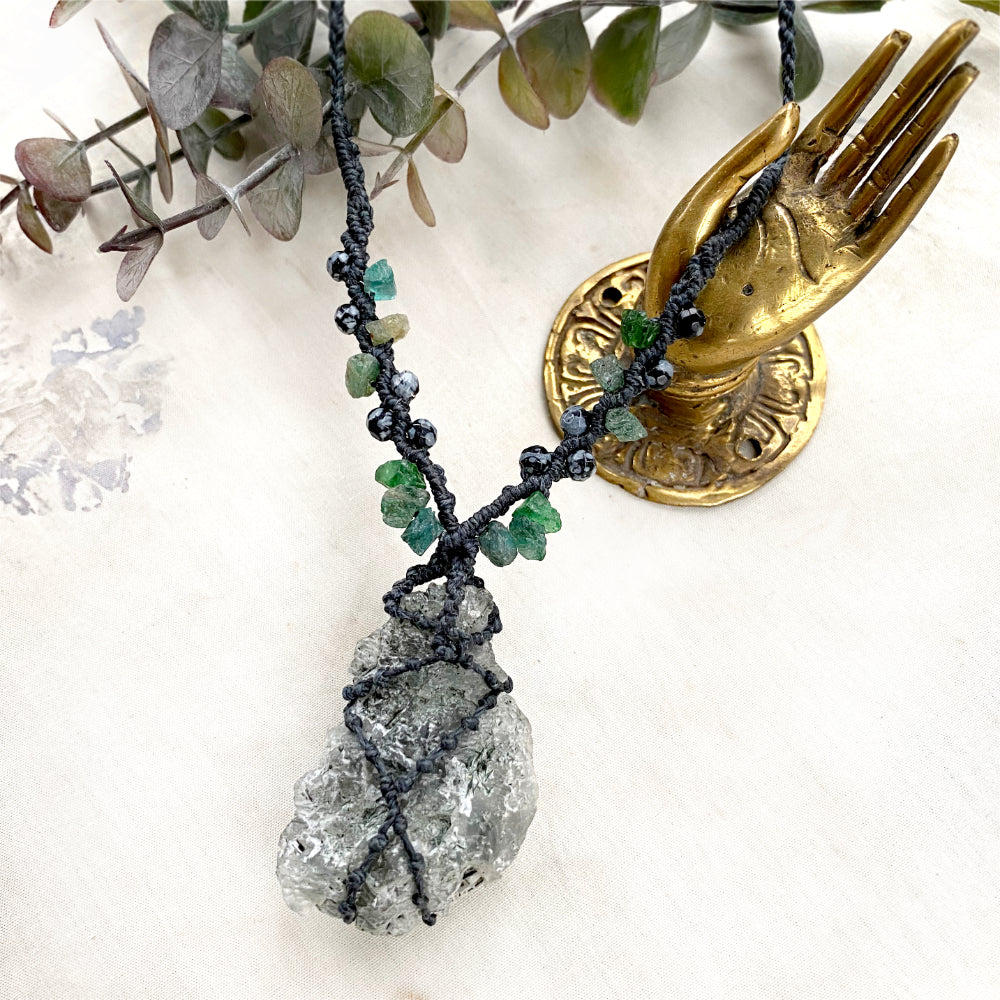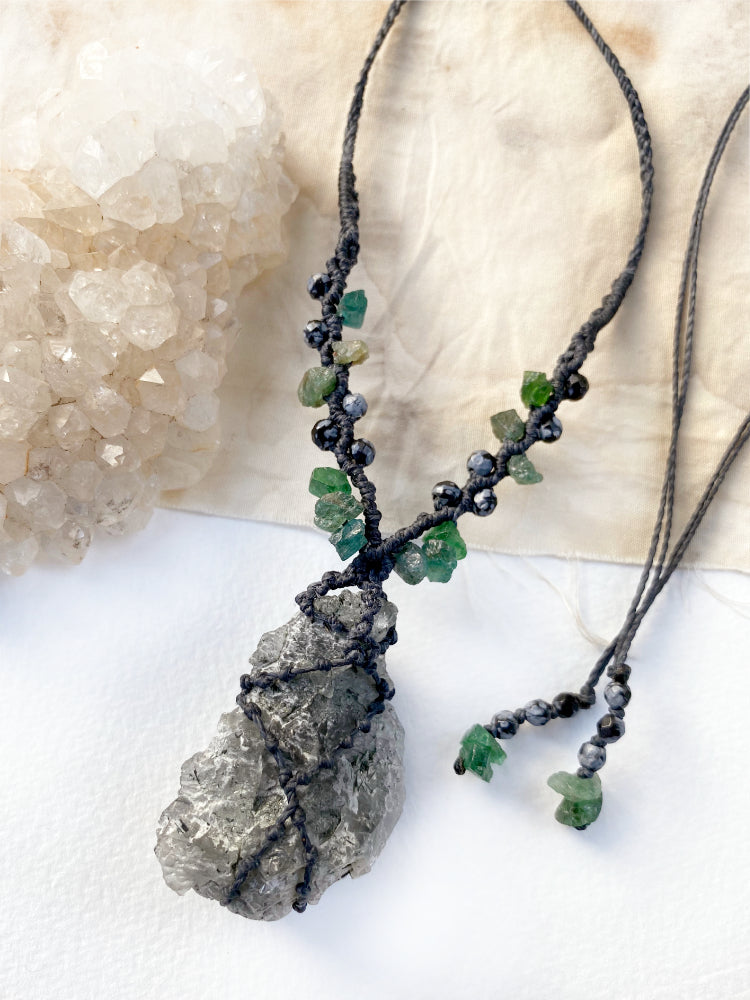 Nirvana Quartz crystal healing amulet
DESCRIPTION
Crystal healing amulet with raw, un-drilled Nirvana Quartz - quite a recent find, with a natural greenish hue resulting from Chrolite and Verdelite inclusions. The necklace is intricately knotted with muted dark blue micro-macrame cord and highlighted with rough Apatite and small faceted Snowflake Obsidian crystals.
The necklace length is adjustable from as short as you wish down to just above the solar plexus level. The Nirvana Quartz measures just over 4.5 cm (1.8") tall and 3 cm (1.2") at its widest.
There are no metals in this necklace so would be particularly suitable for those with metal sensitivities / metal allergy, energy workers and those who simply prefer not to wear metal.
You'll receive this crystal healing necklace in one of Spirit Carrier's handmade fabric draw-string pouches - great for the safe-keeping of the necklace. Gift-wrapped at no extra charge.

Read here how to take care of your crystal jewellery.
CRYSTAL PROPERTIES
NIRVANA QUARTZ (aka Himalayan Ice Quartz)
Helps in making a strong connection with the loving energy of one's heart. "Stone of Enlightenment" that resonates with the higher chakras, accelerating one's spiritual growth. Assists in moving past difficulties and painful experiences, towards experiencing inner radiance and strength with gratitude. Beneficial tool for seekers of truth, with many dimensions to explore through meditation.

Inclusions: CHLORITE QUARTZ Known as 'Quartz of Compassion', this is a purifier crystal. Chlorite is cleansing to the aura, chakras, and energy meridians. Elevates one's vibration higher than that of illness. Can help one visualise and create a more positive future, financially, emotionally, physically. Helps to resolve issues of the heart and remove blockages and resistance so one may acknowledge, forgive, release, and move forward. Great in space clearing, to ward off chaotic, negative energy. / VERDELITE (aka Green Tourmaline) Connects to the energy of compassion, opening up pathways to self-healing and letting go of old heart wounds. Helpful in implementing new projects with the aim of bringing your true desires to fruition. Balancing and rejuvenating, attracting luck and prosperity.
SNOWFLAKE OBSIDIAN
Promotes a sense of calm and inner equilibrium, bringing balance to body, mind and spirit. A grounding, protective stone. Eases worries and when carried/worn helps one to stay balanced and centred throughout the day. Native American shamans often carried Snowflake Obsidian as a powerful talisman to avert evil and bring good fortune, also considering it to be the guardian of the Great Spirit.
APATITE
Enhances one's insight and imagination, and gives increased self-confidence. Connects to high level of spiritual guidance and is helpful in letting go of anything that no longer serves your highest good. Helpful in bringing one's vision into reality and overcoming difficulties. Useful for energy workers, helping to maintain a clear energy field and balanced focus. Apatite crystal is also said to be a good aid in curbing one's appetite!
Recently Viewed