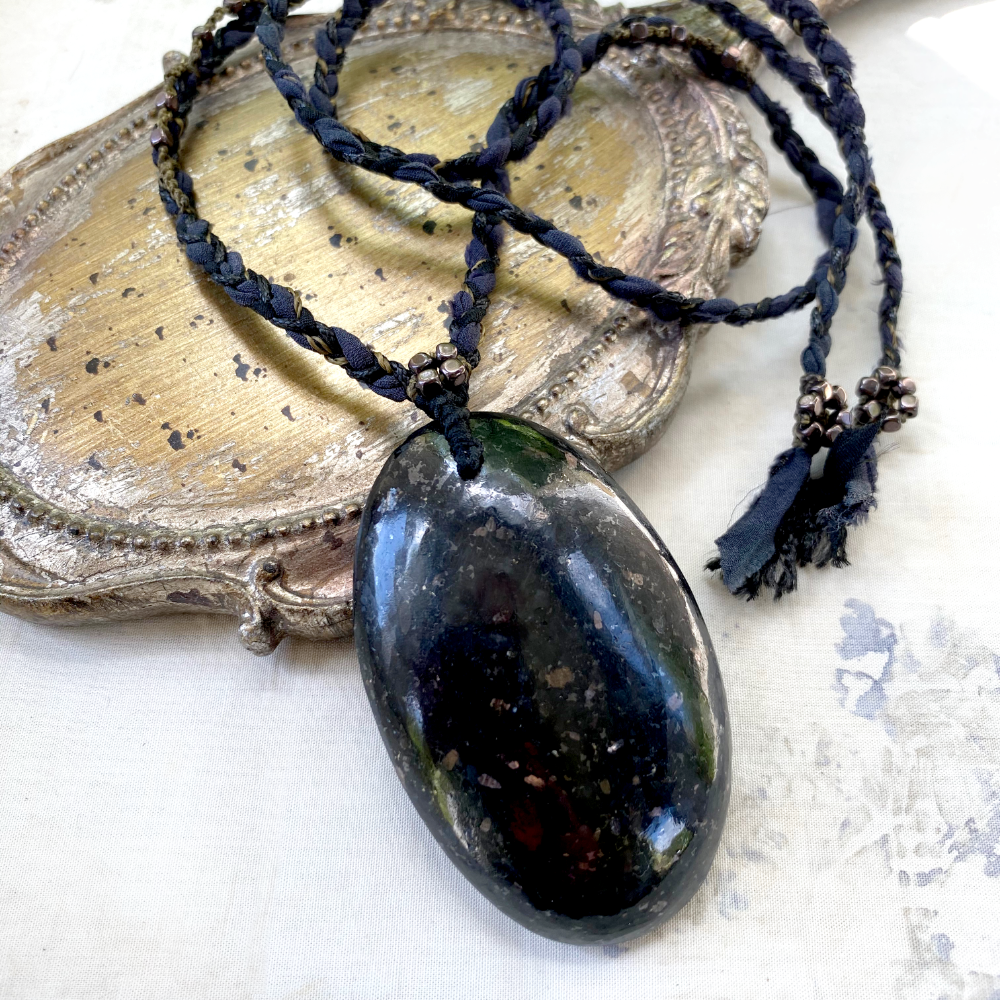 'Dark Moon' ~ crystal healing amulet
DESCRIPTION
Crystal healing amulet with smooth oval of metamorphic rock mainly consisting of  Anthophyllite and Gedrite but often referred to as 'Coppernite'. This large, mysteriously shimmering stone attaches to a necklace braid of soft black recycled sari silk combined with black satin cord and greenish brown micro-macrame cord for added strength. The small highlighting crystals are Hematite. The long braid ends are also decorated with the same and are left open so you can tie the amulet to hang at any desired level.
This 'Dark Moon' talisman is of ceremonial size at approx. 6.5 cm (2.6") tall and approx. 4 cm (1.6") at its widest - not small or lightweight to wear!
You'll receive this crystal healing necklace in one of Spirit Carrier's handmade fabric draw-string pouches - great for the safe-keeping of the necklace. Gift-wrapped at no extra charge.

Read here how to take care of your crystal jewellery.
CRYSTAL PROPERTIES
COPPERNITE
Assists in feeling secure in one's personal power, releasing any binds that may prevent you from moving towards the right direction in life. Promotes self-awareness and discernment. Supports pure intentions and the development of intuition. Good for self-confidence and self-control.
HEMATITE
Creates a strong sense of self and enhances the creative flow. Relieves stress. Revitalises, enhancing personal magnetism and optimism. Helps in releasing self-imposed limitations to find your own unique gifts. A stone of balance and equilibrium. Grounds when feeling scattered, allows one to maintain a natural alertness while remaining calm.
Recently Viewed