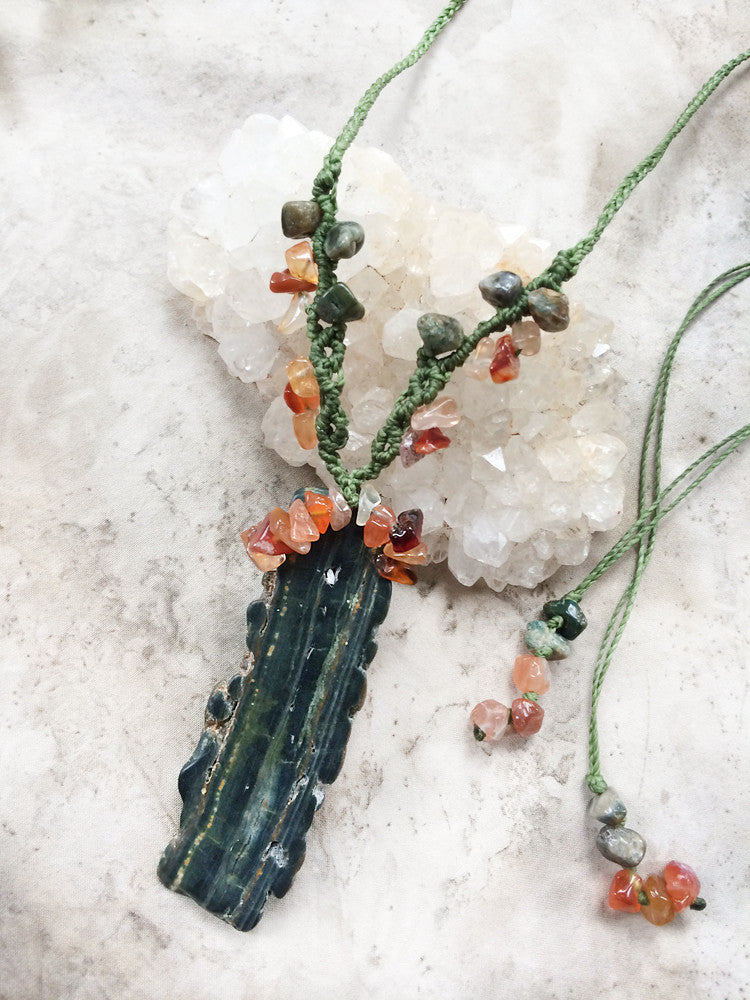 Ocean Jasper crystal amulet with Carnelian
DESCRIPTION
Crystal healing necklace combining the energy of Ocean Jasper with Carnelian. The dark green Ocean Jasper slice is thin and smooth with rugged edges. The necklace is knotted with forest green micro-macrame cord, very strong and durable, yet soft and comfortable to wear. The ends of the adjustable necklace cords are also decorated with Ocean Jasper and Carnelian.
The length of the necklace is adjustable from very short down to solar plexus level. The thin Ocean Jasper slice is approx. 6.5 cm (2.55") tall and approx. 2 cm (0.8") wide.
There are no metals in this necklace so would be particularly suitable for those with metal sensitivities, energy workers and those who simply prefer not to wear metal.
You'll receive this crystal healing necklace in one of my fabric draw-string pouches, great for the safe-keeping of the necklace. Gift-wrapped at no extra charge.
CRYSTAL PROPERTIES
OCEAN JASPER
Known as the 'Atlantis stone'. Helps elevate mood and dispel stress-related energies. Deep reaching healing stone, assists in seeing the past in a new light in order to create a future filled with joy and happiness. Ignites feelings of self-worth. Increases patience, elevates mood, releasing old hurts. Works with solar plexus, heart and throat chakras, aligning you with your own personal power.
CARNELIAN
Known as a stone of motivation and courage. Stimulates creativity and increases one's sense of self-worth. Balancing for body's energy levels, restoring vitality and motivation. Said to attract prosperity, new resources and good luck. A success stone that helps you follow through with plans. Stone of action that aids in overcoming procrastination. Helps in gaining more understanding of one's inner self. Stimulating to the Sacral Chakra, which, when in balance, allows one to enjoy life, feel its joys and pleasures, be flexible and 'go with the flow'.
Recently Viewed