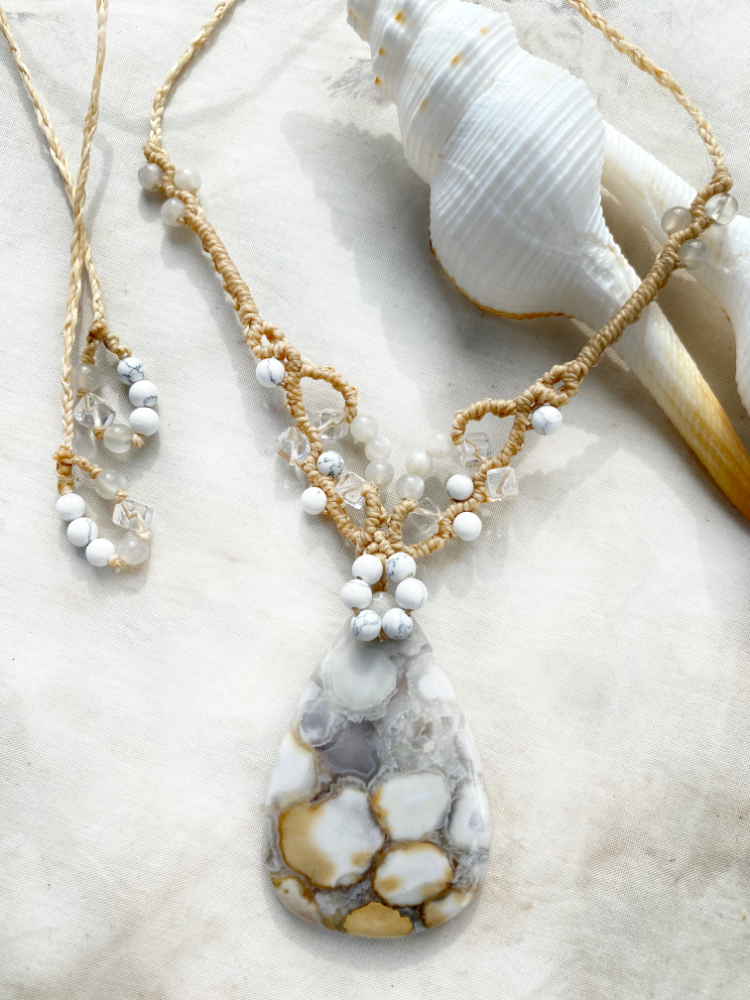 Ocean Jasper crystal healing amulet
DESCRIPTION
Crystal healing amulet with smooth, drop-shaped Ocean Jasper cabochon. This is a stunning specimen of this stone, showing unusual natural patterning all across the surface. The necklace is knotted with earthy yellow micro-macrame cord, strong and durable yet soft and comfortable to wear. The knotwork is highlighted with Howlite and Moonstone crystals. 
The length of the necklace is adjustable from very short down to heart level. The Ocean Jasper is just over 4.5 cm (1.8") tall and approx. 3 cm (1.2") wide at its middle.
You'll receive this crystal healing necklace in one of Spirit Carrier's fabric draw-string pouches, great for the safe-keeping of the necklace. Gift-wrapped at no extra charge.

Read here how to take care of your crystal jewellery.
CRYSTAL PROPERTIES
OCEAN JASPER
Deep reaching healing stone, assists in seeing the past in a new light in order to create a future filled with joy and happiness. Known as the 'Atlantis stone'. Helps elevate mood and dispel stress-related energies. Ignites feelings of self-worth. Increases patience, elevates mood, releasing old hurts. Works with solar plexus, heart and throat chakras, aligning you with your own personal power.
HOWLITE
Belongs to the "attunement" stones, linking its keeper to higher spiritual consciousness. Enhances self-awareness by providing insight into one's own actions and behaviour. Boosts creativity. Encourages you to look inside yourself for answers and is a generally calming and balancing stone. Helps in eliminating rage, anger and frustration, to assist with emotional expression. Opens the Third Eye to connect to wider awareness and spiritual insights.
MOONSTONE
Useful for feeling balanced or when changing aspects in one's life. Symbolises 'new beginnings'. Brings calmness through awareness. Provides the energy to sustain you through stages of growth. A highly intuitive stone allowing self expression and creativity to flow. Provides protection while travelling. A bringer of good fortune. Stone of feminine wisdom, inner growth and strength. Calming and soothing stone, enhancing intuition and inspiration. White moonstone is stimulating for psychic perception, vision and dream work.
Recently Viewed