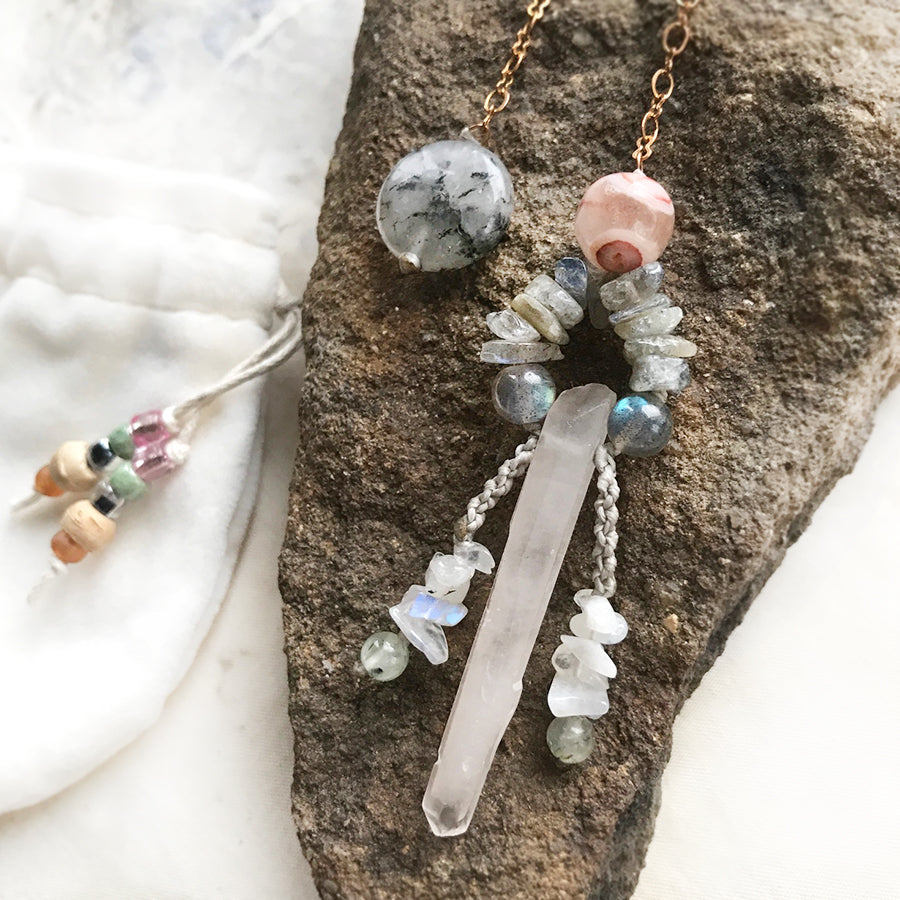 One-of-a-kind crystal pendulum ~ with Milky Quartz point
DESCRIPTION
A one-of-a-kind crystal pendulum combining a double-terminated Angel Phantom Quartz with Rubellite and Rose Quartz crystals. The decorative Rose Quartz handle also includes a rare Madagascan Rose Quartz (naturally dark pink).
The chain is solid, pure copper which is a great energy conductor. The chain is 20 cm (7.9") long. The pendulum height is approx. 4 cm (1.6") of which the Angel Phantom Quartz DT-point is 2.5 cm (0.8"). The size of the velvet pouch is approx. 7 x 6 cm (2.8" x 2.4")
When not in use, the pendulum can be stored in its soft, natural white velvet pouch. The white cotton drawstring ends of the pouch are decorated with glass beads in colours that match the tones in the pendulum.
You'll receive this crystal treasure gift-wrapped at no extra charge.
CRYSTAL PROPERTIES
MILKY QUARTZ (aka White Wisdom Quartz, Majestic Quartz)
Holding a huge amount of universal wisdom within, this crystal effects a rapid upgrade in consciousness. Excellent for storing, receiving and transmitting of spiritual energies, applicable to many healing issues. Stimulates the crown chakra and enhances focus and clarity of mind.
LABRADORITE
One of the most powerful, versatile crystal tools for healing. Creates an auric shield and strengthens your innate energy and life force, preventing energy leakages. Enhances intuitive abilities and assists in spiritual transformation. Helps the wearer align with their highest destiny and discover their inner worth. Strengthens willpower and brings in new ideas. Often referred to as the 'Stone of Destiny', believed to help you to find your true path in life, and as 'Temple of the Stars', anchoring higher dimensional light into your being.
RAINBOW MOONSTONE
Calming and soothing with protective qualities. Assists in finding one's true path in life and embrace one's innate gifts. Helps in providing insights and sheds light into unclear issues. Thought to facilitate communication with spiritual and physical world, and to bring out psychic abilities. Intensifies one's feminine 'Goddess' energy, assisting women to embrace their innate personal strength.
PREHNITE
Protective on all levels, strengthening one's life force. Fosters a sense of trust in the Universe and helps you protect your boundaries so it's easier to say "no" when needed. Stimulates inner knowing of oneself and guides in fulfilling one's potential. Helps to let go of unpleasant memories. Enhances spiritual "knowing". Revitalising and said to bring inner peace. Also said to be "a healer's healer".
AGATE
The oldest good luck amulet. In ancient times Persian magicians were, according to legend, diverting storms with the powers of Agate. Considered a protective stone (especially for travel), said to shield its keeper against dangers. Increases inner stability, enhances personal courage and fosters self-confidence. Grounding and soothing. Balancing stone for one's energy system to experience oneness instead of duality.
Recently Viewed