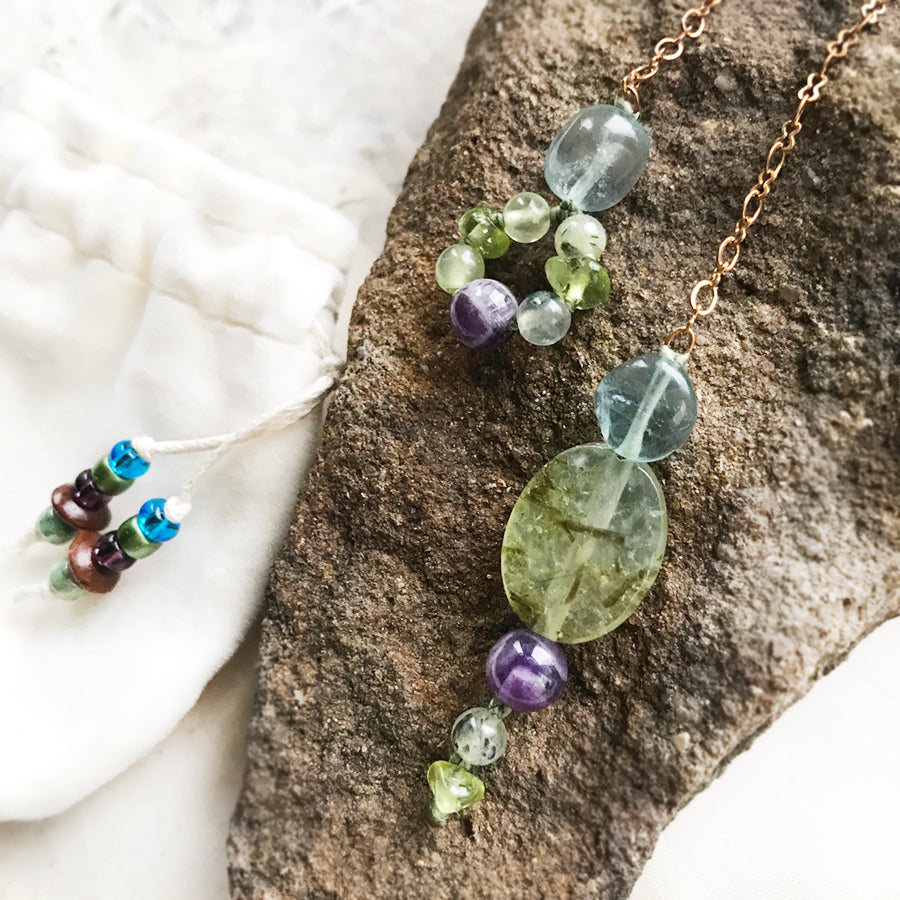 One-of-a-kind crystal pendulum ~ with Prehnite
DESCRIPTION
A one-of-a-kind crystal pendulum combining Epidote in Prehnite, Fluorite, Amethyst and Peridot crystals. The decorative handle includes the same crystals.
The chain is solid, pure copper which is a great energy conductor. The chain is 20 cm (7.9") long. The pendulum height is just under 4 cm (1.6") of which the largest Epidote in Prehnite is approx. 1.5 cm (0.6") tall. The size of the velvet pouch is approx. 7 x 6 cm (2.8" x 2.4")
When not in use, the pendulum can be stored in its soft, natural white velvet pouch. The white cotton drawstring ends of the pouch are decorated with glass beads in colours that match the tones in the pendulum.
You'll receive this crystal treasure gift-wrapped at no extra charge.
CRYSTAL PROPERTIES
EPIDOTE IN PREHNITE
Prehnite is a strongly protective stone, said to be "the healer's healer". It fosters a sense of trust in the Universe and helps you protect your boundaries so it's easier to say "no" when needed. Prehnite is also revitalising and said to bring inner peace. Epidote within the Prehnite is an energy enhancer, so it gives an extra boost to the crystal's energy. It encourages you to approach life with a positive outlook, clearing emotional residue and confusion from the heart chakra. Epidote is also considered a magnet for prosperity and great for physical recovery.
FLUORITE
Excellent for cleansing one's aura, also detaching unwanted energy cords. Grounds excessive energy, beneficial for all levels of healing. Helpful in achieving spiritual wholeness. Protective, stabilising and harmonising stone. Facilitates personal growth. Awareness expanding. Anchors intuitive insights into the physical plane. Offers strong psychic protection, helping to discern energies one comes in contact with. Helps in being objective and focusing on what is essential. Also known as absorbing environmental EMF.
AMETHYST
Instils inner peace, promotes self-discovery and aids in relaxation. Associated with the crown chakra, known as a "stone of balance" and positive transformation. Thought to increase spiritual awareness and psychic abilities, initiating higher knowing and greater understanding. Helps in assimilating new ideas and manifesting thoughts into action. Symbolises a connection to the Divine. A well-known support stone for those wanting to break old patterns to create a new, harmonious life.
PERIDOT
Upbeat and comforting, Peridot reduces stress and amplifies intuitive awareness. Soothes hurt feelings, supporting renewal and personal growth. Brings in-depth heart based awareness, extending from healing to understanding and offering protection against negative emotions. Known also as the stone of prosperity and happiness.
Recently Viewed