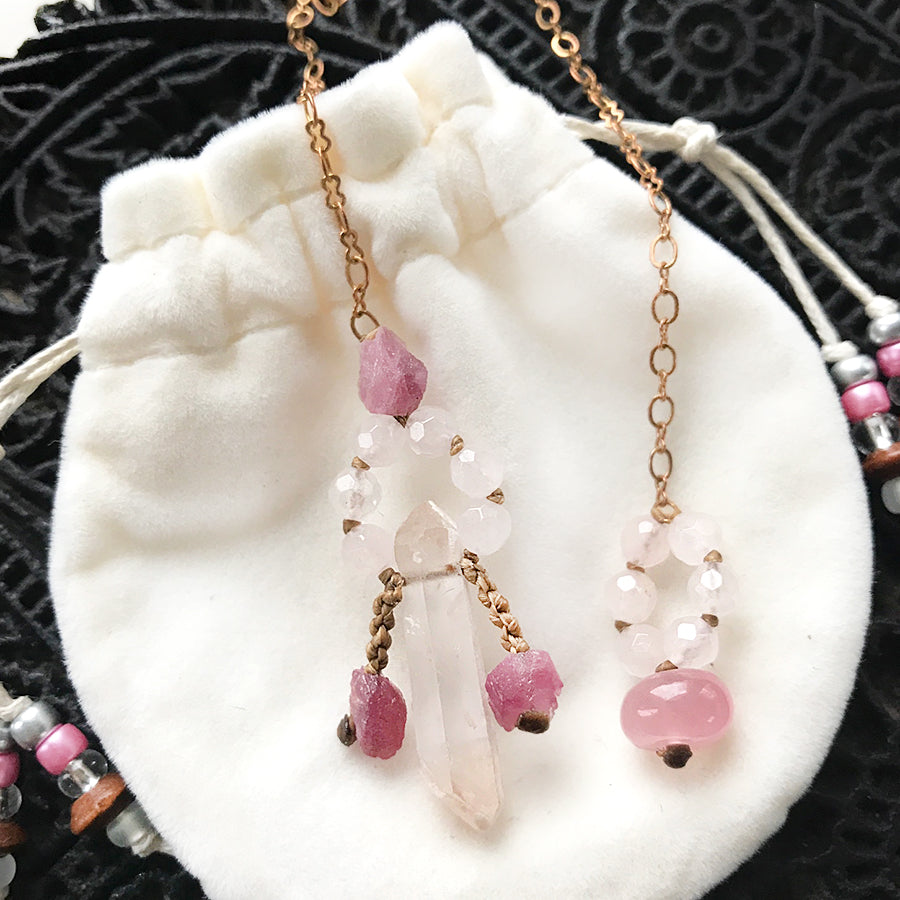 One-of-a-kind crystal pendulum ~ with Angel Phantom Quartz DT-point
DESCRIPTION
Info details on the way!
CRYSTAL PROPERTIES
ANGEL PHANTOM QUARTZ (aka Amphibole Quartz)
Stone of calm, loving energy, expanding consciousness and bringing insights from one's higher self. Connects to the third eye and crown chakras for increased inner guidance. Offering also psychic protection, and whilst a peaceful crystal, maintains vitality and physical energy.
ROSE QUARTZ
Powerful love stone, love that is all-encompassing and unconditional. Awakens one's heart to its own innate love, compassion and acceptance. Vibrates its loving energy to all chakras, offering gentle healing. Soothing and calming. Dissolves anger and resentment. Good for raising one's self-esteem and feelings of self-worth. Balances emotions and is said to support all types of healing. Guides one's life path towards a sense of personal fulfilment and contentment.
RUBELLITE (aka Pink Tourmaline)
Considered a rare, valuable crystal, Rubellite (pink Tourmaline) stimulates the heart chakra and life-force energy. A stone of quiet authority, instilling peaceful vibes in the midst of disputes. Harmonises one's feminine energies and has a nurturing energy. Helps in overcoming fears of lack and supports those who might not feel like belonging in this world to find joy of life.
Recently Viewed