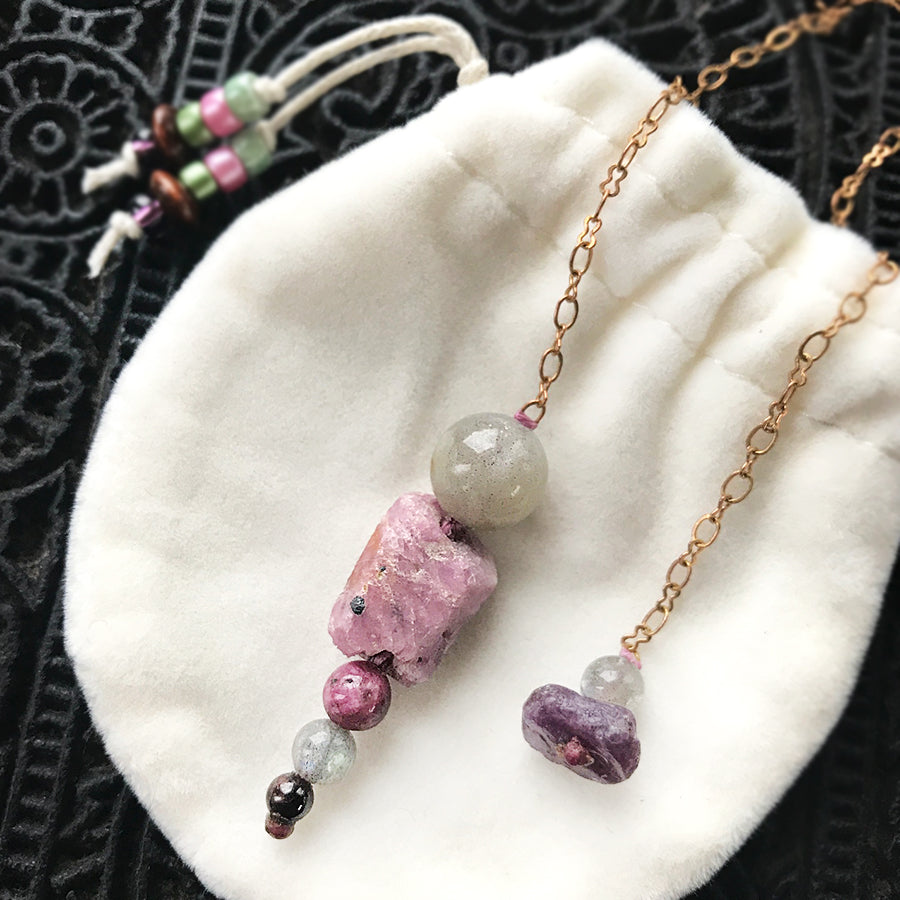 One-of-a-kind crystal pendulum ~ with Ruby
DESCRIPTION
A one-of-a-kind crystal pendulum combining a raw Ruby with Labradorite, Rubellite and Almandine Garnet crystals. The handle includes Labradorite with Ruby.
The chain is solid, pure copper which is a great energy conductor. The chain is 20 cm (7.9") long. The pendulum height is just under 4 cm (1.6") of which the Ruby is approx. 1.5 cm (0.6"). The size of the velvet pouch is approx. 7 x 6 cm (2.8" x 2.4")
When not in use, the pendulum can be stored in its soft, natural white velvet pouch. The white cotton drawstring ends of the pouch are decorated with glass beads in colours that match the tones in the pendulum.
You'll receive this crystal treasure gift-wrapped at no extra charge.
CRYSTAL PROPERTIES
RUBY
Increases vitality and one's life-force energy, Very energising, excellent for women. Promotes clear mind, motivation and concentration. Associated with love, passionate commitment and heart-based closeness, offering help in shedding past hurts. Encourages you to 'follow your bliss' and have courageous attitude. Supports closeness and commitment. Shielding crystal to keep your energy field in your own command. (Ruby is one of the four 'precious' gemstones, the other three being Emerald, Sapphire & Diamond. Other gemstones are considered 'semi-precious'.)
LABRADORITE
One of the most powerful, versatile crystal tools for healing. Creates an auric shield and strengthens your innate energy and life force, preventing energy leakages. Enhances intuitive abilities and assists in spiritual transformation. Helps the wearer align with their highest destiny and discover their inner worth. Strengthens willpower and brings in new ideas. Often referred to as the 'Stone of Destiny', believed to help you to find your true path in life, and as 'Temple of the Stars', anchoring higher dimensional light into your being.
RUBELLITE (aka Pink Tourmaline)
Considered a rare, valuable crystal, Rubellite (pink Tourmaline) stimulates the heart chakra and life-force energy. A stone of quiet authority, instilling peaceful vibes in the midst of disputes. Harmonises one's feminine energies and has a nurturing energy. Helps in overcoming fears of lack and supports those who might not feel like belonging in this world to find joy of life.
ALMANDINE GARNET
Stimulates one's life force. Opens the root chakra while drawing earth energy into the body, helping you to feel secure and centred. Awakens the "inner fire" of creativity. Highly protective stone and a great companion to keep you energised. Excellent good fortune and 'success' stone in both social and career ventures, adding positive vibes both in your personal or business life. Stone of purification and cleansing. Symbolises passionate, devoted love.
Recently Viewed