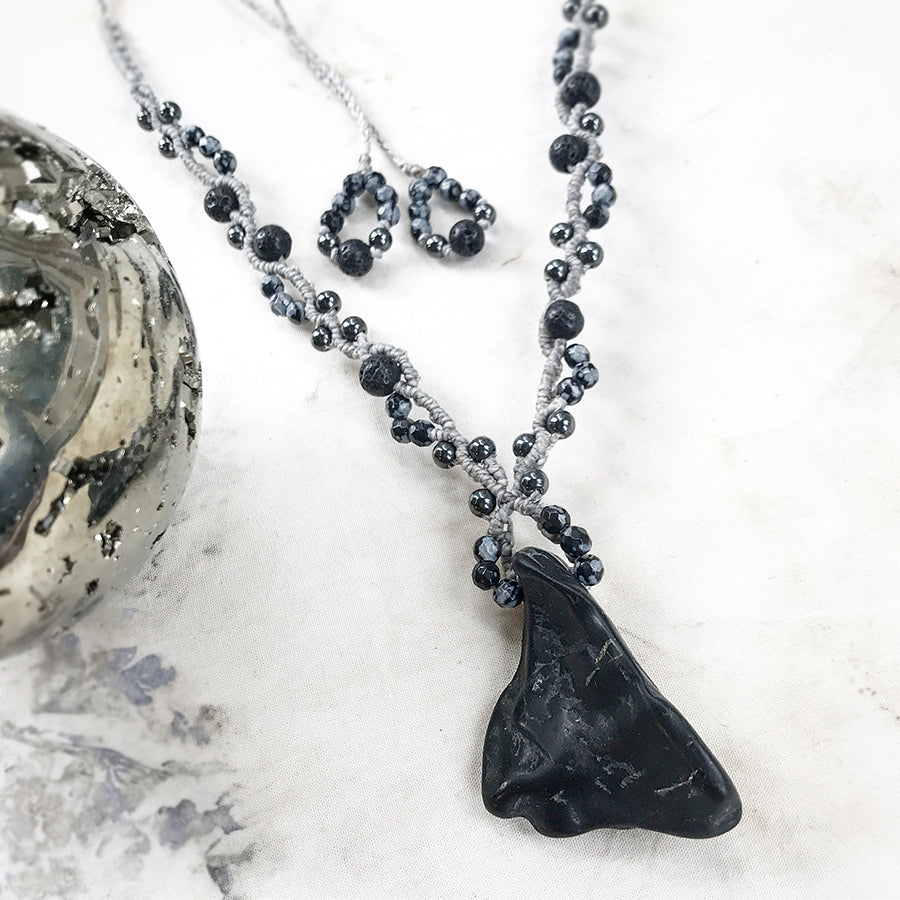 Shungite ~ crystal healing amulet
DESCRIPTION
Crystal healing necklace with a natural Shungite - a wonderful purifier stone from Karelia in Western Russia. The necklace is intricately knotted and braided with light grey micro-macrame cord, very strong and durable, yet soft and comfortable to wear. The knotwork is highlighted with small crystals of Snowflake Obsidian and Lava Stone, as well as Hematite, which gives the necklace a subtle sparkle. The ends of the adjustable necklace cords are decorated with matching crystals as well.
The length of the necklace is adjustable from very short down to solar plexus level. The Shungite is approx. 4 cm (1.6") at its longest and approx. 2.5 cm (1") at its widest.
You'll receive this crystal healing necklace in one of my fabric draw-string pouches, great for the safe-keeping of the necklace. Gift-wrapped at no extra charge.

Read here how to take care of your crystal jewellery.
CRYSTAL PROPERTIES
SHUNGITE
Protector and purifier. Reveals truths in one's life and initiates meaningful changes for the highest good, even if the process isn't always comfortable. Excellent stone to protect from electromagnetic radiation across large frequency range as well as from geopathic stress. Connecting to the cosmic flow, directs one to reach one's full potential in life, assisting in staying focused and centered, following one's true path. Can be used to help access ancient memories and soul wisdom.
SNOWFLAKE OBSIDIAN
Promotes a sense of calm and inner equilibrium, bringing balance to body, mind and spirit. A grounding, protective stone. Eases worries and when carried/worn helps one to stay balanced and centred throughout the day. Native American shamans often carried Snowflake Obsidian as a powerful talisman to avert evil and bring good fortune, also considering it to be the guardian of the Great Spirit.
HEMATITE
Creates a strong sense of self and enhances the creative flow. Relieves stress. Revitalises, enhancing personal magnetism and optimism. Helps in releasing self-imposed limitations to find your own unique gifts. A stone of balance and equilibrium. Grounds when feeling scattered, increases alertness and vigilance.
LAVA STONE
Stone of vitality, assertiveness and passion. Provides stability in times of change. Grounding and protective. Supports courage and decisiveness. Helps in finding one's 'life path'. Encourages personal development and growth.
Recently Viewed