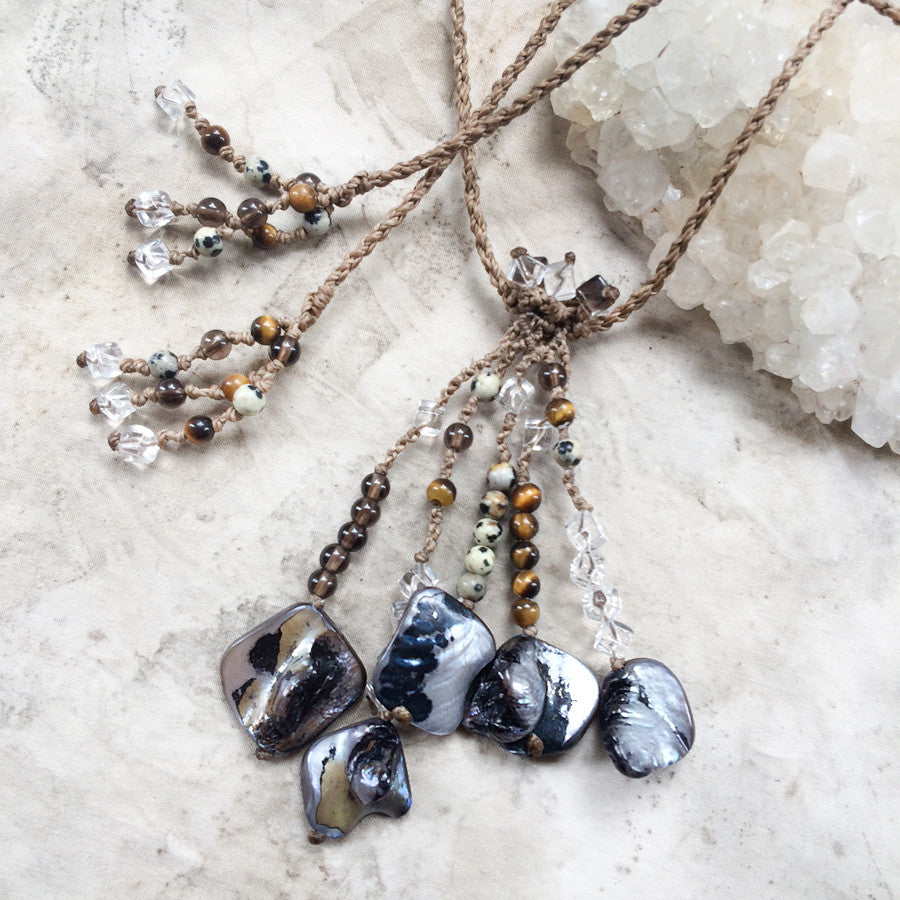 Abalone Shell talisman necklace with Smokey Quartz, Tiger Eye & clear Quartz
DESCRIPTION
Crystal healing talisman with five unusual pieces of Abalone shell, in tones of darkest blue and shimmering silver with a hint of golden brown. The shells are combined with Smokey Quartz, Tiger Eye and clear Quartz. The necklace is a round chain, meticulously braided by hand with brown micro-macrame cord. The ends of the adjustable necklace cords are decorated with  Smokey Quartz, Tiger Eye and clear Quartz.
The length of the necklace is adjustable by pulling the cords through a knotted channel. The adjusting range is from very short down to solar plexus level. The longest of the five pendant strands is approx. 8 cm (3"). The maximum dimension of the largest Abalone shell is 2 cm (0.8").
There are no metals in this necklace so would be particularly suitable for those with metal sensitivities, energy workers and those who simply prefer not to wear metal.
You'll receive this crystal healing necklace in one of my fabric draw-string pouches, great for the safe-keeping of the necklace. Gift-wrapped at no extra charge. 
CRYSTAL PROPERTIES
ABALONE SHELL
Associated with peace, beauty, compassion and love. Instills feelings of harmony and balance. Stimulates intuition and encourages the use of imagination. Said to be a perfect gift for those who have been tossed and turned by life, to be a reminder that one's inner beauty will always shine through.
SMOKEY QUARTZ
A grounding and calming stone that elevates moods and dissipates negative emotions. "A Stone of Serenity", it is comforting and protective for one's aura. Smokey Quartz is thought to assist in creative endeavours and also in setting personal boundaries. Offers EMF protection. A good healing stone for improving general feeling of well-being.
TIGER EYE
A power stone for attracting prosperity. But it has also a highly spiritual energy and is helpful in understanding any life cycle that one is living through. Helps in seeing through illusions, in discerning the truth in any situation. A highly protective as well as grounding stone. Good for strengthening the third chakra.
CLEAR QUARTZ
The universal master crystal that has a harmonising effect on all levels of being. Programmable by intention, so can be used for versatile purposes. Quartz can clear, enhance, amplify, transmute, balance, focus and transmit energy. Raises one's energetic vibration. Attunes its keeper to their higher self. Known as the "Stone of Power" and "Master Healer".
Recently Viewed