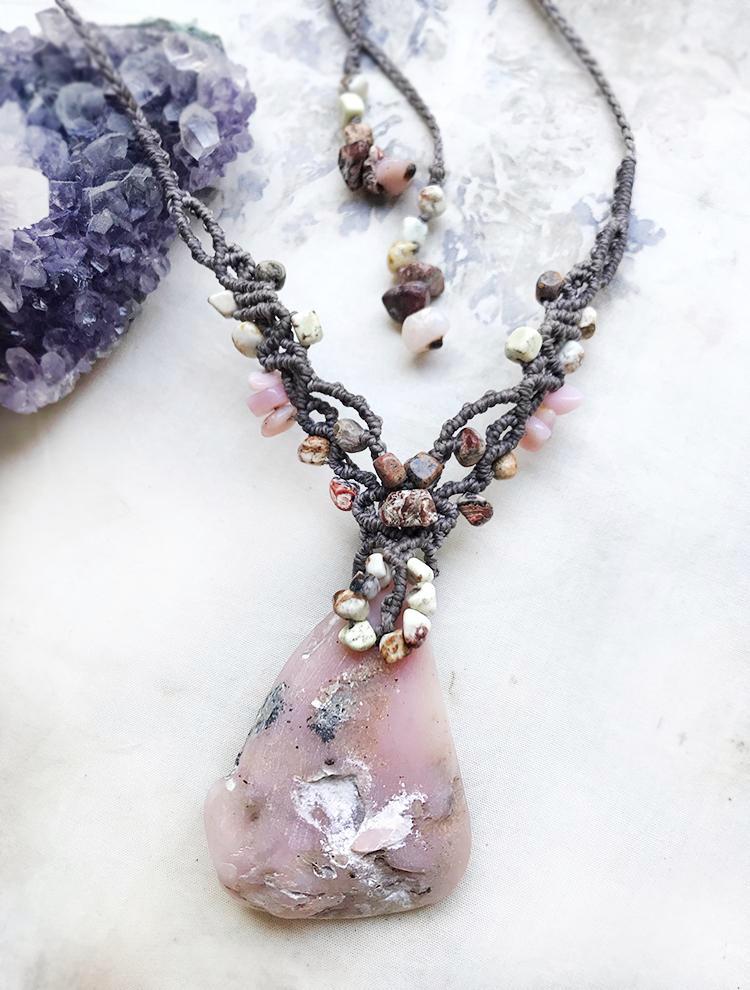 Peruvian Pink Opal ~ crystal healing amulet
DESCRIPTION
Crystal healing necklace combining the energies of Peruvian Pink Opal, white Chrysoprase and Zebra Jasper. The necklace is knotted with warm grey micro-macrame cord. The Peruvian Pink Opal shows a rough natural texture, like a rocky terrain. The ends of the adjustable necklace cords are highlighted with matching crystals.
The length of the necklace is adjustable from very short down to solar plexus level. The Opal is approx. 5.5 cm (2.2") tall and approx. 4 cm (1.6") at its widest.
There are no metals in this necklace so would be particularly suitable for those with metal sensitivities, energy workers and those who simply prefer not to wear metal.
You'll receive this crystal healing necklace in one of my fabric draw-string pouches, great for the safe-keeping of the necklace. Gift-wrapped at no extra charge.

Read here how to take care of your crystal jewellery.
CRYSTAL PROPERTIES
PERUVIAN PINK OPAL
Stone of peace and tranquility for one's aura. Helps in healing painful memories. Stone of hope and renewal. A good stone to help inner healing on the emotional, physical and intellectual levels. Cleanses and purifies mind and heart.
CHRYSOPRASE
Opens and activates the Heart chakra, and helps one to live 'from the heart'. It encourages acceptance of oneself and others, as well as bringing a sense of hope into situations that may look dire. A loving and supportive stone at times of transitional phases. Initiates inner growth and the healing of heart-felt sorrows. A stone of grace and compassion.
ZEBRA JASPER
Also known as 'white tiger stone', encouraging you to enjoy the experiences life offers. Like all Jaspers, this too is soothing and balancing. Zebra Jasper lifts your mood and motivates you to take action, to overcome apathy. Helps you to see your true nature and find out what you truly desire.
Recently Viewed