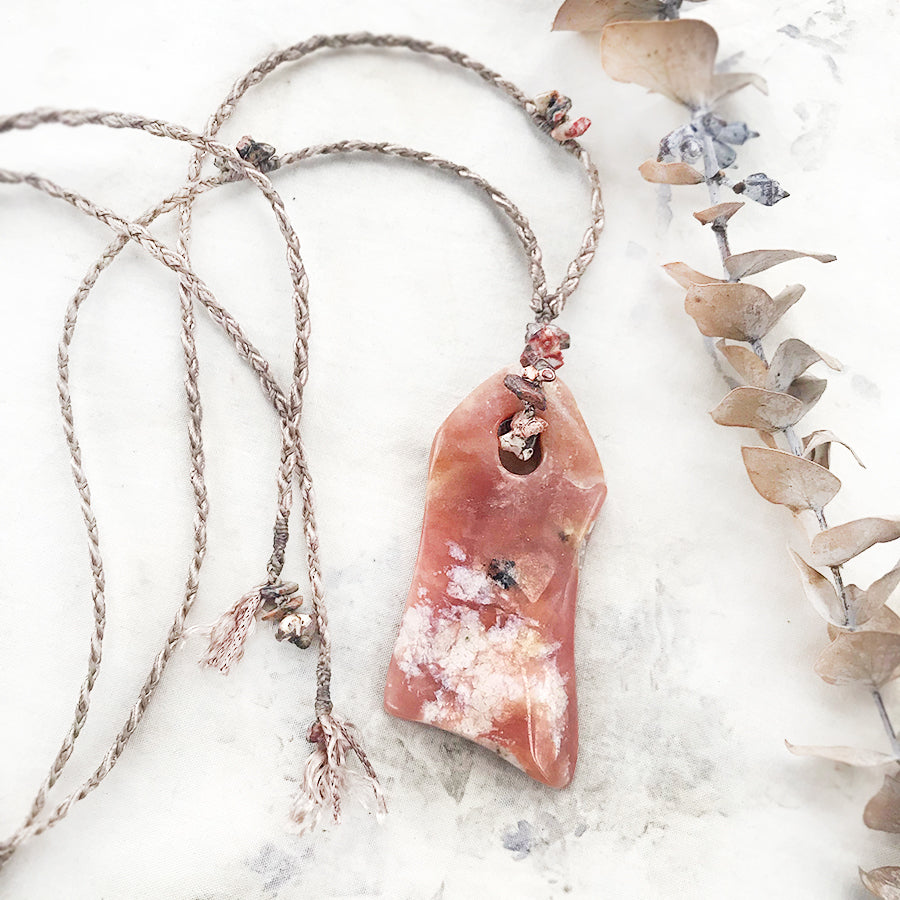 Peruvian pink Opal crystal healing amulet
DESCRIPTION
Crystal healing talisman with smooth, organically shaped pink Peruvian Opal slice, showing mainly a dark pink colour with some painterly cream tones. The minimal necklace braid is beige satin with a slight sheen to it, combined with grey micro-macrame cord, which allows the pendant crystal to take centre stage. The tiny highlighting crystals are Leopardskin Jasper. The long necklace braid ends are are left open so you can tie the crystal to hang at your chosen height. This necklace would also be perfect in combination with others for a bohemian individual look.
This size of this Opal is approx. 6.5 cm (2.6") The long necklace braids are 48 cm (19") each and come with a loosely tied reef knot to make it easy for you to wear straight away -if preferring a long length- but you can of course also open the braid ends to tie them shorter if you prefer wearing the crystal higher up.
There are no metals in this necklace so would be particularly suitable for those with metal sensitivities, energy workers and those who simply prefer not to wear metal.
You'll receive this crystal healing necklace in one of Spirit Carrier's fabric draw-string pouches, great for the safe-keeping of the necklace. Gift-wrapped at no extra charge.

Read here how to take care of your crystal jewellery.
CRYSTAL PROPERTIES
PERUVIAN PINK OPAL
Stone of peace and tranquility for one's aura. Helps in healing painful memories. Stone of hope and renewal. A good stone to help inner healing on the emotional, physical and intellectual levels. Cleanses and purifies mind and heart.
LEOPARDSKIN JASPER
Powerful protection stone, associated with strength and vitality. Facilitates self-healing and is very supportive and nurturing. Attracts harmonious vibrations to one's life. Brings tranquility and a feeling of wholeness.
Recently Viewed