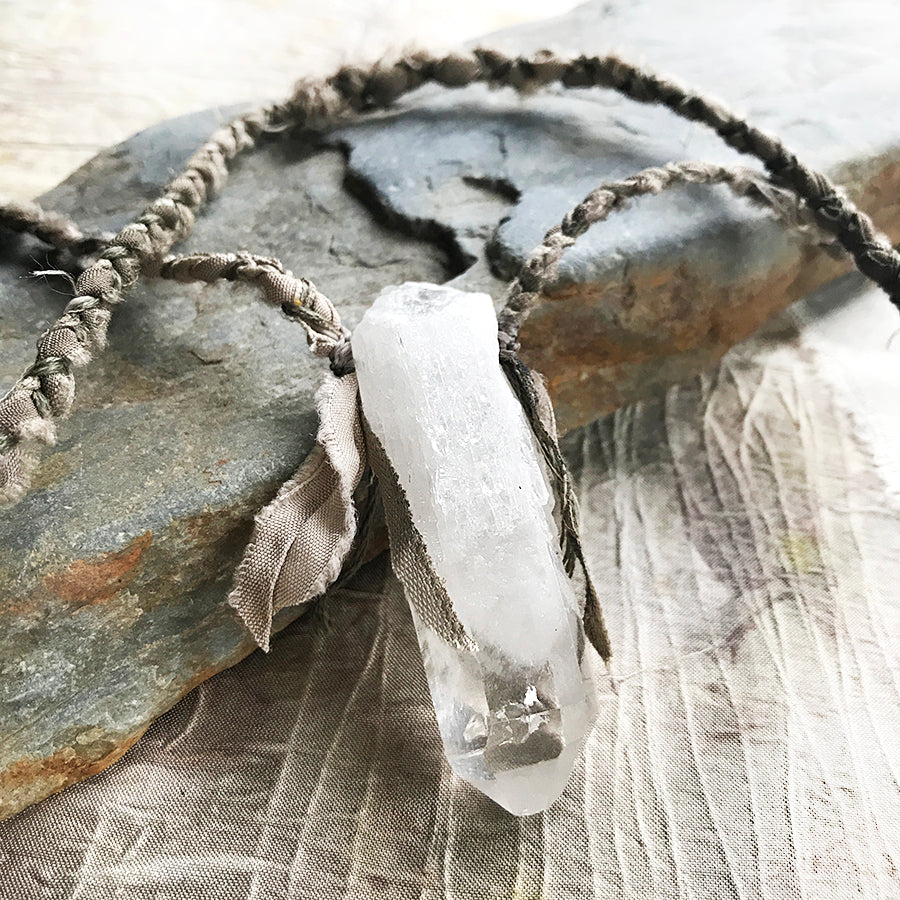 Phantom Candle Quartz crystal healing talisman in silk braid
DESCRIPTION
Natural, raw Candle Quartz, with transparent point and beautiful white 'candle wax' texture so characteristic to this crystal. Inside the clear point, you can also clearly see a phantom formation, giving this crystal its own unique depth and character. The soft necklace cord has a very earthy, wabi sabi feel. It is braided with a combination of silks which I have botanically eco-dyes with local plants, peace silk yarn ('peace silk' is a name of silk made by ethical process where no silk worms were harmed) and light grey micro-macrame cord. The talisman has no accent crystals, simply the presence of this magnificent Phantom Candle Quartz.
The necklace braid is set length, allowing the Candle Quartz point to hang down approx. 36 cm (14") measured from the back of the neck to the top edge of the Candle Quartz. The all-around length of the necklace braid is 72 cm (28").
The Candle Quartz point is just over 6 cm (2.4") tall and 1.8 cm (0.7") at its widest.
There are no metals in this necklace so would be particularly suitable for those with metal sensitivities / metal allergy, energy workers and those who simply prefer not to wear metal.
You'll receive this crystal healing necklace in one of my handmade fabric draw-string pouches - great for the safe-keeping of the necklace. Gift-wrapped at no extra charge.

Read here how to take care of your crystal jewellery.
CRYSTAL PROPERTIES
CANDLE QUARTZ
Also known as 'Atlantean Lovestar', a great tool for seekers of truth to replace sorrow and depression with hope and comfort. Opens, balances and smooth the heart chakra. Offers access to ancient insights, and can bring a sense of abundance in one's daily life. 
Phantom formation in Quartz is a powerful earth healer crystal that symbolises universal awareness. It activates one's own inner healing capabilities, enhances business creativity and provides inspiration to reach your goals and is said to open up clairaudience abilities. This type of Quartz offers guidance on the process of life and inner growth, helping one to see the past as part of one's meaningful spiritual path.
Recently Viewed