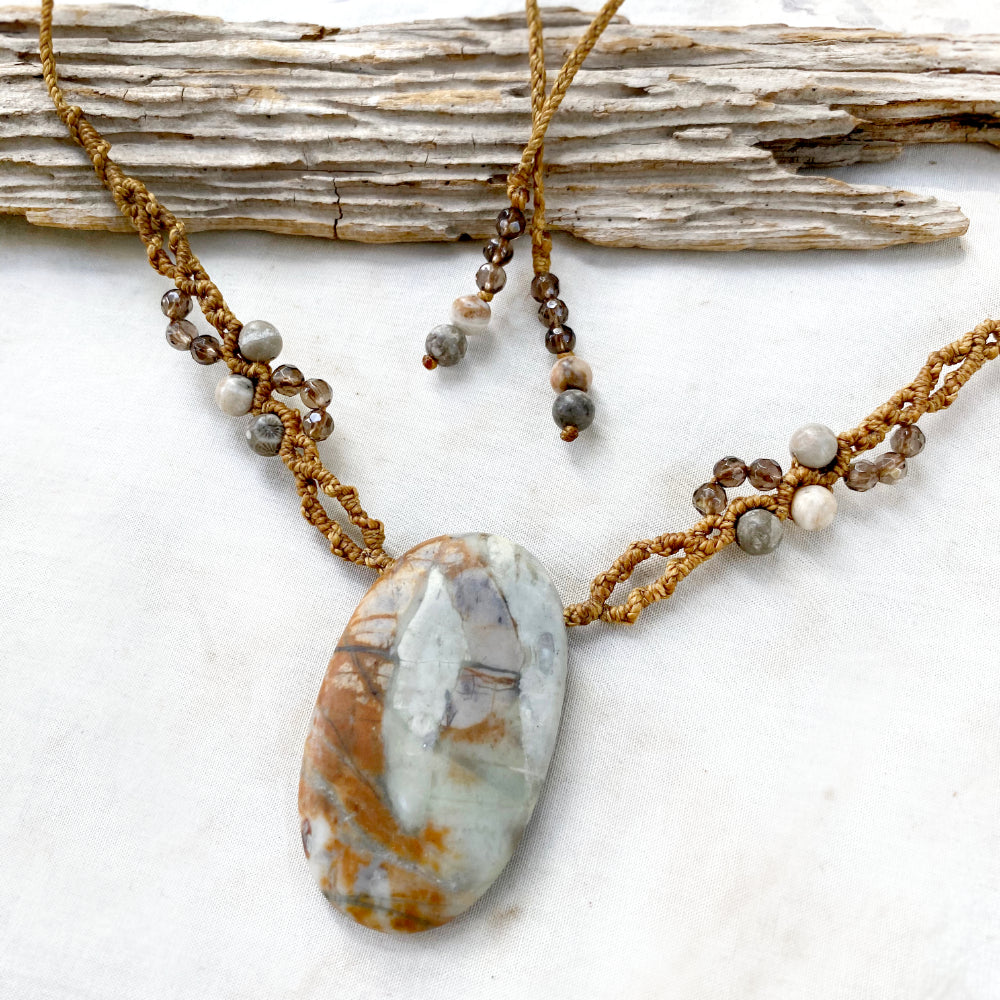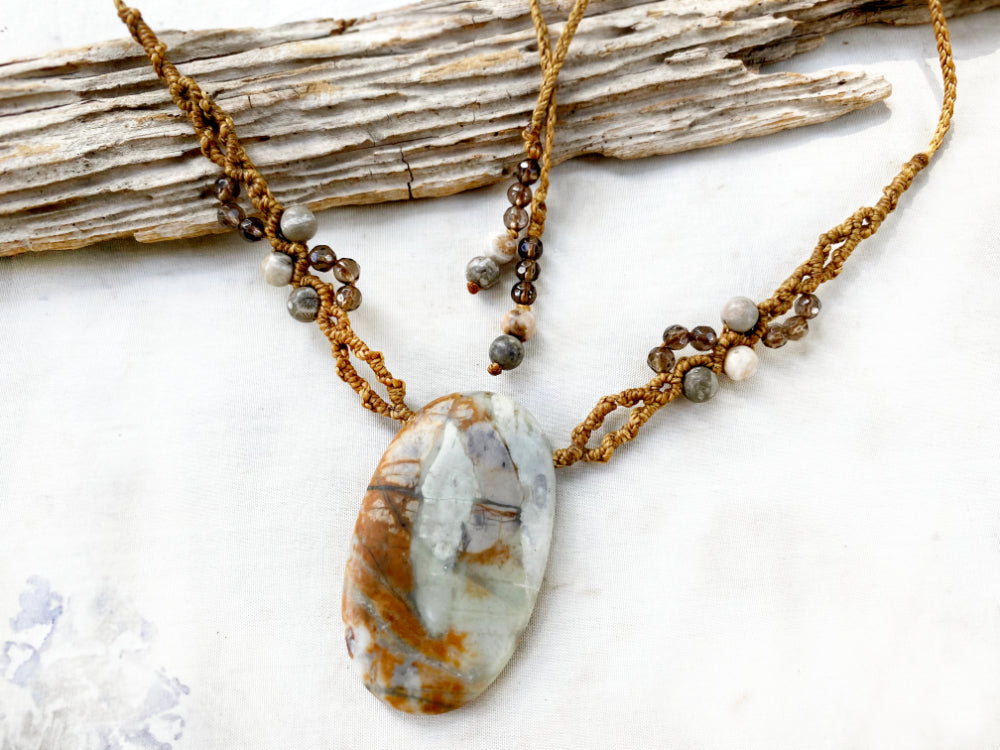 Picasso Jasper crystal healing amulet
DESCRIPTION
Crystal healing amulet with a smooth, oval-shaped Picasso Jasper in painterly tones of earthy browns, orange and grey. Like an artfully abstract painting created by nature, although if you look closely, you may detect a hint of a beautiful face profile in the surface pattern - maybe the spirit of this stone? The necklace is knotted with reddish brown micro-macrame cord and highlighted with Petoskey Stone and Smokey Quartz crystals. The ends of the adjustable necklace cords are adorned with matching crystals.
Due to the shape of the necklace extending from both sides of the stone, this amulet would look best worn quite high up. Although the necklace is adjustable from such short length down to just above solar plexus level too. The Picasso Jasper is approx. 5 cm (2") tall and just over 3 cm (1.2") at its widest.
There are no metals in this necklace so would be particularly suitable for those with metal sensitivities, energy workers and those who simply prefer not to wear metal.
You'll receive this crystal healing necklace in one of my fabric draw-string pouches, great for the safe-keeping of the necklace. Gift-wrapped at no extra charge.

Read here how to take care of your crystal jewellery.
CRYSTAL PROPERTIES
PICASSO JASPER (also known as Cherry Creek Jasper)
A joyful, harmonious stone, said to effect transformations in the area of relationships, attracting like-minded people and loyal friends. Offers stability and balance in times of change. Releases blocks from the way of one's creativity. Encourages to celebrate life!
PETOSKEY STONE
A supportive companion at times of transformation and major shifts in one's being. Encourages the integration of new positive changes into our life. Helps in developing one's intuitive senses and to feel the connection with subtle energies. Enhances imagination and creativity. Calls its keeper to recognise and appreciate their own unique individuality which makes life even richer.
SMOKEY QUARTZ
A grounding and calming stone that elevates moods and dissipates negative emotions. "A Stone of Serenity", it is comforting and protective for one's aura. Smokey Quartz is thought to assist in creative endeavours and also in setting personal boundaries. Offers protection against electromagnetic rays. A good healing stone for improving general feeling of well-being. Relieves anxiety and worry, wards off confusion. Shielding crystal to create a calm, safe environment.
Recently Viewed