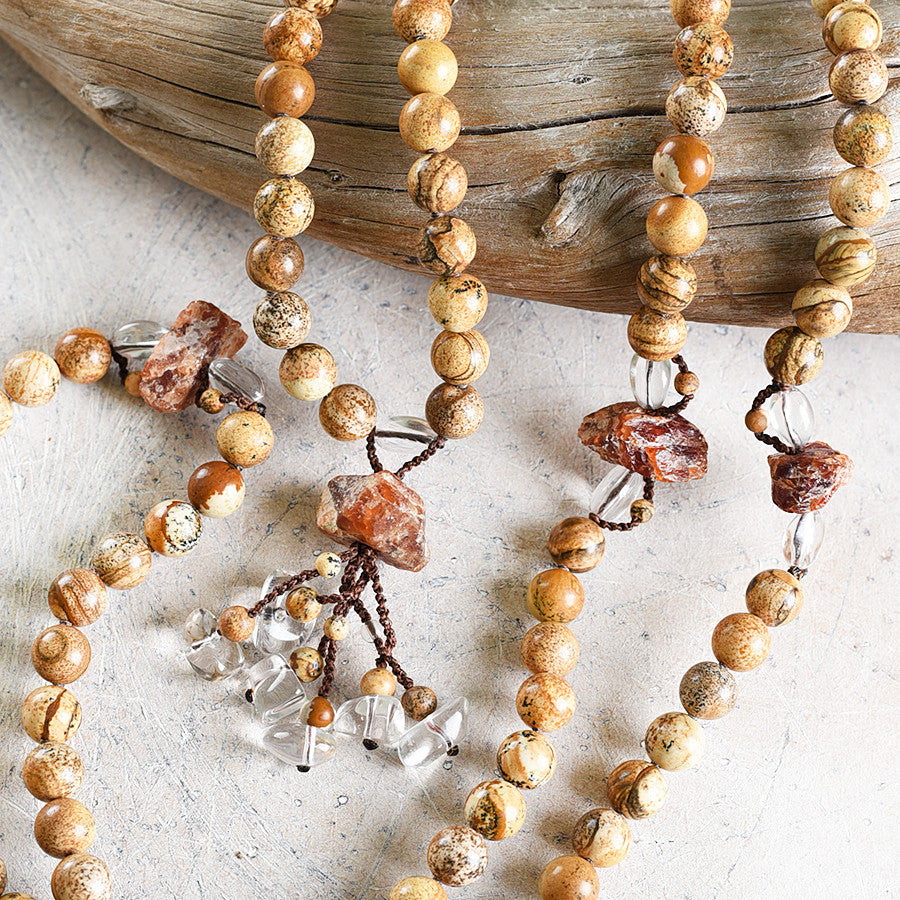 Picture Jasper mala with Spessartine Garnet & clear Quartz
DESCRIPTION
One of a kind, contemporary 108 bead meditation mala with Picture Jasper counter beads. The three dividers are a combination of Spessartine Garnet and clear Quartz. The guru bead consists of the same crystal combination, together form a gemstone "tassel" with six knotted strands.
Each counter bead is meticulously knotted by hand - one by one, for durability and ease of handling - using strong dark brown micro-macrame cord.
All around length of mala: 127 cm (50")
Counter bead diameter: 1 cm (0.4")
Length of guru bead combination: 6 cm (2.4")
This mala comes in one of my handmade soft brown leather pouches for safe-keeping (and gift-wrapped for no extra charge). If you would rather have a fabric pouch, please let me know at the time of purchase.
~~~~~~~~
I draw artistic inspiration for these contemporary yoga meditation beads from the ancient decorative Buddhist malas from Tibet that were often given as gifts to Chinese courts and called "Chinese court necklaces". I match the stones and crystals carefully to create an energetic combination in the mala that will benefit the keeper in an individual way. All of my malas are one-of-a-kind.

Whilst this mala is made with Tibetan Buddhist bead count (108 beads), all Spirit Carrier malas are dedicated to the Highest Good of All – its future keeper may bless the mala for their own purpose and use it for their own personal way of meditation.
Read more about Spirit Carrier mala beads
CRYSTAL PROPERTIES
PICTURE JASPER
Associated with expanded creativity, visions, invention and initiative. Helps in grounding ideas into reality. Believed to contain hidden messages from the past. Nurturing and harmonious, it also offers psychic protection during shamanic journeying as well as activates the third eye chakra. Inspires creative visualisation and is excellent for overcoming any creative blocks. Good confidence stone, particularly helpful in business pursuits.
SPESSARTINE GARNET
Elevates mood and allows experiences of 'emotional sunshine' into one's life, thus making life more fulfilling. Helps in overcoming the fear of new experiences, encouraging you to live more spontaneously. Balances and vitalises the sacral chakra, supporting creative pursuits and intuition.
CLEAR QUARTZ
The universal master crystal that has a harmonising effect on all levels of being. Programmable by intention, so can be used for versatile purposes. Quartz can clear, enhance, amplify, transmute, balance, focus and transmit energy. Raises one's energetic vibration. Brings clarity and filters out distractions. A deep soul cleanser, attuning its keeper to their higher self. Each Quartz crystal is unique with its own character and teachings it offers, all are known as "Stones of Power" and "Master Healers".
Recently Viewed