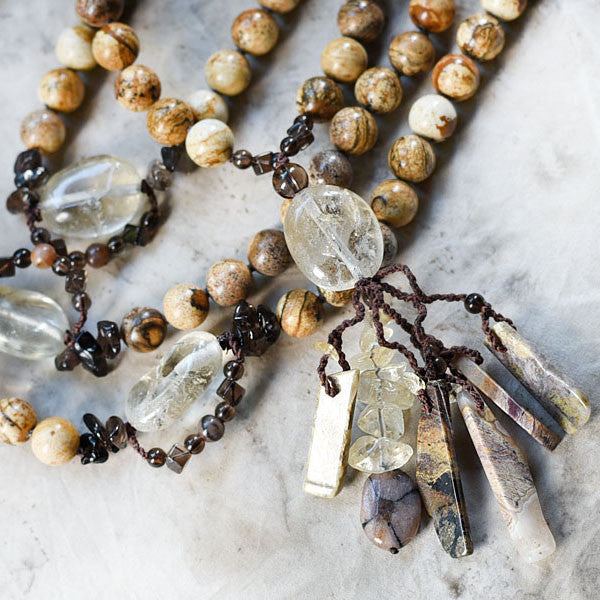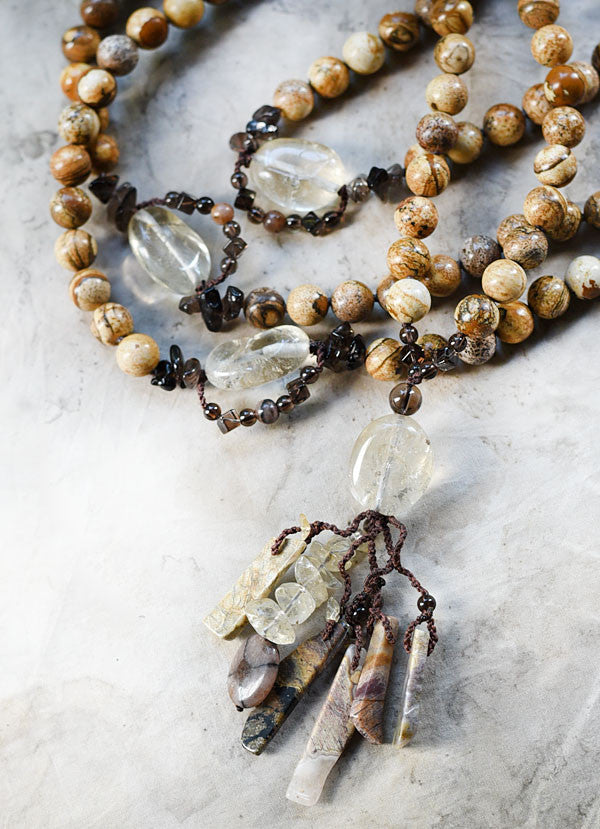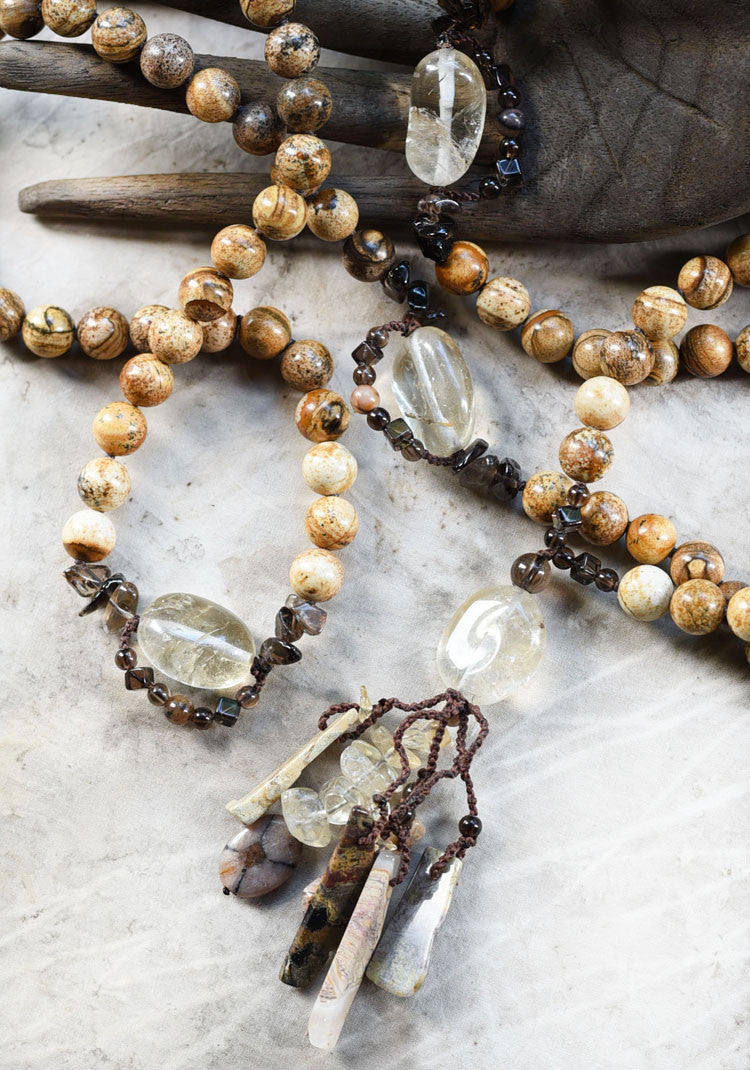 Picture Jasper meditation mala with Citrine, Smokey Quartz, Chiastolite & Silver Leaf Jasper
DESCRIPTION
One of a kind, contemporary 108 bead meditation mala with Picture Jasper counter beads. The three dividers are a combination of Smokey Quartz, Citrine and Chiastolite. The guru bead consists of Smokey Quartz, Citrine, Chiastolite and Silver Leaf Jasper that together form a gemstone "tassel".
Each counter bead is meticulously knotted by hand - one by one, for durability and ease of handling - using strong dark brown micro-macrame cord.
All around length of mala: 134 cm (53")
Counter bead diameter: 1 cm (0.4")
Length of guru bead combination: 10.5 cm (4")
Please note that Spirit Carrier malas come usually in three sizes, determined by the diameter of the main counter beads - either 8 mm, 10 mm or 12 mm. This mala is the medium size with 10 mm counter bead diameter.
This mala comes in one of my handmade soft brown leather pouches for safe-keeping (and gift-wrapped for no extra charge). If you would rather have a fabric pouch, please let me know at the time of purchase.
Read more about Spirit Carrier mala beads


CRYSTAL PROPERTIES
PICTURE JASPER
Associated with expanded creativity, visions, invention and initiative. Helps in grounding ideas into reality. Believed to contain hidden messages from the past. Nurturing and harmonious, it also offers psychic protection during shamanic journeying as well as activates the third eye chakra. Inspires creative visualisation and is excellent for overcoming any creative blocks. Good confidence stone, particularly helpful in business pursuits.
SMOKEY QUARTZ
A grounding and calming stone that elevates moods and dissipates negative emotions. "A Stone of Serenity", it is comforting and protective for one's aura. Smokey Quartz is thought to assist in creative endeavours and also in setting personal boundaries. Offers EMF protection. A good healing stone for improving general feeling of well-being.
CITRINE
Gives a powerful alignment with the higher self. Balances the emotions and makes the mood sunny and cheerful. Brings clarity of thought, and attracts abundance through joy. Powerful transformer in healing work. Increases self-confidence and optimism, cleanses the surrounding energies and promotes creative thinking. Releases, dissipates and transforms denser energies on all levels, mental, emotional and physical. Works to release limitations and blockages particularly around the sacral / solar plexus area.
CHIASTOLITE
Stone of balance and harmony. Its visible cross-pattern is thought to symbolise one's commitment to approach life with Awareness. Assists in adapting to change at transitional times. It is also thought to enhance practical creativity. Very protective, allows its wearer to hold their personal space more easily. For someone who has "many irons in the fire" all the time, this is a great crystal to have close for coping with it all!
Recently Viewed