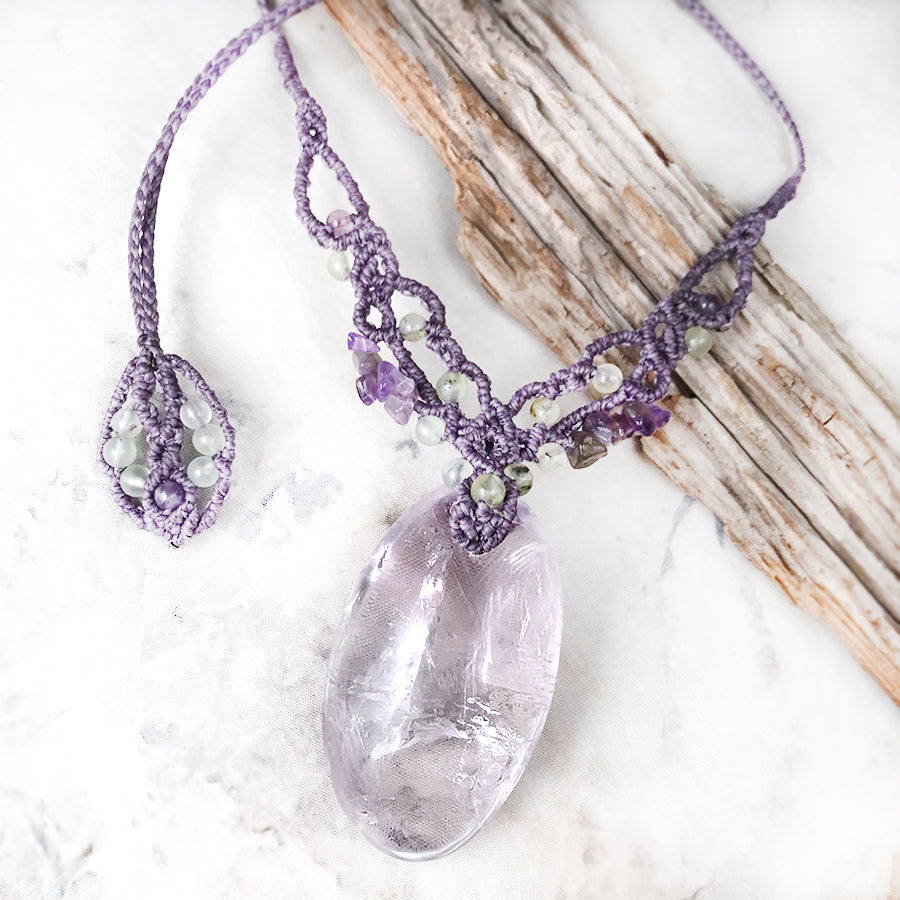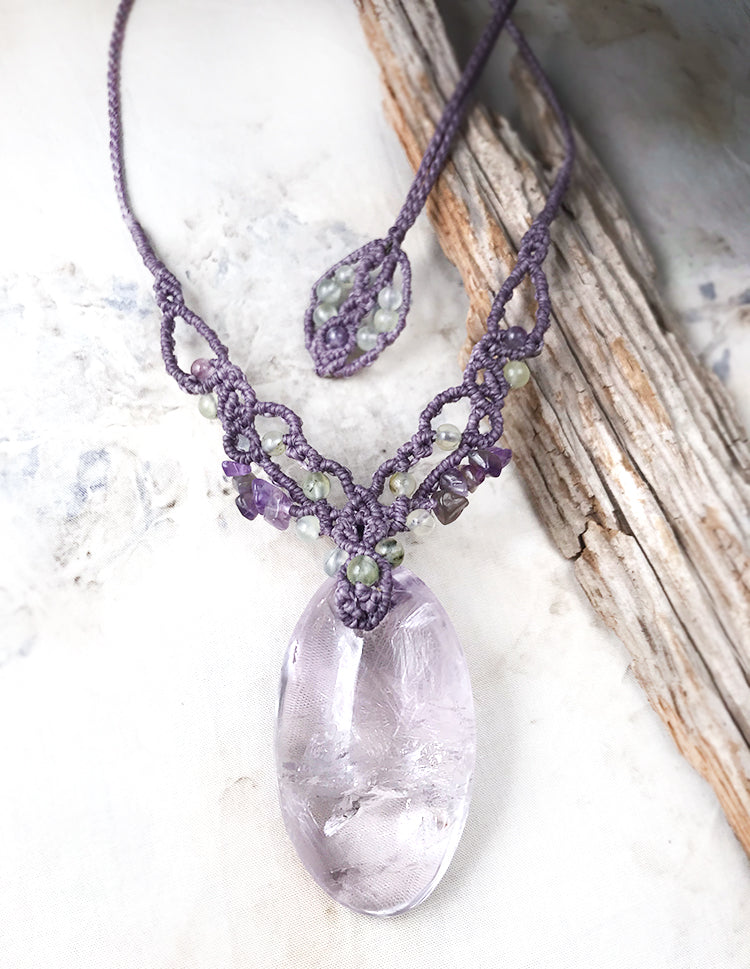 Pink Fluorite crystal healing amulet
DESCRIPTION
Smooth, translucent Fluorite in a subtly pink tone or with a hint of lavender (depending on light). This oval beauty shows its crystalline landscape within and has wonderful clarity. The necklace is intricately knotted with light purple micro-macrame cord, combined with small Prehnite and Amethyst crystals. There is a  detailed decorative finishing of the adjustable necklace cords, a 'crystal seal' to adorn your back - particularly lovely when worn with a dress that has a low cut back.
The length of the necklace is adjustable from very short down to solar plexus level. The Fluorite is approx. 5.5 cm (2.2") tall, 3 cm (1.2") at its widest and approx. 1.5 cm (0.6") thick.
There are no metals in this necklace so would be particularly suitable for those with metal sensitivities, energy workers and those who simply prefer not to wear metal.
You'll receive this crystal healing necklace in one of my fabric draw-string pouches (pictured), great for the safe-keeping of the necklace. Gift-wrapped at no extra charge.

Read here how to take care of your crystal jewellery.
CRYSTAL PROPERTIES
FLUORITE
Excellent for cleansing one's aura, also detaching unwanted energy cords. Grounds excessive energy, beneficial for all levels of healing. Helpful in achieving spiritual wholeness. Protective, stabilising and harmonising stone. Facilitates personal growth. Awareness expanding. Anchors intuitive insights into the physical plane. Offers strong psychic protection, helping to discern energies one comes in contact with. Helps in being objective and focusing on what is essential. Also known as absorbing environmental EMF.
PREHNITE
Protective on all levels, strengthening one's life force. Fosters a sense of trust in the Universe and helps you protect your boundaries so it's easier to say "no" when needed. Stimulates inner knowing of oneself and guides in fulfilling one's potential. Helps to let go of unpleasant memories. Enhances spiritual "knowing". Revitalising and said to bring inner peace. Also said to be "a healer's healer".
AMETHYST
Instils inner peace, promotes self-discovery and aids in relaxation. Associated with the crown chakra, known as a "stone of balance" and positive transformation. Thought to increase spiritual awareness and psychic abilities, initiating higher knowing and greater understanding. Helps in assimilating new ideas and manifesting thoughts into action. Symbolises a connection to the Divine. A well-known support stone for those wanting to break old patterns to create a new, harmonious life.
Recently Viewed