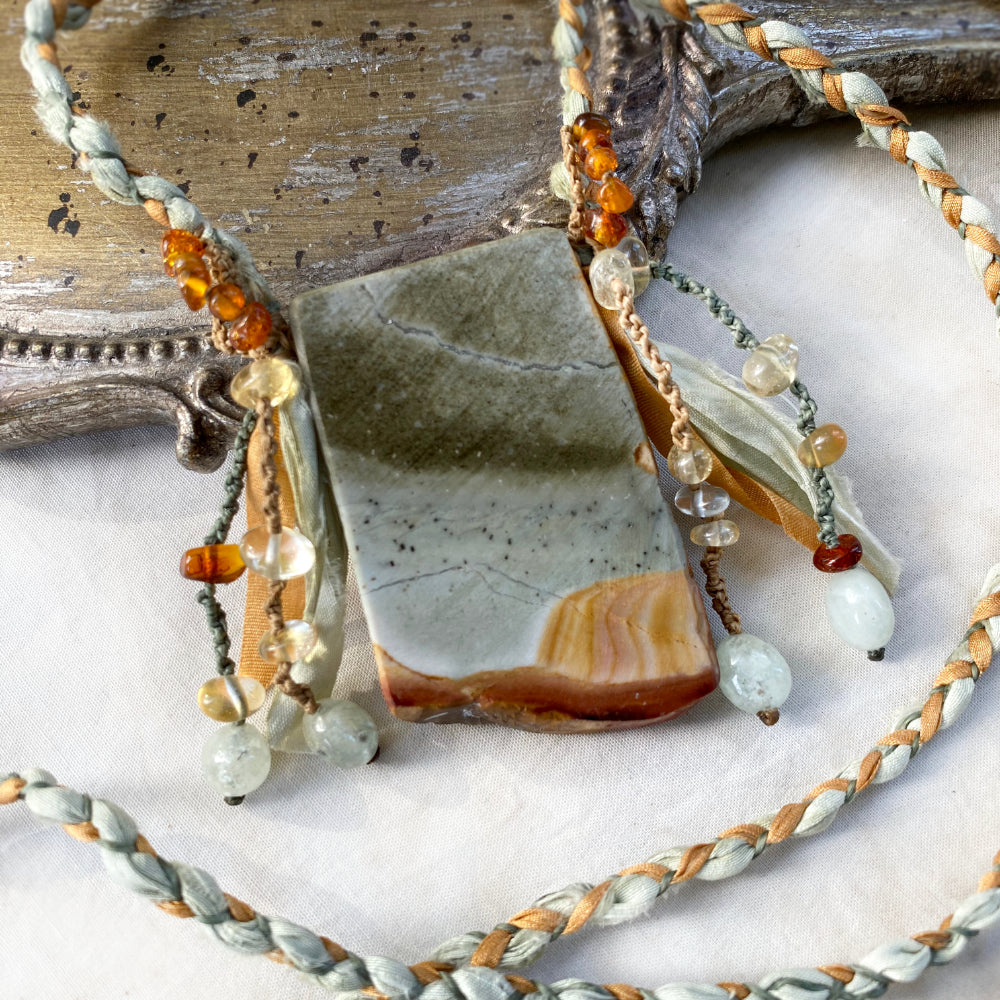 'Storm Tamer' ~ Polychrome Jasper crystal healing talisman
DESCRIPTION
Stone talisman with a slightly rectangular Polychrome Jasper with an organically undulating base. The natural patterning resembles a painted landscape, perhaps a stormy one, or the moment of nature knowing how to cleanse and bring balance to itself. The accent crystals are Aquamarine, Citrine and Amber in knotted strands on both sides of the main stone. The stone attaches to a necklace braid of pale green recycled sari silk, combined with dark green and rusty brown micro-macrame cords. 
The Polychrome Jasper is just over 5.5 cm (2.2") in its longest dimension and is approx. 3.5 cm (1.4") wide at its middle. The long necklace braid is a set length so this talisman can be just slipped over head for  wearing, without the need for any clasp. The all-around length of the necklace braid is 80 cm (31.5") allowing the Polychrome Jasper to hang down approx. 40 cm (15.7") if measured from behind the neck.
There are no metals in this necklace so would be particularly suitable for those with metal sensitivities, energy workers and those who simply prefer not to wear metal.
You'll receive this crystal healing necklace in one of my fabric draw-string pouches, great for the safe-keeping of the necklace. Gift-wrapped at no extra charge.

Read here how to take care of your crystal jewellery.
CRYSTAL PROPERTIES
POLYCHROME JASPER
Vitalising, vibrant energy, promoting joy and new beginnings. Spurs you to action, increasing life-force and firing up your passions. Great for restoring strength after setbacks. Re-energising stone that aids in finding new connections that will help transform some part of your life for the better, including new romance. Inspires accomplishments, helping to bring out the best in you. Believed to be among the rarest of Jaspers, only found in Madagascar.
AMBER
Amber is like sunshine solidified, offering a wonderful sense of health and wellbeing. Transmutes negative energies into positive, excellent for psychic protection. Cheers you up and helps you take action to make your ideas reality - ideal manifestation aid. Cleansing effect on the body, mind and spirit, promoting self-confidence and creative self-expression. Encourages spontaneity, patience and inner wisdom.
CITRINE
Affects a powerful alignment with the higher self. Balances the emotions and helps in uplifting one's mood to be more sunny and cheerful. Brings clarity of thought, and attracts abundance and prosperity through joy. Powerful transformer in healing work. Increases self-confidence and optimism, cleanses the surrounding energies and promotes creative thinking. Releases, dissipates and transforms denser energies on all levels, mental, emotional and physical. Works to release limitations and blockages particularly around the sacral / solar plexus area.
AQUAMARINE
Connected with the throat chakra, easing verbal self-expression. Helps you communicate your own truth and find your voice. Helps in looking at emotional situations from other perspectives, assists in opening up intuition and to calmly be in the flow of life. Aquamarine also aids in reaching deep meditative states. Resonates with the energy of the ocean. Stone of courage and protection.
Recently Viewed